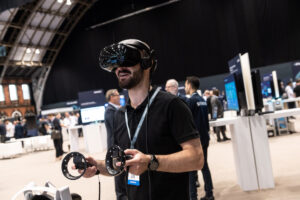 Siemens, the global technology leader, enlisted Top Banana to deliver its biggest and most exciting event to date. We got the lowdown…
Brief
The event, the brand's first evet UK and Ireland customer event for 3,000 people, aimed to demonstrate that Siemens has some of the most innovative thought leaders in the technology space and showcase the length and breadth of businesses it works with and products it helps to innovate. With just a nine-week lead time, Top Banana was challenged as Siemen's production partner to create the most epic experience for both customers and colleagues
Solution
With the incredible space at Manchester Central, there were limitless opportunities for Top Banana to create an immersive journey for the attendees. In the 1,000 sqm hall, the agency arranged a diverse range of interactive elements to keep energy high across two days including intimate workshops and industry talks, strategically placed around the hall for guests to enjoy industry leading discussions whilst being surrounded by inspiring tech.
There were more than 170 demo stands – including the exciting new Xcelerator,  (an open digital business platform consisting of a curated portfolio, ecosystem and marketplace to accelerate digital transformation and value creation) showcased for the first ever time in the UK, Riversimple's hydrogen powered car and The Living Wall, which Top Banana embedded at the heart of the exhibition exclusively for this event.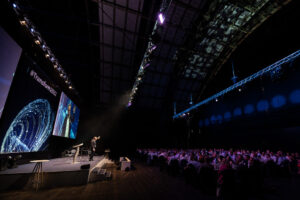 The main plenary hall featured two 143-inch screens under violet lights for the most immersive experience, also providing the perfect backdrop to host the evenings colleague gala dinner.
Top Banana provided an app for the attendees to use throughout the event and map out their own, personalised journey and a digital registration service that aligned with Siemens ESG efforts, creating minimal waste. It included functionality to easily track where customers had visited by scanning a QR code, generated by the registration machine.
Results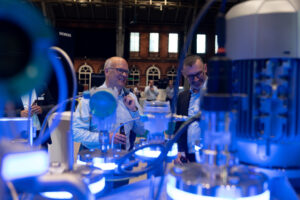 The event exceeded all expectations, with fantastic news coverage of the exhibition, well over the expected number of attendees, and 1600 lead captures via the sales leaders QR code and app.
This event provided not only the perfect opportunity for customers to learn about Siemens, but also for Siemens's colleagues whose paths don't usually cross, to interact and discover more about their wider community whilst building meaningful connections with one another.
Justin Kelly, Director Communications & Business Development at Siemens plc, said: "Top Banana impressed us with their professionalism and proactivity. We came to them later than we would have liked in the process, and they responded magnificently. They acted as an extension of our in-house team and proved to be a trusted partner that helped us deliver a Siemens-wide event on an unprecedented scale."