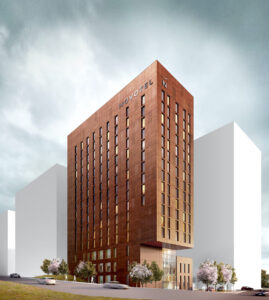 Legacy Hotels & Resorts is gearing up to open Novotel Liverpool Paddington Village next week (4 July), the highest hotel in Liverpool's city centre and host hotel for our inaugural micebook Ventures on 31 August – 2 September.
The 16-storey, 221-bedroom property has been chosen as the flagship hotel for the new £1 billion Paddington Village development in Liverpool's Knowledge Quarter, a world-leading innovation district and home to some of the world's most influential players in science, health, technology, education, music, and the creative performing arts.
Constructed by Morgan Sindall Construction, the Liverpool City Council-owned hotel is franchised by Accor and will be managed by Legacy Hotels & Resorts on the council's behalf.
The property will offer 221 rooms and 32 long-stay, apartment-style accommodation, which have been designed in partnership with key health and education stakeholders in the Knowledge Quarter, specifically for patients, students and relatives attending the nearby hospitals and universities.
The hotel also features two meeting rooms with capacity for up to 50 but is conveniently located next to Spaces at The Spine – housed within The Spine and the new northern home of the Royal College of Physicians (RCP) – which offers an array of event spaces and is also a host venue for micebook Ventures.
Howard Lewis, general manager (pictured above), said: "Novotel Liverpool Paddington Village will be a game changer for Liverpool and will bring something new and exciting to the already world-class hospitality offer the city is renowned for. As one of the first brands to be part of the £1bn Paddington Village development, we also find ourselves in a unique position of being a main player in the city's vision to be an international destination of significance for life-science, healthcare, and technology industries."
Morgan Sindall Construction has received several award nominations for the project, which in addition to the hotel being the highest in Liverpool, it is also the most DDA (Disability Discrimination Act of 2005) compliant. Many innovations and best practices were made possible through the contractor's 'design to cost' approach which ensured that the building was efficient, minimised waste and achieved high quality.
Richard Potts, Liverpool area director for Morgan Sindall Construction, said: "It's been a privilege for our team to help create yet another landmark for Liverpool. This new Novotel will form a crucial part of the Knowledge Quarter and will allow visitors to our city to see more of this wonderful new innovation district. The success of this project is testament to the highly collaborative nature of its delivery with all partners engaged from the earliest stages to champion a 'right first time' and value-added approach to design and delivery.
"Throughout our build programme, we've worked with local partners to create employment and training opportunities within the community, championing a local procurement strategy where relevant. Now, the completed building will help make our city even more attractive to visitors from around the world, with all the economic benefits that entails. Its approach to creating a hospitality setting that supports the city's health and education offer is to be applauded and is yet another example of what makes the Knowledge Quarter so special."
micebook Ventures aims to transform the world of business events as a force for good, and is now open for registration for courageous, change-making business leaders. The event will redefine the 1:1 buyer-supplier meetings space with a key focus on high-level content on environment, health and technology. Join us at Knowledge Quarter Liverpool and start your journey to reBuild Better on 31 August-2 September 2022.