For the fourth and final stop on our tour of some of England's hidden gems for meetings and events, in partnership with MeetEngland, we headed to the seaside destination of Blackpool.
During the past decade, there has been a gradual repositioning of the resort to create a place with a rich blend of heritage and contemporary attractions. This considered and consistent approach has led to Blackpool cementing its position as the most visited seaside destination in the UK.
Now, with an enviable track record of delivering an exceptional experience for around 18 million visitors every year, Blackpool is revitalising its business tourism offer. More than £500m of investment in the town's infrastructure has resulted in the emergence of a vibrant conference and meetings destination that can offer an unforgettable delegate experience. 
Check out the video from our influencer Nicola Roodt's recent trip Blackpool below, and read our event planners' guide, showcasing some of the destination's many highlights for corporate groups…
What's new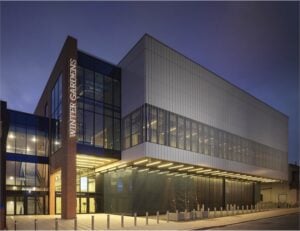 Blackpool's new £30m Conference & Exhibition Centre (right) officially opened in March this year. Located at the Blackpool Winter Gardens, the purpose-built events venue has been built on the site of the former car park on Leopold Grove and has been designed so that it seamlessly integrates with the Winter Gardens complex.
With an impressive 2,400sq metres of dedicated space set over two magnificent floors and equipped with cutting-edge audio and visual technology, the new build adds a unique contemporary twist to the Winter Gardens site providing total flexibility for large and small-scale events.
Together, it creates a hub of 12 distinct venues offering almost five acres of connected conference, meeting, event, and exhibition space.
The original Winter Gardens building is also enjoying a phased multi-million-pound upgrade with a new air-conditioning system, improved digital connectivity and extensive refurbishments to restore it to its original splendour.
Blackpool's first five-star, the Sands Venue Resort Hotel, is currently under development on Central Promenade. It will include 92 state-of-the-art suites and rooms, spa, two-rosette dining with panoramic views, an art-deco reception serving afternoon tea, and a dedicated business centre.
Hotels and venues
With a unique range of venues and the largest number of visitor attractions outside London, Blackpool is the perfect destination for an event with a difference. The resort has a vast array of venues, hotels, and meeting spaces to cater to events of all kinds.
Blackpool Winter Gardens boasts a long and illustrious history and has provided the platform for speeches by virtually every prime minister since Sir Winston Churchill. It features a dozen unique spaces showcasing the finest in Victorian architecture through to contemporary art-deco design including The Opera House.
Clients can book single venues or combine multiple spaces to create a larger offering. All the connected spaces are unique in style, but each provides the perfect backdrop for any event whether that's a gathering for 50 people or 7,000.
The famed Blackpool Tower & Ballroom (right) provides a unique backdrop for events, with the Tower ideal for brainstorming sessions and drinks receptions, while the majestic Tower Ballroom (home of Strictly!) provides the ultimate setting for a gala dinner or awards presentation for up to 750 people cabaret-style.
The Blackpool Tower Circus is a unique venue with a 360-degree audience setting that can comfortably seat 1,300 people, perfect for presentations, product launches or prize-giving ceremonies, while popular attractions such as Madame Tussauds, Blackpool Zoo, and Blackpool Pleasure Beach all offer event spaces for corporate groups.
Spaces at Blackpool Pleasure Beach include The Globe – a stunning venue with a translucent elliptical stage and tiered auditorium; the art deco Casino building, home to The Attic, The White Tower Restaurant, The Horseshoe and The Paradise Room; and the elegant new seafront Boulevard Hotel where the Shoreside Conference Centre has purpose-built facilities for up to 200 delegates.
With its own 72-bedroom hotel, Blackpool Football Club can accommodate more than 800 delegates in a wide selection of meeting rooms, most of which have views overlooking the famous pitch.
Other hotel options include Hampton by Hilton Blackpool, which occupies a prime seafront location on the regenerated South Promenade and offers 130 rooms with stunning views over the Irish Sea, with a 74-bedroom extension due to open in 2023.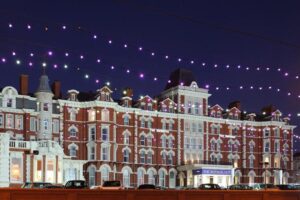 The four-star Imperial Hotel (right) is a popular option for meeting and event groups. Situated within walking distance of Blackpool North train station, it offers 14 meeting rooms – the largest seating 600 theatre-style – and parking for 150 cars.
Escape the bustle of the town at The Village Hotel. Set on 236 acres of parkland and lakes this resort-style property offers 174 rooms, seven meeting rooms and unrivalled golf and leisure facilities, including indoor and outdoor pools, and a choice of dining options.
Experiences
With so many world-class attractions, there is no shortage of memorable experiences for delegates to enjoy during their downtime in Blackpool.
Thrill-seekers can enjoy the jaw-dropping rides at Blackpool Pleasure Beach, the UK's most ride-intensive amusement park and home to the world's only Nickelodeon Land. Ride the UK's first double-launch rollercoaster ICON, which accelerates at 0-80km/h in 2.25 seconds before reaching heights of 88ft at speeds of up to 85km/h.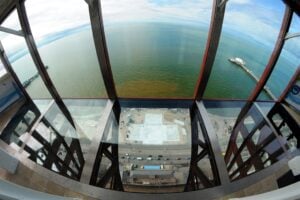 Head 380ft to the top of The Blackpool Tower and experience the thrilling SkyWalk (right). Step out if you dare onto the five-centimetre-thick glass viewing platform, where you can look out to the Irish Sea and see the famous Blackpool Promenade below you. Afterwards, head to the stunning Blackpool Tower Ballroom for Afternoon Tea.
Get up close and personal with 1500 rare and exotic animals including big cats and elephants at the award-winning Blackpool Zoo, or swim with sharks and check out the 2,000 marine creatures at SEA LIFE Blackpool.
Snap a selfie with the stars at Madame Tussauds Blackpool. Mingle with Spiderman, the Incredible Hulk, and an impressive cast of stars celebs from the world of Marvel, music, sport, TV, and comedy including the likes of the Queen, Simon Cowell, Allan Carr, Olly Murs and Bear Grylls.
Take a walk around Comedy Carpet, a celebration of comedy on an extraordinary scale. Referring to the work of more than 1,000 comedians and comedy writers, the carpet gives visual form to jokes, songs and catchphrases dating from the early days of variety to the present.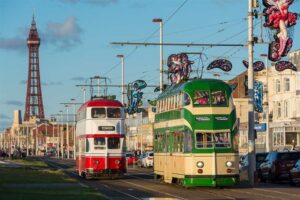 Enjoy some culture at the Grundy Art Gallery Blackpool. This stunning Edwardian Grade II listed gallery in the centre of the town hosts an extensive programme of exhibitions, including historical and contemporary art as well as featuring established and emerging national and international artists.
Don't miss the Promenade Heritage Tram Tour (right), a one-hour trip along Blackpool's finest coastline to Little Bispham and back. Why not charter your own tram and provide delegates with a classic British fish and chip supper while taking in the view?