In the third in our series of features with MeetEngland, showcasing some of England's hidden gems, we head west to discover Cheltenham and the Cotswolds.
Known as the Festival Town – Cheltenham plays host to 25+ festivals a year including the Cheltenham Festival, the pinnacle of the horse racing calendar and one of the largest annual sporting events in the UK – the Regency spa town is also famed for its stunning architecture, independent boutique shops and dining experiences.
However, in recent years, Cheltenham has begun to build a reputation as an up-and-coming destination for business events and corporate away days. Offering everything from 2000+ seat conference centres to the latest in modern, flexible meeting spaces – and from gorgeous country house venues to contemporary, boutique hotels – Cheltenham has plenty to offer planners.
Its location makes it easily accessible – less than two hrs by train from London and under an hour from both Birmingham and Bristol – and with the beautiful countryside and quintessential Cotswolds on its doorstep, there are plenty of options to keep delegates entertained outside the meeting room.
Check out the video from our influencer Nicola Roodt's recent trip to Cheltenham and The Cotswolds below, and read our event planners' guide, showcasing some of the destination's many highlights…
Hotels and venues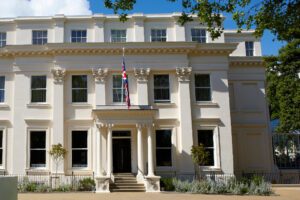 Cheltenham offers a wide range of conference and meeting options from larger venues such as DoubleTree by Hilton Cheltenham, which has space for 250 guests, to smaller meeting venues including beautiful boutique hotels such as the Malmaison Cheltenham (right).
Set in a grand whitewashed Regency villa, the Malmaison Cheltenham offers 61 rooms and three meeting spaces, accommodating up to 45 guests.
Perfectly situated at the top of Montpellier, The Queens Hotel was one of the first European purpose-built hotels. First opening its doors in 1838, gratified by the visits of such eminent figures as General Sir Charles Napier, Edward Elgar and Sir Arthur Conan Doyle, it has also served as a social refuge for women in WWI and later as a military hospital.
Featuring 84 stylish rooms inside an impressive Grade II listed building, the hotel's Regency Suite can accommodate up to 100 guests for conferences, workshops and meetings.
No.131 is a boutique hotel just off the famous Montpellier Walk, named as one of the best hotels in the Cotswolds. Its Gin and Juice bar offers one of the widest ranges of gin in the UK with over 350 gins to choose from!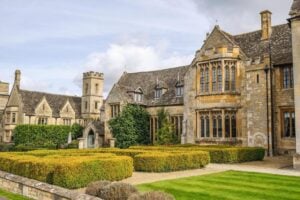 The region is also home to an array of stunning countryside venues such as Cowley Manor Hotel & Spa and the five-star Ellenborough Park Hotel (right), perfect for corporate retreats, team building days and exclusive use events.
Surrounded by woodland and set in a private 90-acre estate, Ellenborough Park Hotel sits high up on a hill overlooking Cheltenham Racecourse and provides an excellent backdrop for memorable business meetings, conferences and events, with 61 elegant rooms, an Indian-influenced spa, heated outdoor pool and fitness suite, and a variety of event spaces accommodating up to 140 guests.
The Notgrove Estate is set in 1,500 acres of beautiful Cotswold countryside, offering plenty of open space to host corporate days and events from 10 to 250 people. There are a range of facilities and activities to suit all budgets including accommodation in luxury barns, glamping pods and safari tents, a generous size meeting room, marquee, catering and team building activities available.
Cheltenham Racecourse itself is also available for conferences and meetings with the largest event space seating up to 2,250 delegates plus the option to treat guests to a private tour of the venue. Another unique option is the historical Cheltenham Ladies College, which offers a fantastic array of event spaces and facilities including the stunning Princess Hall, with its gothic pitch-pine woodwork, and the modern Parabola Arts Centre featuring an auditorium and galleries.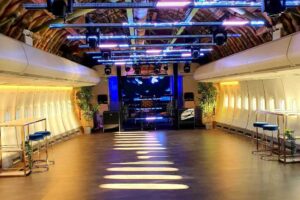 Negus747 (right) at Cotswold Airport is an iconic 747 British Airways jet that has been transformed into a quirky event space and can cater for everything from parties and product launches to corporate events.
The Corinium Museum in the heart of Cirencester, provides a unique venue for corporate events, ideal for drinks receptions, exhibition tours and product launches. Also in Cirencester, the boutique Kings Head Hotel offers 64 individually styled bedrooms, 12 apartments, a Vaulted Spa, various dining options and flexible meeting space for up to 400 delegates.
Ingleside House is a Gatsby-esque Grade II listed building sitting at the top of Cirencester. Bold and theatrical, this historic house is a unique venue for businesses to meet, train and entertain, with onsite entertainment options at the Barn Theatre. There are two smaller private event rooms within Ingleside House and a private dining room at Téatro restaurant. For larger events, the Pavilion seats 120 people and The Barn Theatre 200.
Activities and experiences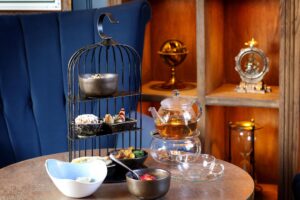 Take a guided tour through Cheltenham to admire the Regency architecture, before heading to Memsahib Gin & Tea Bar (right) for a gin masterclass. Groups can learn how to infuse their own gins with a selection of botanicals, dried flowers and tea, followed by a delicious sweet and savoury Anglo-Indian afternoon tea, inspired by the opulent style of the memsahibs of the British Raj period. Alternatively, take part in a culinary masterclass to learn how to make delicious Anglo-Indian cuisine at home in a sustainable manner by the expert Memsahib chefs.
Treat your group to a private dining experience at KIBOU, an award-winning Japanese restaurant in Cheltenham. Foodies can also visit the Foodworks Cookery School located in the heart of the Cotswolds where a range of cookery classes are available from themed classes such as a Bake-Off inspired class or vintage tea party to learning to make popular Lebanese or Pan-Asian dishes.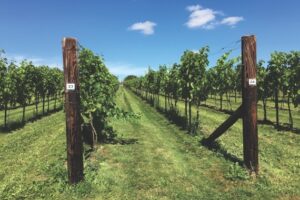 If wine is more your thing, enjoy a private tour and tasting at Poulton Hill Estate Vineyard (right) where they will take you through the history and the growing of grapes. Poulton Hill Estate is a small family-run vineyard that was founded in 2010 and is situated in the idyllic Cotswold countryside, near the Roman town of Cirencester.
Get out and enjoy the countryside with a hike up Cleeve Hill – at 1,083 feet, it's the highest point in the Cotswolds hill range and offers incredible views across Cheltenham and the surrounding area. Head to stunning Sudeley Castle, a hidden gem in the Cotswolds, and walk in the footsteps of some of history's most notable characters in the castle's beautiful gardens. The castle is also a great venue for summer parties, gala dinners and team building.
The Notgrove Estate works with local partners to offer outdoor adventures and well-being experiences including relaxing mind and body yoga classes, exhilarating electric quad biking with Quad Quest, survival skills and bush craft, foraging courses, falconry handling experience, gundog agility, archery, axe throwing, crystal maze challenge and creative art classes.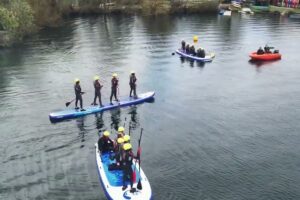 Get out on the water at Lake 32 Outdoor Centre, one of the activity businesses based within the Cotswold Water Park which offers paddle boarding, archery, boat hire, and for the brave-hearted, open water swimming. There are plenty of operators within the Cotswold Water Park area for your groups to enjoy a mixture of different activities including kayaking, sailing, stand up paddle boarding, windsurfing or even just relax and enjoy the Cotswold's very own beach – the largest inland paddling beach in the UK.
Learn to shoot at the famous Ian Coley Shooting School. Coley was Head Shotgun Coach for Team GB and now has his own shooting school in the Cotswolds offering a range of different traps, perfect for novices to experienced shooters. Clay shooting is a fantastic activity to build relationships with clients or to reward staff along with the right mix of fun and competition.
Meet in Cheltenham can help you with a range of services when planning your event or corporate retreat to Cheltenham and the Cotswolds. Whether you are looking to organise a large conference over a number of days, a one-off bespoke event, corporate retreat or a small meeting we're here to help.