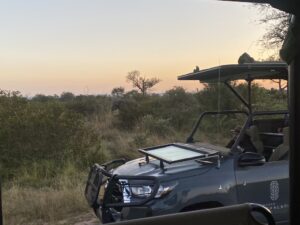 Chetan Shah, micebook CEO, was lucky enough to join a group of UK agents on a fam trip to South Africa over the May bank holiday weekend. Here, he shares highlights of his envy-inducing African adventure…
I contemplated it for a few hours, but really I knew as soon as the fam invite from Green Route Africa,  Just the Letter B and All About Flights landed in my inbox; I was going. This is the crazy world we live in, when it is still even a question – should I spend four days in South Africa?
First Centre – Cape Town & Hermanus
The flight to Cape Town was easy – even though it was 11 hours overnight – it was enough time to eat, watch a movie and get some rest (even if it was in spurts). The time difference of only 1hour really helps you acclimatise quickly and hit the ground running, which we did.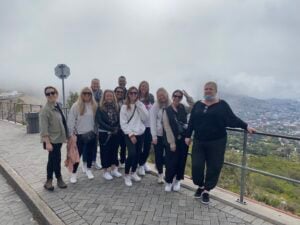 The "table cloth" was covering Table Mountain but we shot to the top, in the revolving cable car. As we reached the summit, the clouds lifted a little, giving us teasing glimpses of the city and beaches below. I had been up before, but I was excited on behalf of the destination newbies on this SA fam trip.
This programme was designed to show a different side of the destination, post-pandemic, and we were off to Hermanus; 1.5hrs from Cape Town and known famously for its whale-watching.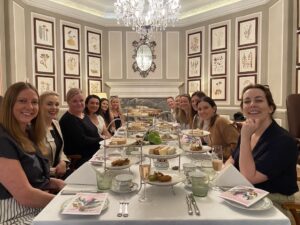 Before heading to Hermanus, we had day-rooms and a delectable afternoon tea at the Mount Nelson Hotel (part of the Belmond group). The hotel has been refurbished recently and offers a calm sanctuary within the gardens. Buy-outs are possible and really could provide you with a home away from home.
We arrived that evening at the Arabella Hotel, Golf and Spa resort, just in time to see the sunset over the incredible landscapes from our balconies. Zhulfa, our waitress at the hotel, served us braai meats and I had the snoelk fish, which is a local delicacy with a sweet chilli glaze.
The following day was filled with visits to the railway market which hummed with locals enjoying breakfast and shopping. We anxiously awaited the steam train which was set to pass the market and we all, for some reason, acted like besotted seasoned trainspotters.
Gins were tasted whilst we were on a moving platform, jutting out over the market, which was ridiculously exciting and much more funny than it should have been.
Onto Creations vineyard for 6 chapters of wine and food-pairing as we tasted passion fruit and listened to the ocean, provoking the salty senses. Creations was named top vineyard in South Africa and number 10 in the world and a great spot for a dinner or a buy out if you are staying in the region.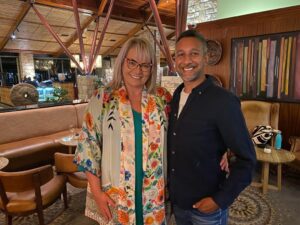 Places, views, experiences, food and drink are staples of a programme but, as always, it is the people you meet that will live with you forever. We were honoured to meet Zelda La Grange who was the late great Nelson Mandela's private secretary. She shared some of her stories and we were encouraged to ask questions. This type of experience bonds you to a destination and her book lay waiting as a room-drop signed by "Zeldina" (as Mr Mandela used to call her) with 'love and respect'.
Part 2 – Kruger National Park
A two hour domestic flight from Cape Town to Skukuza was effortless. It is worth noting that the internal flights have a slightly smaller baggage allowance of 20kg.
Now there are simply no words that can do the next few days justice, so bear with.
After landing, we stopped for a quick lunch at Lion Sands Tinga and encountered our first taste of safari as a giraffe bolted out from the narrow lanes.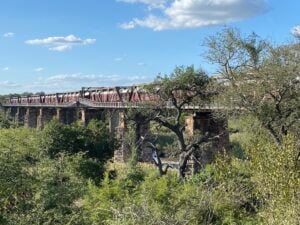 Onwards to the Kruger Shalati – Train on the Bridge. This is possibly the most incredible place I have ever stayed. From a distance you can see the bridge and make out the carriages but you have no idea what is in store.
24 carriages long, it offers luxury where it should not really exist. It offers hospitably and service of a five-star city centre hotel and the cuisine of a Michelin-starred restaurant. The story behind the project, and how it came to be, is fascinating and expertly told by Gavin Ferreira the Executive Manager of Operations.
From your beautifully appointed carriages the hippos growl and the elephants pass by below, eating their way through the lush pasture. Pictures and video will tell part of the story but the feelings cannot be described and this was echoed by many of the seasoned travellers on this fam who have seen and done a lot.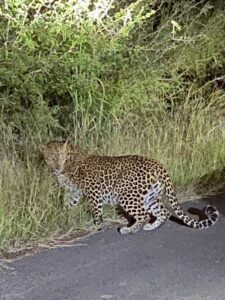 The game drives are expertly delivered in the national park and staying at the Kruger Shalati gave us unique access to roads and stops not afforded to the day visitors. For the early morning game drives at 5.30am, hot-water bottles and blankets keep guests warm until the sun pops up from the horizon, slowly thawing out the earth.
We almost witnessed a kill during the evening game drive, as our driver spotted a male lion making calling noises, and told us patience will be rewarded. He said a female will be nearby and sure enough she was there stalking a dazzle of zebras. You kind of hope to see a kill but at the same time I was torn with this. The lioness leapt from a casual stroll to speed, heading towards the zebras, but narrowly missed her target and laid panting from her short burst.
A bush dinner on the final night with music, dancing and star gazing, was delivered in style and quality was in no way diminished by being offsite. The final evening I slept listening to hippo groans from below my balcony.
The perfect ending.
Final thoughts…
Fam trips provide a true emotional connection to a destination and you will then be able to  sell a destination with your heart as well as your head. As Zeldini says in her book, she is an "emotional billionaire"  and I am far richer now as well.
Remember you can use micebook boards to capture your memories, fam report and supplier notes on Pinterest-style boards for you and only your team to see.