Graduate Hotels has unveiled newly renovated event spaces at its properties in Oxford and Cambridge.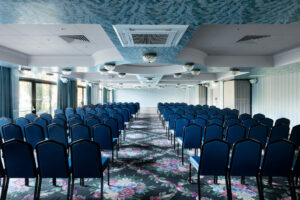 The newly renovated Graduate Cambridge has the largest indoor/outdoor event space in Cambridge. Offering stunning views of the River Cam, The River Suite can accommodate up to 300 people, or be divided into several smaller spaces. It includes the private Rhee Suite bar which provides the ideal space for reception drinks and has a separate entrance with access to the car park.
There are numerous smaller meeting rooms, with capacities ranging from 25 to 180 guests, including the Cayley Suite, which opens on to the riverside garden to allow for team building activities or alfresco dining in the summer and accommodates up to 40 people. The Bourn Suite, which can hold up to 20 people, provides a flexible work and gathering space, with glass sliding walls and views of the River Cam.
The 148-room hotel can provide a wide range of catering options, with indoor and outdoor group experiences including garden games, afternoon tea and punting tours. It also has leisure facilities including an indoor pool, gym, jacuzzi, sauna and steam room.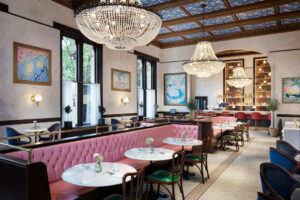 Located in the heart of Oxford and opposite the historic Ashmolean, The Randolph Hotel by Graduate Hotels offers 151 rooms and 472 m2 of flexible and versatile meeting and event spaces and can tailor group experiences to include a full itinerary with a variety of catering options.
Designed with a ceiling of full antique mirrors, chandeliers, wood panelling and a chequered floor, The Randolph Hotel's ballroom space is the largest event space of Oxford's hotels, with capacity for up to 350 guests. With striped wallpaper, colourful furnishings and historic paintings, The Lancaster, St. John and Worcester Drawing Rooms provide more intimate spaces for gatherings, each with a large fireplace and flooded with natural light and accommodating 14-70 guests.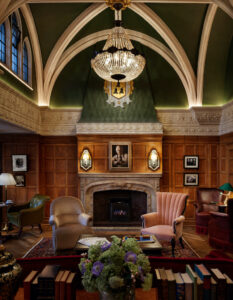 Two private dining rooms behind The Alice restaurant can be hired for corporate meetings, dinners, and parties. A unique stained-glass Alice in Wonderland inspired wall acts as a show stopping centrepiece for the two spaces, which can section off the rooms or create one large area seating up to 26. Tucked behind a velvet curtain and lit by a skylight, the Chef's Table is a stunning backdrop for private dinners or meetings for up to 14 guests. The space features a collection of five dazzling chandeliers, a long wooden table, striking wallpaper and oil paintings.
An intimate cocktail lounge that takes a bohemian spin on a traditional English library, The Snug is a cosy nook between The Alice restaurant and Chef's Table private dining room, furnished with rich red velvet and patterned walls. The space can fit 16 guests seated and 20 standing.