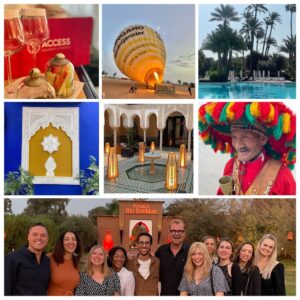 Mundus Representation recently took a group of eight event planners to Marrakech to showcase the destination and introduce its DMC partner Access Events.
Marrakech is a fantastic destination for UK MICE groups. Within just three hours, you can whisk delegates away to a different continent, creating unique and authentic experiences. As well as an array of luxury hotels and resorts, stunning venues for gala dinners or welcome drinks, it boasts an abundance of activities, either in the Agafay desert, Atlas Mountains or downtown in the Medina. Delicious food, exciting nightlife combined with sunshine and African hospitality, Marrakech delivers and caters for all.
Frances Green, MD of Green & Pleasant Events, shares her highlights from the trip…
Day 1
Upon arrival in Menara Airport, the scene was set for the sensory adventure which is Marrakech. I've never described an airport as beautiful or boutique but this one certainly is with its façade made up of diamonds and triangles reflecting both modern design and traditional Moroccan architecture. Hosted by Andre and Wayne from Mundus and Adam from their talented and creative DMC Access Events, we took the short transfer to La Mamounia – Marrakech's most famous and renowned hotel, frequently voted Conde Nast World's Best Hotel.
We were in for a treat. The scent of dates, rose and cedarwood filled every space with a sublime sense of calm – after all, 'Mamunia' translates as 'safe-haven' and this is the feeling this luxury hotel imparts after the bustle of the Medina beyond its walls. Dinner in Le Marocain (one of three international restaurants on site) was an exotic feast of Moroccan starters featuring an array of colourful dishes of savoury, sweet, and richly spiced delights (many of them vegan), Tagine and a delicate dessert of Mille Feuille.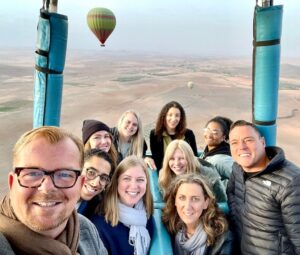 Day 2
Dawn brought an early transfer to an aerial adventure – a hot air balloon flight! We were filled with anticipation as the balloons were inflated like giant lungs ready for take-off. The baskets are surprisingly large and can accommodate up to 25 guests. Once airborne, the silence was broken only by the occasional dragon-like exhalation of hot air as the balloon was propelled and we took in the destination from this unique vantage-point. Lunch was an Al Fresco delight at the gorgeous Inara Terrace Four Seasons, offering relaxed luxury perfectly set up for groups.
We were then in for another treat – a visit to Selman. A unique juxtaposition of a passion for Arab horses and luxury hospitality inspired this place (Madonna had her 60th birthday in the stable block here – it must be pretty good!). Surpassing many things I've experienced in one hotel, it feels like a luxury home with family antiques, a roaring fire and immaculate stables where we were treated to cocktails from a purpose-built bar amidst these beautiful docile horses. Selman was a memorable experience, followed by dinner at Dar Soukkar – a former sugar refinery transformed into a restaurant and cabaret venue, complete with belly dancers!
Day 3
We got to experience Moroccan Craftsman Workshop – an interactive CSR activity where we were immersed into the art of traditional tile-making. Following this we were spoiled with fast-track access into the Majorelle Gardens.
Created by Jaques Majorelle and restored by designer Yves Saint Laurent in the 1980s; the gardens are an oasis amidst the throng of the city. After an al-fresco lunch at The Oberoi outside the city, we headed out to a quad-biking safari followed by an exploration of Yes We Camps – a unique setting for groups to enjoy a glamping experience in luxury tents under the stars.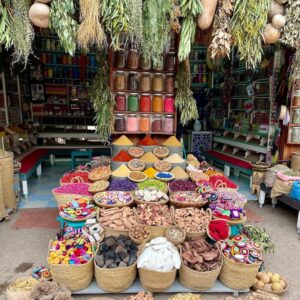 Day 4
A visit to Marrakech would not be complete without exploring the Medina and its souks. This for me is a non-negotiable part of any visit to this beguiling city. A feast for all the senses, you are transported to ancient times where artisans, farmers and bakers alike trade their goods among the network of tiny streets which are centuries unchanged.
Thank you to Mundus and Access Events for showcasing this fascinating destination. There is no place like Marrakech.