Rachelle Speed, senior event manager at Quintessentially, shares why Rome ticks all the boxes for events and incentives, following a recent fam trip to the eternal city…
With Smooth Radio playing, driving on a quiet motorway in the early hours, it could only mean one thing – I was finally heading to an airport…
Having been starved of travel for so long, it felt as if I have should a free pass to be as much of a tourist as possible, and what better way to kick-off 2022 with a fam trip to Rome.
Organised by Just The Letter B, Mutika, and All About Flights, the pre-trip communications were filled with excitement and suspense, as we were teased with what was to come. With the additional pre-departure testing and changing regulations in Italy, it felt comforting to have the full planning team on hand to seamlessly guide us through what we needed to do.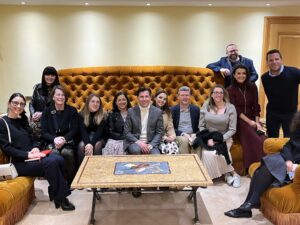 We were met with huge smiles and fist pumps from the Mutika team once we had landed, and whisked away to our hotel, The Hoxton Rome. The Hoxton team made us feel very special with a warm welcome, pre-checked-in rooms, and a sweet treat waiting for us in the room. I collapsed onto the king-sized bed, before it bounced me back up and out ready for lunch!
The Hoxton oozed sophistication and modern charm and was an oasis of calm in the city. We shared stories of our own cities as we delighted in a sensational four-course lunch. Then it was time to hit the streets of Rome and explore this city together.
Rome's frenetic buzz enveloped us as we stood at the foot of the Spanish Steps, with locals enjoying the bright February evening, and tourists taking pictures. The trip was centred around the five senses, and having ticked off taste and sight, smell was next.
We were treated to a private sensorial and perfume experience at Acqua di Parma Boutique, where the store opened after-hours to host our group and shared with us the background to the scents, how they mix, and how the scents may evoke the imagination and marry different regions of Italy. My favourite was Mandorlo di Sicilia, which to my nose conjured up an image of an Italian bakery full of orange and almond cake.
Day two, and we had a transport surprise waiting for us, vintage VW vans to take us sight-seeing. After exploring central Rome, seeing the looming Colosseum and vast Circus Maximus, we headed out to Frascati. The convoy of VWs drew fun attention from the locals as we drove out of Rome, and we watched the landscape from the comfort of the bouncy seats. We visited one of the oldest family run wineries, Cantine Santa Benedetta, which sits on a gentle slope overlooking Rome. The fresh air and homely hospitality were the perfect tonic after two years of pandemic fatigue.
It was time to make our own lunch, pasta and pesto following the lead of the charismatic chef with his chief chef father watching our skills close by. Taste test, and sadly our team dish was described as 'hospital' by the father's tastebuds! Leaving the cooking to the professionals, we feasted on another four-course lunch, complete with paired wines from the winery.
Of course, we met more friendly and charming faces along the way, as we were hosted by various hotels: Hotel De La Ville, W Rome Hotel, and Cavalieri Waldorf. Each offered activities building on the theme of five senses and hosting wonderful dining experiences in their luxurious spaces.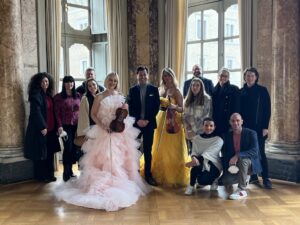 Our final day, and we enjoyed a sensory overload at the Palace Colonna. Fascinated by the Palace interiors and the history behind each work of art, we finished our private tour in the Great Hall. The expansive space, intricately decorated, is awe-inspiring. This was the icing on the cake to a fantastic trip, or so we thought… Doors led out to a private terrace area, and a further stunning space, where string instrumentalists were playing just for us. Dressed in impressive gowns, much like Valentino, we were all captivated by the music and the surprise!
Rome truly ticks all your travel wishes – amazing food, incredibly rich art heritage, and extraordinary buildings. The trip was expertly guided and planned by Mutika and Henriette of Just The Letter B. It was designed with groups in mind, with extravagance and adventure at the heart of the trip. The industry is ready, and Italy is ready for MICE trips again, a huge well done and thank you to Mutika for having the confidence to host us.