If you're looking for a pioneering and technologically advanced environment to host business events, Singapore is hard to beat. The destination is globally recognised as a leader in innovation and technology – numerous global indices of innovation and digital competitiveness have ranked Singapore among the top countries in Asia and around the world.
Singapore clinched the top spot in KPMG's global ranking of leading technology innovation hubs outside of Silicon Valley/San Francisco in 2021, putting the nation ahead of powerhouses like New York, Beijing, and London for the second year running. In 2019, the World Economic Forum named Singapore the most competitive nation in the world, with the strength of the innovation system among key criteria, while IMD ranked Singapore the most digitally competitive in the world, based on the country's capacity and readiness to adopt and explore digital technologies as a key driver for economic transformation.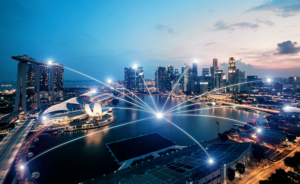 Global tech hub
Beyond the accolades, the strong presence of multinational tech companies in Singapore is a testament to its focus and leadership in this area – 80 of the world's top tech firms have not only built bases in Singapore but are using these facilities to do some of their most cutting-edge work. Amazon's first Global Prime Now facility in Southeast Asia is in Singapore, while Google's Singapore office houses its Next Billion Users team, which is working on bringing digital technology to previously untapped internet markets.
Companies like Siemens and ABB also have their key innovation centres in Singapore, and for its 50th anniversary in the country, Infineon Technologies announced the set-up of its global artificial intelligence (AI) innovation hub in Singapore.
Thanks to its vibrant business environment, world-class infrastructure and industry-ready talent, there are some 4,000 tech start-ups in the nation with mobile security specialist V-Key and visual search solutions provider ViSenze among the local companies making their mark on the global stage. Singapore has also succeeded in creating a conducive environment to attract innovative international start-ups to its shores – for example artificial intelligence start-up Taiger relocated its holding company from Spain to Singapore to take advantage of the city-state's vibrant innovation ecosystem.
Singapore has built a world-class, globally competitive tech industry and continues to explore new frontiers in innovation such as cloud computing, artificial intelligence, quantum computing, data analytics and other technologies that span healthcare, security, fintech, energy, aviation, defence.  To promote this tech-focused vision, Singapore actively markets itself as a sandbox for new product testing and development, often with financing.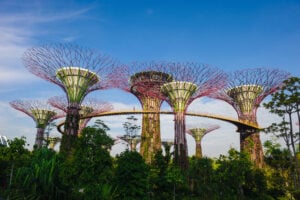 Smart Nation
Singapore has set its sights on becoming the first Smart Nation, harnessing technology to transform how its people and businesses live, work and play. The goal is to harness innovative technologies and solutions to make the city-state more energy efficient, clean and green, while addressing citizen engagement and governance and needs in healthcare, transportation, and housing.
Singapore's Smart Nation journey began in 2014 and initiatives underway include: developing a National Digital Identity framework for citizens and businesses to transact digitally in a convenient and secure manner; leveraging data and digital technologies, including AI and autonomous vehicles, for Smart Urban Mobility to further enhance the public transport and commute; the TechSkills Accelerator to develop a skilled ICT workforce; and the Open Innovation Platform, a virtual crowd-sourcing platform that matches real business challenges or digitalisation opportunities with problem solvers.
Reinforcing Singapore's commitment to innovation, the Research, Innovation and Enterprise (RIE) 2025 plan will see the government pump in another $25 billion to support the development of a knowledge-based and innovation-driven economy and society. Together, these initiatives pave the way for adoption of further deep tech and programmes like the National Artificial Intelligence Strategy.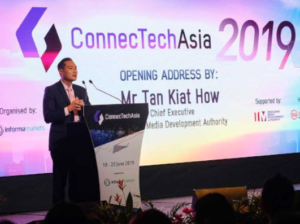 Hotbed for high-tech events
The growth of the digital economy in Singapore makes it a hotbed for innovation and technology-focused events spanning fintech, healthcare technology, ICT, AI, robotics, space and even quantum computing.
Building on its reputation as a hub for research and technology, Singapore hosts numerous events and conferences that bring together the world's most influential decision makers and brightest tech entrepreneurs to network, co-create and find inspiration.
With events like Singapore FinTech Festival x SWITCH and CONNECTECH Asia, Singapore is playing a leading role in the development of cutting-edge technologies for the region and the world. Other thought-leadership events include Smart Nation Innovations Week, Echelon Asia Summit, ConnecTechAsia and Singapore Media Festival, to name just a few.
Not only does the destination provide state-of-the-art event facilities and infrastructure but provides organisers with access to thought leaders across sectors to attend and speak at their events, which in turn is a strong draw for attendees across the globe.