As incentives return, London & Partners Head of Destination UK, Rachael Boraston shares why now is the perfect time to rediscover how rewarding our capital can be for incentive groups and gives us a taste of what London has to offer….
As we forge ahead with tangible anticipation for the return to live, the way we look at meetings, incentives, conferences and events has of course changed. Love or loathe the sentiment of 'the new normal', the pandemic has affected our behaviour and our mindsets, meaning that all in industry are looking at traditional formats with a refreshed approach, and reassessing the way in which we do things. From global, international conferences to the small but mighty incentive, concerns about our global impact and the sustainability of our activations mean that perhaps it's time we look a little closer to home for incentive programming. Enter London…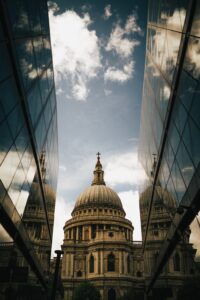 Our beloved capital, a multicultural melting pot, a collision of the traditional and contemporary, is a city that offers something new and surprising at every turn. One is forgiven for only looking at London for its capacity to host large scale conferences and industrious meetings. As a leading destination for a multitude of industries, from tech, to finance, pharmaceutical, urban and retail, and with unrivalled accessibility from both train and plane, it makes perfect sense to host vast, multifaceted business events, and we welcome them with open arms.
But why then, do we overlook London for incentives? A charming city, full of history and culture, innovation and engagement opportunities a plenty, I'm here to give you five reasons that London should linger in your mind when planning your next incentive…
1. Get here and get around…
Access to the city could not be better. With five international airports and regional and international train links, it couldn't be easier to get into and around the city. With the established Heathrow express and the highly anticipated Queen Elizabeth line, maximising your time in London is supported by constant innovation in our transportation links – with much to explore, there's not a minute to waste!
Electric buses and plans to utilise kinetic energy from the tube demonstrate a commitment to sustainable transportation and ease the conscious travellers mind when discovering the city.  Besides all that, it's always nice to see the city on foot – when the light hits right it's truly breath taking to be walking along South Bank. It doesn't hurt the old step count either.
2. Rest your head and wake up somewhere special…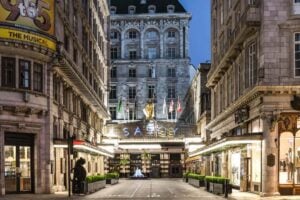 It's no secret that there has been investment aplenty in the city over the past few years, with no signs of slowing down as we look forward to the arrival of both a Raffles and Peninsula here in London in 2022. Luxury hotels pepper the city, offering the perfect aspirational home for an incentive group.
From the iconic Savoy to the achingly cool and unusual Standard, the variety of hotels on offer means that you can find something that truly fits your group. For those hankering to discover a 'slice of the city', The Bloomsbury offers boutique charm and art deco opulence. Want to sleep in an iconic skyscraper? The Shangri-La has you covered for unrivalled views, best seen at dusk as the city lights blanket London with a magical twinkle.
3. Find some fun!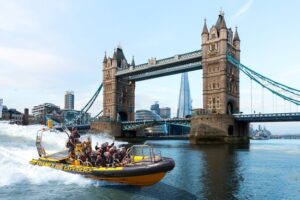 You'll be surprised by the options on offer to entertain and amuse your intrepid incentive travellers.  From micro-brewery or distillery tours, creating your own gin, eating your way around Borough Market or uncovering the salacious scandals of the City by way of knowledgeable Blue Badge guides, the options are endless. Visit the suspended Blue Whale at the Natural History Museum or for the curious minded, venture to the Science Museum to discover award winning exhibitions, iconic objects and stories of incredible scientific achievement.
Take time to see a show at a West End theatre or soak up the atmosphere in bustling Covent Garden where talented buskers perform in the gorgeous piazza. Take to the water, for lunch or dinner or for the adrenaline junkies out there, on a high-octane speed boat whilst enjoying the evolving skyline from Big Ben to the majestic skyscrapers of Canary Wharf.  Whilst you're out that way, perhaps you'd like to climb the O2 – or catch a concert or comedy show inside. This barely scratches the surface of what can be done, discovered and devised – there's always something new to be uncovered or even created for the most discerning of groups.  Fancy a yoga class at the top of the Shard?  Sure. Want to cook with a famous chef – it can be done!  Dinner suspended above the city – we've got you covered.
4. Food, glorious food…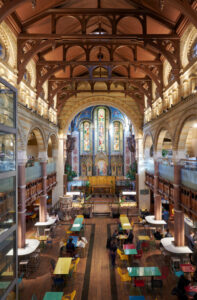 Everyone knows just how integral food is to create the perfect incentive experience. Fish and Chips might be a national dish, but the options on offer in our multicultural city far surpass this conventional classic. Traditional pubs line the streets for elevated pub fare or find spot in Chinatown to enjoy some of the best in Asian cuisine. For those with a taste for the finer things in life, you're spoilt for choice by the Michelin starred premises throughout London. But for every Michelin starred, critically acclaimed restaurants and tasting menu, there's also an eclectic, varied food market to match.
Check out Mercato Metropolitano in Mayfair (right) and dine in a converted church or eat your way down Maltby Street market before ending up at Jensen's gin distillery for drinks. If cocktails are the goal, combine your incentive with London's cocktail week and sip your way around the city. For those with a penchant for wine, visit Berry Bros and Rudd and partake in a tasting in their ancient cellars just off St James Park. And don't miss a traditional, or even non-traditional afternoon tea – dine at the Ritz, surrounded by traditional opulence, or board an iconic double decker bus for tea and cakes while enjoying the city's sights.
5. Hidden Gems
Coming to London can offer a different experience at every visit.  With a plethora of different Boroughs, there's always an opportunity to discover hidden gems.  If you're looking for something totally unique, or up and coming, get in touch with the London CVB to get inspiration, learn something new and support your incentive needs…