The COP26 UN Climate Change Conference may have come to an end, but sustainability remains firmly at the top of the agenda for the global events industry. And London is committed to helping event planners find more sustainable solutions.
Over the last 18 months, several hotels and venues have used quieter times during the pandemic to innovate and reinvent their offerings and integrate sustainability into everything they do, aligning with evolving customer expectations around green solutions.
This has pushed forwards innovative solutions, from using reclaimed materials in design and maintaining living rooftops full of vegetables and bees, to planting trees in London's iconic Hyde Park and using biodegradable cutlery.
London has always been a green city, with 33% of London's areas dedicated to green space as the first National Park City. The Mayor of London has set out an ambition for the city to be zero carbon, zero emissions and zero waste by 2050.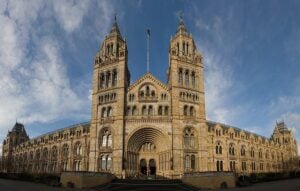 A study of 27 of the world's most eco-friendly tourist attractions revealed that five London attractions made the ranking, including the National Gallery, Tower of London, the British Museum and the London Eye. The Natural History Museum (right) bagged Europe's top spot as the most eco-friendly tourist attraction on the continent.
London's 18 new hotels in 2021 to date are doing things differently by putting sustainability at the top of the agenda, reflecting trends seen across the world. The new hotels have added 2,509 new rooms to the city, representing a 1.4% increase. Almost a third (32%) of these rooms are luxury four- or five-star options, while 34% are in the budget end of the market, so there are new options to suit all budgets.
New sustainable openings and developments
No matter if you have visited London once or more than 10 times, there is always something new to discover as exciting new sustainable spaces continue to open in 2021 and beyond.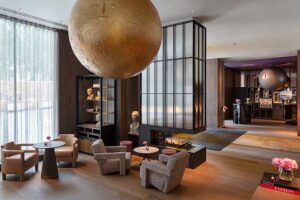 The Londoner (right), part of Edwardian Hotels, opened at the end of summer. This long-awaited addition to the London hotel scene features 350 rooms, a rooftop bar, a signature restaurant and a gastro tavern, as well as significant event spaces accommodating up to 850 guests and two private screening rooms.
Environmental sustainability is in The Londoner's DNA. With an 'Excellent' rating from BREEAM (Building Research Establishment Environmental Assessment Method), The Londoner meets and exceeds requirements for energy and water use, health and wellbeing, pollution, transport, materials, waste, ecology and management processes.
Opened in early September at One Bishopsgate Plaza, Pan Pacific London marks the group's first European venture. Close to Liverpool Street station, the hotel offers luxurious comfort in 237 guest rooms and suites. A ballroom with space for 400 guests is available, along with a floor dedicated to wellbeing, featuring a gym, a mindfulness studio and an infinity pool with views over the plaza. All restaurants, bars and public spaces have energy efficient lighting and an air conditioning system that incorporates a heat recovery system to regulate speed and temperature, dependent on the occupancy.
The city's biggest conference centre ExCeL London has not stood still and recently announced it has received planning permission to expand its event space by 25% with an extra 25,000sqm of premium event space. Construction works are expected to start next year. ExCeL London is committed to sustainability by reducing waste, increasing energy efficiency, promoting sustainable food choices, and supporting the local community.
Work has begun on a £1bn investment at Olympia London. The work will include a total of seven new buildings, including two hotels and a 4,400-capacity live music venue. Completion is scheduled for 2024. The existing Olympia Central Hall will be demolished while the structures of Olympia National and Olympia Grand, both Grade II listed, are being incorporated into the site's overall redevelopment and will continue to host events while works are taking place. Olympia London is one of the founders of British Standard for Sustainable Event Management. It provides free sustainability reporting to event organisers and divert 100% of their waste output from landfill.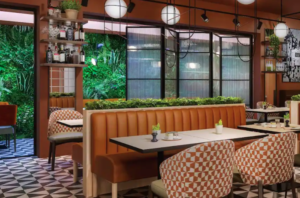 Hyatt Place London City East (right) offers great views from its rooftop bar and terrace. Guests in each of their 280 rooms will be able to enjoy a flexible meeting room concept, an inner courtyard, a 24-hour gym and a grab-and-go food market. The living rooftop helps to absorb carbon dioxide and developers even installed bird boxes at high levels.
The Hilton Metropole Hotel reopened in summer 2021 after a complete refurbishment. The number of bedrooms increased to 1,096 with a secure digital check-in, while new food and drink venues with a British theme have been added. Sustainable initiatives are at the heart of the food and beverage offering, from recycling food waste to zero-mile menus.