Informa is a leading international information services, advanced learning and events group. Every year it hosts an annual company-wide awards ceremony for its global workforce. As a live event in previous years, and a virtual event in 2020, Informa wanted to try something new and decided to host its first ever hybrid awards ceremony in 2021.
Top Banana was appointed to deliver the event and worked closely with the Informa team to produce a televised awards ceremony with a live studio audience, that was broadcast to its colleagues across the globe. Account Director Ian Cooke says: "We drew on our last 16 months experience in the virtual world, and 20 years' experience in live events and combined the two together to bring out the best in both worlds."
Solution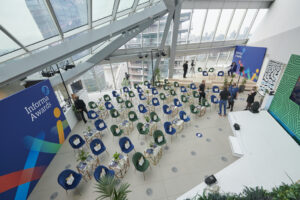 The event was held at Informa's offices in central London on 13 July 2021. Top Banana worked hard to create an environment that not only kept crew and delegates safe, but that also worked for both the live and virtual audiences. The live environment was made up of the socially distanced live audience, main stage, and a mezzanine where the presenters were based.
"We set up a master control room in Birmingham to run all the streaming, so we were able to manage and test the infrastructure to ensure everything worked rather than having to rely on the infrastructure at Informa's offices," says Cooke.
The audience was made up of 60 live guests in the UK, with 10,000 people invited to watch virtually. The global virtual audience not only included individuals watching from their home or office, but also smaller 'watch parties' gathered to experience the awards together via live link to Hong Kong, Dubai, Amsterdam, London and New York.
"The ceremony was timed and sequenced so we could go live to as many locations as possible. "Each location had a host who spent a few minutes interacting with people on camera. It was a great way to get as many people involved as possible," Cooke adds.
To make the Informa team really feel part of the awards, a competition was held for colleagues to become a host, award presenter, and compere. In addition, auditions took place to find category announcers who were all pre-recorded and seamlessly weaved into the live content. "We helped direct and coach the presenters and category announcers to make them feel comfortable and confident. The focus was on making it fun and getting their personalities to shine through, because that was the reason they were chosen," says Cooke.
Top Banana's digital event platform was used to live stream the event to the virtual audience and allowed them to participate via emoji reactions, a message wall and even voting, alongside the live audience, for an award in the moment via the platform.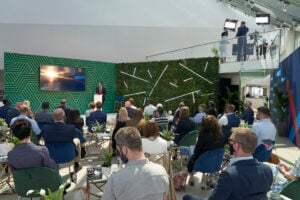 Whilst government restrictions had eased at this point, Informa still wanted to ensure safety remained at the heart of this event. Top Banana managed to enforce safety measures whilst not letting COVID take the limelight away from the first live event the company had done in 18 months. COVID testing was done for all those that attended leading up to the event and all guests and crew were asked to wear masks around the building when not seated. The theatre style seating was set up 1m apart, allowing a safe space between each guest who were also served food and drink to their seats to avoid queues and large groups of people forming.
Feedback
Melissa Willock, Group Travel Director and Head of Corporate Events at Informa, says: "Top Banana was a joy to work with and helped us deliver a successful Covid secure hybrid event. All companies have taken a beating during this pandemic but when your bread and butter is bringing people together it felt so great to get on that road to recovery. Having been apart from the team for 18 months it felt amazing to bring a smile to colleagues faces and help in the recovery of our company and industry and deliver a truly global event!"