TAG (The Appointment Group) Group Events Director Sam Robson, was invited to experience three days in Malta in September – her first live fam trip since Covid travel restrictions eased. Naturally she jumped at the chance to get away for some Mediterranean sunshine, culture and gastronomy, and experience first-hand what's new in the destination. Here, she shares what it felt like to travel as a group again….
The event industry has both a collective responsibility and vested interest in the return of corporate confidence in live events and we all have a part to play in driving this. Clearly a martyr to the cause, the arrival of an invitation to a proper live fam trip caused huge excitement in my kitchen office and, with indecent haste, I signed up to join Mundus Representation and ECMeetings on a trip to Malta. My last event there was more than 10 years ago and spent mostly in an underground conference room, apart from a 2am outing to eat pizza.
For anyone who has yet to venture on a plane, there was some boring paperwork and a couple of tests, but this has now mostly been condemned to the traffic light system in the sky. I felt safe through the whole process and, apart from the obligatory masks, the flight felt reassuringly normal.
The Hyatt Regency Malta was a revelation. A new opening and an oasis of calm given its central location in St Julian's. Our Hyatt hosts, Abigail Hynard and Stephanie Galea, made us feel very special from the moment we arrived and the welcome dinner at GIN-ger on the roof terrace did indeed include a couple of gins.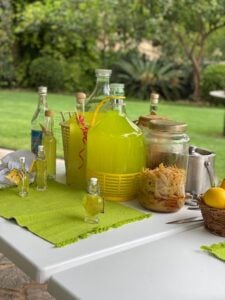 Our three days in Malta were meticulously planned and expertly guided by Mark Gatt and Sandra Brincat from ECMeetings to showcase the islands for a range of different future events and clients. The fun and adventurous activities contrast delightfully with history and culture whilst the Maltese gastronomy appeals to everyone. The Valetta team challenge managed to showcase all three with some hilarious moments, including sampling the local drink kinnie and sweet snack pastizzi.
Our first stop was a visit to Limestone Heritage, a surprising venue made from an old quarry. A local lunch with Maltese wine followed by limoncello made from the venue's lemons set us up for the afternoon. Another location highlight was the eloquent wine tasting and tour at Ta Betta vineyard followed by an exquisite dinner. The ECMeetings advance party spotted a road closure en route and met our bus to lead a detour; but not one of us noticed – a great example of proactive event management in action.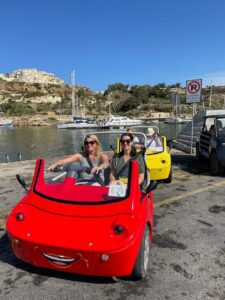 Transfers can be one the mundane elements of an event; only remembered if they go wrong. Our team bus was modern, comfortable, safe and fitted with seat belts. We were treated to a few transport surprises, which certainly livened up the journeys. Our modes of transport on Gozo were a selection of self drive Go Cars and eJeeps which followed the lead Tuk Tuk around the island visiting a cave with a view and, another real highlight, to see, hear and sample the story of a family making salt from sea water. The driving was hilarious and such a good way to see the island.
The Kempinski San Lawrenz was one of our stops and has long been on my must visit list. The delightful Adrian Tonna treated us to a show round designed to make you come back for more. A speedboat around the coast, caves and blue lagoons of Comino was followed the next day by a gullet trip around the historic Valetta harbour to Sliema. The beautifully renovated vintage bus for our evening visit to Mdina was another treat to make the experience even more memorable.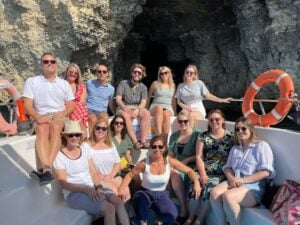 Congratulations and thank you to ECMeetings, Mundus Representation, Conventions Malta and the Hyatt Regency who, like everyone in our beloved event industry, have been through the toughest of times but are still prepared to invest in the future. It was a pleasure to see two newcomers to the world of events on the trip in Maddie Littell from Black Book and Sleek's Dougie Murphy plus Gemma Dines, returning to the fold at Lime Blue Solutions after several years away.
Everyone will always remember their first post COVID fam trip and our Malta experience was up there with the best. So much has changed on these historic islands since my last visit but I was strangely reassured to see my 2am pizza counter is still trading after 10 years and the devastation of COVID.  Whilst not yet good, all feels a bit better in the world.