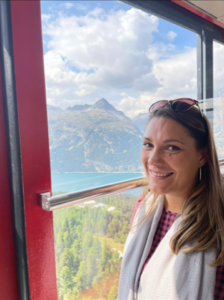 Earlier this month, micebook partnered with Engadin St Moritz and Switzerland Tourism to take a small group of UK buyers out to the destination to see what it has to offer, experience group in the current climate of testing and travel restrictions, and take part in a live micebook 'talks' from on top of the world.
Here, Kristy Hogan, head of venue sourcing at Black Book Events, shares her experience of the trip….
We were invited to meet on 'top of the world' and we really did! For many of us, this was the long-awaited return to travel that we have been so eager to experience. Naturally, there were some mixed feelings among the group, but these were quickly put at ease thanks to the incredibly well-organised itinerary and clear pre-travel communications relating to all things Covid. We were provided with a simple step-by-step checklist of what documentation would be required at various airports and check-in points and how to obtain this.
Switzerland itself is the epitome of what people are looking for in a post-pandemic world – snow-capped mountains, unspoiled nature, beautiful scenery, and most importantly fresh air. It certainly fits the bill when it comes to social distancing and plenty of outside space.
Ordinarily, we would breeze over the transfers. However, in Switzerland, train travel in particular is an important part of the experience and not just a means of travel. We were guided through to the main station at Zurich Airport and caught our first train to Chur (changing once at a smaller station in between). The journey took a little over an hour and we were able to sit back, admire the stunning scenery and even had a delicious Swiss lunch on board.
We then changed trains in Chur onto a traditional Swiss carriage complete with its own bar and pine wood paneling, which had all the feels of a cosy village pub. Train carriages can be set up in several different ways and lend themselves perfectly to a kick-off meeting with the most spectacular backdrop of the Swiss Alps!
Our first night in Engadin St Moritz was spent at the beautiful Waldhaus Sils hotel. Set in the heart of the forest amongst stunning lakes and mountains, this iconic family run hotel is traditional in style and oozes history and charm. That night we were treated to a traditional Swiss style dinner with cheese fondue and decadent wines.
The next morning, we were up early for a transfer to Hotel Saratz, a beautiful property located in the glacier village of Pontresina, a short drive from Sils. We were greeted by an outdoor Alpine breakfast buffet setup in the hotel's grounds, with our eggs and bacon cooked over the fire pit. This area was designed with private groups in mind and has a lovely little seating area and shelter. What a way to kick off the day!
After the site visit at Hotel Saratz, we checked out the Convention Centre which offers versatile, state of the art infrastructure and modern facilities for up to 500. We then took the cable car up the mountain to have lunch at Romantik Hotel Muottas Muragl, a small hotel with the finest of dining against the most indescribable views. One of the most Instagrammable views of our trip! Back on the bus and this time we headed to Corvatsch station and took another cable car up to ORMA whiskey distiller, located at an incredible 3303 meters high in the alps! Surrounded by snow topped mountains, you really do feel like you are on top of the world. It was a wonderful location to stream the micebook talks and a magical place for groups.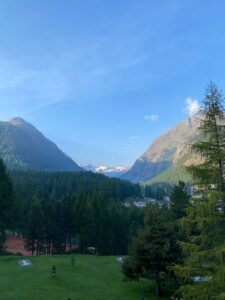 Our next overnight stay was at the stunningly beautiful and iconic Kulm Hotel in St Moritz – such class and elegance were evident upon arrival to the hotel with its attentive staff and five-star service. We were lucky enough to be hosted in stunning suites overlooking the lake and mountains with our own private terraces. That evening we took a short walk over to the hotel's country club for dinner in one of their classic private dining rooms. The food was nothing short of exceptional and it was great to chat, laugh and relive our experiences of the last two days. We had seen so much of the destination, and all had our own favourite highlights.
The following day was our Covid testing day, which we completed at a site at Zurich airport. The process once booked was relatively simple and we gave our details at the desk and were assisted by a nurse to complete our lateral flow covid tests. Results were given in around an hour and thankfully we all passed, and the group said their goodbyes and headed home.
Due to flight availability, myself and two others in the group were on a flight the following day (our home airport preference was Manchester) so were lucky enough to get to spend another night in Switzerland. We stayed in Zurich at the newly opened Hotel Ameron Zurich Bellerive au Lac – a modern hotel with a stylish art deco vibe, overlooking Lake Zurich in an affluent part of town. The beautiful suites and event spaces are perfect for small to medium sized events. We dined at the hotel restaurant and the food, service and ambience was exceptional. Such a memorable experience to finish our last night in Switzerland.
On our final morning, our guide from Zurich Tourism took us on a walking tour of the city. We strolled through the old town, along the Lake and explored the expensive shopping streets of the Bahnhofstrasse and surrounding area. The convention centre features a jaw droppingly beautiful music hall, complete with ornate gold decorated ceiling and with a perfect mix of the old and the new.
Switzerland and the Engadin St Moritz area has so much to offer for incentives, events, and conferences. I think I speak for all members of the group when I say I can't wait for the opportunity to be able to bring clients back here.
Undoubtedly the Covid pandemic has changed the way we travel for business. We as agencies must not only keep on top of these changes but strive to speak knowledgeably with the benefit of first-hand experience. Confidence to travel is key – how can we expect our clients to jump back into normality if we as agencies are yet to do so? Getting back out into the world of business travel may be daunting for some, however I can genuinely say with experience that the reality is now much less of a minefield.
Special thanks to micebook, Engadin St Moritz and Switzerland Tourism for organising an incredible trip. Thank you also to all the destination partners who hosted us and supported with their venues and experiences on the trip, which we are already sharing with our clients considering future incentives and events.