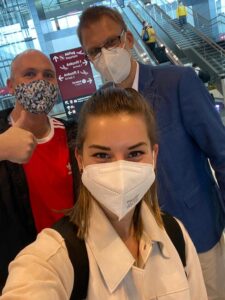 With travel restrictions finally easing, fam trips are now back on the agenda, enabling MICE destinations and suppliers to showcase their offerings to buyers and boost client confidence in international travel. Berlin Convention Bureau wasted no time in hosting a small exclusive Educational Trip to showcase that it's possible to travel and safely organise an event in Berlin.
 The two-night trip on 10-12th August included attending the Berlin Questions Conference, a tour of the city, dinners, site inspections and more. James Bacon, CEO at WeAreMeat, was among the UK buyers on the trip and shares his thoughts on the experience…
"My first flight since March 2020…17 months!! Like many of us, I wasn't sure what to expect, and anticipated huge changes and problems. Without getting all sentimental, arriving at Heathrow T5 early morning brought back a sense of nostalgia. It really felt like being welcomed back by an old friend. With the times as they are, it wasn't an airport at full tilt. It was more like travelling in winter than summer in terms of numbers of people there.
There were no real issues with check in. BA staff were actively helpful in getting me in through security as early and quickly as possible. I had to show my FV Covid Pass and my passenger locator form with my actual passport. This didn't really add any time or problems with check in. Security did take a little longer with searches. Although again nothing that would take up too much of your time. Just a few extra checks and swabs for safety and hygiene. In the airport itself you could visibly see staff constantly cleaning and sanitising, which in the new era has just become normal. However, to me it still gives a sense of reassurance, especially in such a hub of people. Face coverings were required throughout the airport, except when seated with any food or beverages.
The flight was 75% capacity, left on time and arrived early. Before take-off the pilot reminded all of us that for some of the staff and crew, this was one of their first flights back after a long layoff, so being kind and considerate would be appreciated. I thought this was a nice touch and maybe something we all need to consider with staff coming back into hospitality again. Again, masks or coverings were needed throughout the flight except when eating or drinking.
One thing to consider for groups on arrival from the UK is a longer time getting through passport control. Remember us Brits are now "All Passports" rather than EU. You should advise any groups to expect some added time here. Logistically when planning transfers, you will need to factor in more time to account for this.
The Visit Berlin team were there to meet me at the new Berlin Brandenberg airport for transfer to the ideally situated Hilton Berlin, which was our host for the next couple of days. The Educational FAM across the three days served as a perfect introduction to Berlin as city that can offer much in terms of events, and is ready for them too!
Historical walking tours, amazing event spaces such as Axica, Grand Hyatt (amazing restaurant!) Estrel Congress Centre and attending Berlin Questions, which was so informative, and it was great just to be back at a live conference seminar again! My highlight was Andels by Vienna House – a fantastic sky bar perfect for a welcome reception watching the sunset over the city.
One thing to consider for groups or those attending FAMs moving forward is that within 72 hours of arriving in destination, I had to have a PCR test. This itself is not too much of a problem, and it's easy to get this set up. But it does add to your itinerary for the trip. I must admit all I, and the rest of the group could think about for the next couple of hours was the result, which was thankfully negative (huge sigh of relief). My point here is don't book too much in on the morning of the test. Until you get that all important result, you'll likely have your focus elsewhere.
Overall, it was great to be back and great to see Berlin is fully ready for MICE groups again. Thank you to the Visit Berlin team and suppliers for putting together a great FAM, and for having the confidence to be one of the first destinations to invite international MICE buyers back. It has proven not only that the city is ready for business again, but that it has such a range of offering for MICE events, groups of all sizes and needs. I can't wait for our corporate groups to experience some Berlin hospitality!"