Around 200 event profs gathered at the Nobu London Portman Square on Friday night to see Brands at Work, Smyle, Strata Creative Communications, Cvent and many more crowned winners at the inaugural micebook V Awards.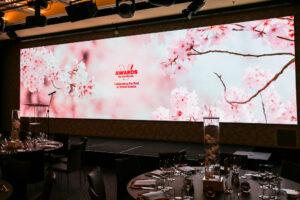 Not only was it our first V Awards – it was also the first ever event held in the new ballroom at Nobu London Portman Square and guests were treated to a delicious menu featuring tuna sashimi and Nobu's famed Black Cod.
Brands at Work was the biggest winner on the night, picking up a trio of awards including Best Internal Communications Event for its Medication Delivery Solutions EMEA Sales Kick Off for Becton Dickinson, Best Agency (less than 40 employees) and the Grand Prix Award.
It was also a good night for the FIRST team, picking up the Best Use of Production Award for Univision Upfront 2020 and Best Agency (more than 40 employees).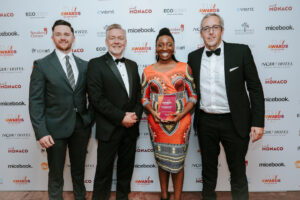 The V Awards recognised the best in class across virtual and hybrid events delivered from April 2020 – March 2021. Cvent walked away with the Best Virtual Events Platform Award, Strata Creative Communications was awarded Best Incentive, Marble LDN picked up Best Conference Award and XSEM was awarded Best Exhibition.
Smyle picked up Best Product Launch, Identity Group won Best Audience Engagement, Sledge was awarded Best Charity Event, Best Celebratory or Awards Event went to Principal. Global Events and SongDivision was awarded Best Creative Concept. Best Use of Small Budget was awarded to MEP Destination Business Solutions, Allseated won Best Networking Experience, Oval Design picked up Best Consumer Campaign, Festival or Public Event, and Best Studio Experience went to 4Wall.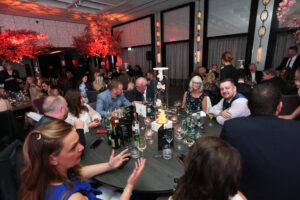 See the full list of winners and highly commended entries here
See more photos of the event here
Chetan Shah, micebook CEO and founder said: "It was an emotional night and one filled with optimism for the recovery of our sector. I am extremely thankful to all the entrants for taking the time to enter, share their work and for attending on the night. We want to support the industry, so we recover faster and stronger; and whilst faster was wishful thinking, stronger is definitely on the horizon.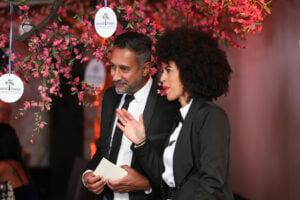 "Thank you to all our sponsors and event partners for their support. Thank you finally to the micebook team, Jessica, Nisha, Olivia, Susie, Nicola and Kym for their passion, energy, and commitment to delivering an event to the highest of standards that this discerning audience deserved. And save the date for the next micebook awards 1st July 2022!"
We were thrilled to support industry charity Meeting Needs, which raise £1,230 on the night through a raffle with Nobu London Portman Square, Mayfair Townhouse and Hotel Camiral generously donating prizes.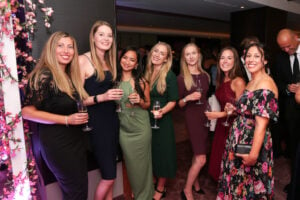 Stand-up comedian, writer and actor Hal Cruttenden hosted the awards ceremony, supported by our show narrator Shonali Devereaux. Thanks to our partners Event Trees, Table Art, and Eco Scent for making the ballroom look and smell fantastic, and Nomad Band and DJ Sasha for the after-party entertainment.
Thanks to our partners and sponsors including Nobu Hotel London Portman Square, Visit Monaco, Cvent, Castle Bell, Speakers Corner, AV Projections and Cignpost.