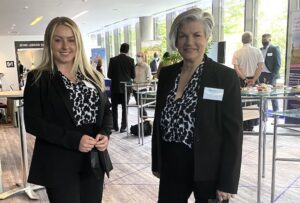 With live events finally back on the table, we are seeing more hybrid events taking place. The merging of live and virtual can be a marriage made in heaven, providing you have a good production team behind you, as Image Events Managing Director Marianne Hadley discovered when delivering the agency's first hybrid event. Here, we share the challenges and highlights of creating a true hybrid experience….
Background
Ten Topics in Rheumatology is an annual academic conference run by four professors focused on sharing the latest clinical advances in Rheumatology and discussing emerging and exciting treatments. The event, which has been running for more than 30 years and has significantly grown in popularity during that time, features presentations from leading national and international experts in the field.
Image Events was brought on board as agency partner around five years ago, to help deliver the non-profit event. The format is usually a two-day live conference featuring content sessions and an expo area for sponsors including leading pharmaceutical firms, with an audience of around 250 doctors and healthcare professionals that specialise in rheumatology who pay to attend.
In 2020, the event was cancelled due to the global pandemic, but the organisers were keen to go ahead in 2021 and Image Events Managing Director Marianne Hadley recommended a hybrid format. Despite some initial nervousness from the organisers, the decision to commit to a hybrid event was made in November 2020.
"As it's a non-profit event, we had to be very cautious about money and so there was some concern about committing to booking the Hilton with so much uncertainty around Covid and ongoing restrictions," said Hadley. "The good thing was that if we were unable to host the live element, we could still use the hotel as a studio and run it as a full virtual conference."
Challenges
Hadley said that one of the biggest challenges was coming up with a sponsorship package for the hybrid format that the sponsors were happy with, while also complying with strict regulations for the pharmaceutical sector.
"We changed our sponsorship opportunities package three times to fit in with the pharmaceutical compliance rules, which have got even more stringent in the last year. The rules are also so much stricter in the virtual world as pharmaceutical companies cannot be seen to be selling anything on the web," she explains.
In addition to the traditional exhibition stand in the foyer area of the conference plus logos and onsite branding, sponsors which included major brands like Pfizer, were offered several additional virtual options. This included the opportunity to host a 30-minute break-out room session for virtual delegates on the first morning of the event, which could be used for whatever they wanted, from hosting their own speaker session to networking. There was also a password protected page set up on the Ten topics website which sponsors could use to share information with registered delegates, including videos and PDFs, which will stay online to the end of the year.
The event took place on 1st-2nd July when England was still under Step 3 restrictions in the governments Covid recovery plan, which meant additional health and safety measures. As the speakers and audience are all in the healthcare sector, they were all double vaccinated and take Covid tests regularly. Sponsors were also advised to test prior to the event.
Masks were required when moving about the wider hotel, but delegates were not required to wear them in the conference room. Staff and crew wore face masks throughout, seating was spaced out, the meeting room was cleaned during breaks, and delegates were required to use the Hilton QR code for track and trace.
Another key challenge was that a few speakers who had agreed to speak live on-site changed their mind at the last minute and wanted to just present virtually. Hadley said this meant having to persuade them and talk them through how to pre-record their talks in case of wi-fi problems on the day.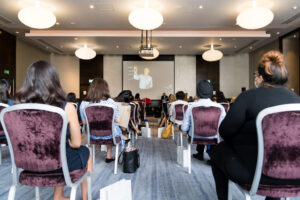 Solution
The Ten Topics 2021 meeting was held at the London Tower Bridge Hilton Hotel, with 100 people attending the conference in person, and a further 300 attending online.
Delegates were given the choice of registering either live or online, with ticket prices cheaper for virtual attendance however all attendees received a link to access the content on demand for up to eight weeks post-conference.
The format was changed slightly this year. "I advised that we shorten it because you can't ask people to sit through a virtual conference for two full days," says Hadley. The sponsor break-out sessions took place on the first morning, with the conference taking place from 2-5pm in the afternoon, with another four hours of conference sessions the following morning.
"We chose not to use a platform, but instead built a bespoke platform that was created specifically for the conference and branded Ten Topics. We then bolted on other technology such as Zoom for the break-out sessions and Slido for the Q&A. But from the virtual delegates perspective, they weren't aware of that and were just sent a link and a password to access it," says Hadley.
Some speakers were presenting live in person, while others joined for Q&A sessions virtually. Remote attendees watched a live stream and were able to interact and pose questions to the experts during the sessions.
Feedback
"It was our first hybrid event and a real blend of live and virtual. We got some brilliant feedback on the virtual side from delegates, speakers, and sponsors. The four professors who organise the event were absolutely thrilled. They were very impressed with the level of technology, and we had lots of lovely comments about it being faultless. I was really pleased with our production partners, and we had a brilliant virtual producer that helped me enormously with our speakers who are not used to the technology," says Hadley.
One of the professors said: "Thank you so much for all your help with Ten Topics this year. It was great success and you and your team did a magnificent job co-ordinating the virtual speakers and audience with the physical attendees and speakers."
Feedback from sponsors was also positive and the break-out sessions averaged around 40 attendees. Pfizer said: "The meeting looks fantastic – well done to you all. The audio/ view / set is all excellent & I have to say it is one of the best I have seen to date from platform logistics/ quality."
By opting for a hybrid format, the conference attracted more attendees than usual, and was also able to accommodate international delegates in the field of rheumatology. Hadley believes that hybrid will the perfect format for this conference in the future.