The British Grand Prix at Silverstone was the largest event to take place since the start of the pandemic, with a capacity crowd of 140,000, as part of the Government's Event Research Programme (ERP).
Hot off the heels of delivering not one, but nine different events at Silverstone, and being nominated in the Business Reporter's Best of British Business award series published in the Telegraph, we caught up with TBA Group CEO Guy Horner on getting back to live on a large scale, and his confidence in the future of live experiences…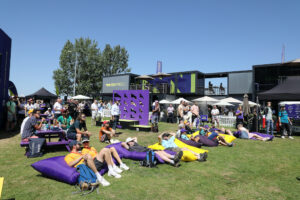 Firstly, this was the biggest sporting event since the start of Covid – how did it feel to be there on-site with a capacity crowd?
It felt great to be on site and it was fabulous for the team to get back to live and doing what everyone is passionate about. We delivered Lapland at Silverstone over the winter, which was the biggest event during Covid with 50,000 cars and 200,000 people, so it was a great place for us to pick back up.
Silverstone is fantastic, the British Grand Prix is iconic, it was the biggest crowd since Covid, and the sun was shining. It was also straight off the back of the Euros, where we delivered UEFA House, a VIP guest experience for UEFA in London, which was a great success. So, coming off the back of that to deliver Silverstone was a challenge, but it was exciting, and it was a proud moment to see the teams show ready, all focused and delivering to the standard that our clients expect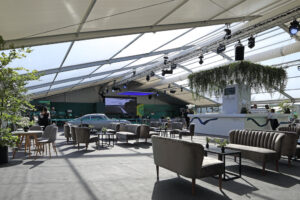 What were you delivering on site for Silverstone?
We had a lot of different things going on – nine different events in total, so in terms of agency presence, we were pretty much everywhere. We delivered four days of events for Aston Martin including the global launch of the Aston Martin Valhalla. We had two events for W Series, including HQ, hospitality, touring structure, and fan zone. We also delivered the British Racing Drivers Club (BRDC) hospitality and two big structures for the Silverstone main guest hospitality.
It was probably one of the most multi-faceted events that we have done in a very long time. There was a bit of everything, from the car launch to worldwide media to public hospitality on a large scale, and ultra-high-end hospitality for VIPs.
People had to be vaccinated or show a negative test result to enter Silverstone site. Did you put in place any additional health and safety precautions for your hospitality areas?
This was one of the biggest challenges because of the sheer amount of different risk assessments and planning we had to do leading up to it. It was only very late in the day that it was confirmed as a test event and opened to a capacity crowd.
We adopted a cautious approach for our events. For Aston Martin, we were at the Aston Martin Race Factory, which was outside of the test event perimeter, so we tested every single guest every day, which is what we have been doing with all our virtual events over the last year with Top Banana at our studios. So, we are very used to that protocol and making it efficient and hassle free.
On site, it's a long build period of over ten days so crew welfare was super important. All the crew and staff and team wore face masks throughout and tested every day, and people worked in bubbles. We did have few people across our teams who had to self-isolate pre-event and hence weren't able to come on-site, but no team members on-site test positive fortunately.
What lessons have you learned?
All the additional safety precautions consume a lot of time and planning which adds a burden on the event production company. But having gone through that process, we are well prepared as we move into other events. For example, we are running a large public event in August for Coventry City of Culture, then we go into the Commonwealth Games and the FIFA World Cup in 2022. Covid isn't going away and it's great that we've got those processes already embedded in the organisation, which means that it's just adapting and evolving the process rather than a huge new headache.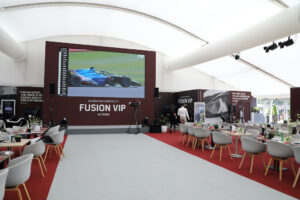 How important is it for these events to take place with large crowds as part of the ERP?
It is so important for crowds and consumers and fans to get comfortable with being at live events again and doing that in a responsible way. It's also incredibly important for the industry from a confidence perspective.
The more brands and organisers can see events happening safely, such as Silverstone, the more it embeds confidence and then the momentum will come. It may well take into autumn or the new year to really take off, but we need to get that momentum going. All the government announcements are all about learning to live with Covid, so we need as an event industry to demonstrate that we can adapt and live with it, which we obviously can and have proved that through events like Silverstone.
Are you seeing an increase in enquiries for live events for Q4 2021, or is it more about 2022? How does client sentiment differ across the different areas of the business at TBA?
There will be a lag between public and consumer facing events, and more corporate events and travel, which are going to take longer to come back. Virtual remains very strong and Top Banana in the group continues to deliver a lot of virtual events.
But we are busier and seeing more briefs for live, with quite short timescales as customers and brands are reacting and needing to deliver live comms, campaigns, and events in quite a short space of time.
We have a healthy pipeline through to the end of the year and certainly into next year. In the last week, since Silverstone, we have seen more confidence creeping back in with some of our automotive clients.
We see coming out of the pandemic as a massive opportunity for live experiences, and we believe we are well positioned with our skillset in the group across sport, entertainment, and brands. Consumers, fans, and colleagues all need to be engaged and have experiences – I truly do believe it will be a great time for our industry.
Congratulations on being named winners in the Business Reporter's Best of British Business award series published in the Telegraph. Tell us what it means to the agency?
TBA has been around a long time as a group, and we have never really banged the drum a lot or made as much noise as other agencies do. We have followed our own strategy of being specialist in those three pillars of sports, brands, and entertainment, so to be recognised for that with the Telegraph's Best of British Campaign is very flattering and we're thrilled and excited to be nominated and awarded that accolade. It's a great reflection on the people in the business, and confidence in the industry, that they see a live experience business as worth the recognition. It's a high-profile award and it means a lot.