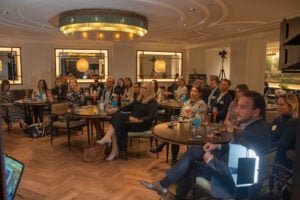 Sixty eventprofs gathered at the stunning Mayfair Townhouse hotel in London last week for our first face-to-face event since the start of the pandemic, and one of the first live events for our industry this year.
Representatives from agencies including OrangeDoor, Black Book and Cheerful Twentyfirst and partners including Gleneagles, Iconic Luxury Hotels, Peninsula Hotels and Explore Edmonton attended the event, which was also the official MICE launch for the new luxury London property.
All attendees were required to take a lateral flow Covid test on the morning of the event and present a negative result on entry, and the group was split across two rooms, with masks worn when moving around the venue to adhere to current guidelines.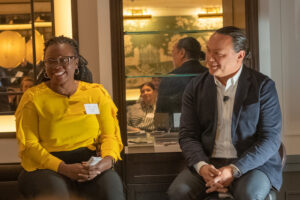 Our CEO and founder Chetan Shah kicked off the event, with a panel session featuring Simon Hambley, CEO at Strata Creative Communications, First Event Group Managing Director Richard Murphy, Steve Quah, Founder and CEO at Cheerful Twentyfirst and About Partners CEO Linda Bekoe.
The panel discussed how their businesses have had to adapt over the past year since the start of the pandemic, as well as exploring the challenges and opportunities ahead.
"Lots of big corporates are reducing their office space so they are going to need to get people together. They will place more premium and value on the experience and they will need our help to do it. There will be less frivolous spend on events and more premium spend," said Hambley.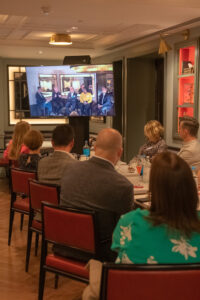 Quah described the pandemic as the massive shake-up we needed as an industry. "What has to change is putting the audience first in the conversation and not thinking about going back to what it was. It won't. We need to throw the boxes out (eg, virtual, live etc) and come up with the best solution to communications problems," he explained.
Murphy agreed and added that there will be an increased focus on ROI. He believes that mental health will also be a big issue because "virtual is massively stressful".
Bekoe concluded: "We don't know how to behave when we go to events anymore. We need to make people feel better about that and also be conscious of how different people are feeling and what they are comfortable with."
The panel session was followed by a welcome from Hubert Losguardi from The Mayfair Townhouse and then MICE Trailers from Andre Van Der Bijl from Mundus Representation / MEP, Huw Tuckett from Euromic, Matt Grey from Event Decision, Lois Wallis from Cignpost Diagnostics, Paul Black from London Convention Bureau and last but not least Rebecca Petit-jean from Visit Monaco.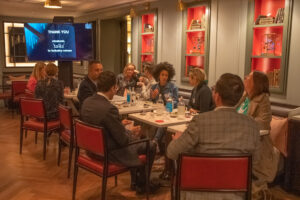 Guests then enjoyed the Mayfair Townhouse's excellent hospitality, with drinks and food served while we mingled safely at a seated networking evening. The event received positive feedback during the evening and post-event.
Thanks to all who joined us in person, and the extra 100-plus eventprofs who tuned in for the panel session remotely. If you missed it, you can watch the panel session and MICE Trailers via our Voice Forum.
Video and more photos from the event to follow! And keep an eye on our events page for upcoming events.