The Hoxton has opened in Rome, marking the lifestyle brand's debut in Italy and tenth property.
Located in the tip of the Parioli neighbourhood, The Hoxton Rome occupies a 1970's building that has been transformed by Ennismore Design Studio in collaboration with Fettle Design.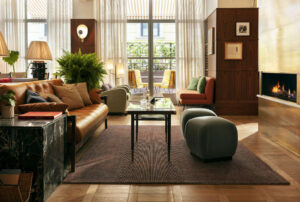 The dusty pink façade has remained largely untouched, whilst inside, the building has been completely reimagined into a 70's modernist space with a ground floor comprising a large open lobby with statement vintage seating.
The hotel's 192 bedrooms are spread over seven floors and come in six sizes: Shoebox, Cosy, Cosy Up, Roomy, Roomy Terrace and Biggy. Rooms draw references from the nostalgic interiors of classic Italian cinema, featuring rustic parquet floors, lacquered timbers and local stones.
L'Appartamento, set in the lower ground floor, is a dedicated meeting and events space with five rooms of varying size. Centred around a communal pantry kitchen, each room features timber floors, bold statement rugs, and vintage Italian accents.
The hotel also features Cugino, a café and aperitivo bar run in collaboration with local restaurant and micro-bakery Marigold and an outdoor terrace for soaking up the Italian sunshine.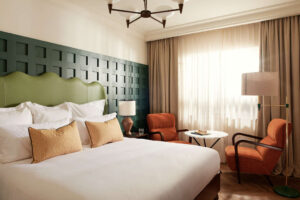 During the day, Cugino serves coffee, freshly baked pastries, breakfast, brunch, fast and casual lunches in the café or on the outdoor terrace. Come 6pm, Cugino switches into a bar with Aperitivo hour paired with house-made snacks and antipasti before transitioning into a late-night cocktail spot. Simone De Luca (previously of Soho House, The Punch Room and The London EDITION) has curated the cocktail menu, featuring seasonal signature serves and classic cocktails. A second restaurant will open in September.
The Hoxton first opened its doors in Shoreditch, East London in 2006 and now has hotels in some key neighbourhoods across Europe and North America. Locations include London (Shoreditch, Holborn and Southwark), Paris, Amsterdam, New York, Portland, Chicago, and Downtown LA.