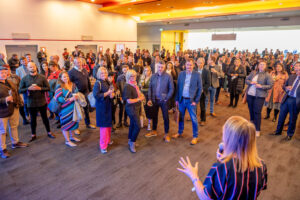 Last week, ACC Liverpool hosted the UK's first business festival since the start of the pandemic.
Around 400 guests attended The Good Business Festival's launch event, Change Business for Good, where speakers included tourism minister Nigel Huddleston, Felicia Odamtten, founder and director of Black Economy Network and Wayne Hemingway, creative director of The Good Business Festival. The event closed with a 'Live at the Apollo' style show featuring comedians Mick Ferry, Rachel Fairburn and Kiri Pritchard-Mclean.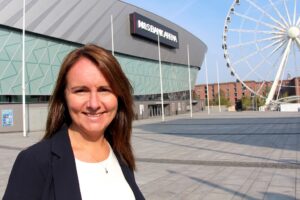 We caught up with Faye Dyer, managing director of The ACC Liverpool Group, to find out more…
Can you tell us more about the event, who it was aimed at, and who the attendees were?
The Good Business Festival's launch event, Change Business for Good, was the first in-person live business event to take place since lockdown began last March. The conference was part of the government's Events Research Programme (ERP) – a science-led initiative to get audiences back safely as restrictions are gradually eased.
The pilot launched The Good Business Festival main event which takes place across the city from July 7 – 9. Around 400 delegates attended from the Liverpool City Region. We were also joined by colleagues from the events industry such as the AEV and ESSA. It was a fantastic opportunity for guests to network for the first time in a year and to listen to interesting sessions.
How did it feel to actually deliver a live in-person event again?
It felt fantastic to organise and deliver a live in-person event again. All our teams were involved in organising the event so there has been a lot of work going on behind the scenes, then to see visitors to walk through the door felt like a pivotal moment. There was a buzz and energy throughout the convention centre, it really felt electric and quite emotional to finally get to this point after such a long time.
What Covid health and safety protocols did you have to put in place pre-, during and post-event?
Our campus is fully covid secure in line with the government approved 'All Secure Standard' and as part of a series of accreditations received including VisitEngland's 'We're Good to Go' industry standard for tourism and hospitality.
Delegates thought that we would have a lot of covid secure measures in place for the Good Business Festival pilot event such as one-way systems but one of the stipulations of the ERP was that the event should be as 'normal' as possible.
Our covid secure measures were once again implemented post-event so for example anti-viral electrostatic spraying machines to enhance hygiene standards including seating areas.  For future events, until we are advised otherwise, we will have designated entrances; track and trace QR codes, socially distanced queuing, bathrooms and seating; one-way systems and hand sanitisers throughout the campus.
What was the feedback from delegates on the day?
The feedback from delegates was overwhelmingly positive. I think attendees were pleasantly surprised to see how 'normal' the event was – which again felt quite unique given that no one has been able to attend a traditional conference for over a year.
It was interesting to see if people socially distanced and wore their masks. At first people tended to keep a distance, probably because we are all so used to it now. But soon everyone was shaking hands and deep in conversation next to each other. A lot of people didn't want to leave as they felt they were leaving an event bubble and heading back out into the Covid world.
When will you receive feedback from the government's scientific researchers who were monitoring the event on the day?
The aim of the pilot event was to assess the running of a conference without Covid measures in place, informing research to examine transmission, aerosol and contact risks in a medium-sized indoor venue. We have been liaising with the government, DCMS, the science board, the university of Liverpool and the Department of Public Health. Our current understanding is that in-depth scientific analysis among multiple teams is ongoing at the moment.
A feasibility analysis will be submitted to the prime minister at the end of May. Results will then come out following this with further detail. We have not received an exact time-frame but we expect to receive further details in the coming months.
How important do you feel this pilot is in getting business events back up and running?
We have all adapted to a new landscape over the past year and are used to zooming but nothing can replace face to face meetings. Our industry has been hugely affected over the past year, but we hope that the pilot events signal the road to recovery.
Working with the rest of the events industry, we will do all we can to try and get back on our feet again – to host events and to welcome delegates and visitors to our campus. We hope the pilot events signal the start of our return to normal life and we are proud to have been a part of this.