Popular meeting and events hotel, The Grove, Hertfordshire will unveil the results of an extensive renovation project it relaunches on 17 May 2021.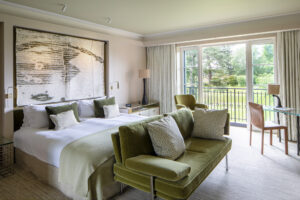 The complete redesign by award-winning interiors studio Martin Hulbert Design includes all three dining spaces – The Glasshouse, The Stables and The Lounges – as well as the lobby area and all 189 West Wing guest rooms.
The refurbishment represents a significant investment for The Grove over the past two years and has been completed during lockdown.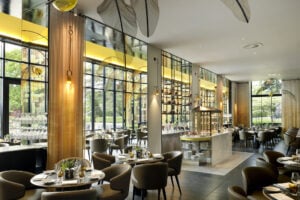 The Grove's signature restaurant, The Glasshouse, has been reimagined with the ultimate vision of bringing the outside in. The striking glasshouse exterior, which overlooks a manicured courtyard and the lush grounds beyond, provides abundant natural light. This complements an interior colour palette of warm, ochre yellow and rich earthy tones to create a sense of eternal sunshine, whatever the weather.
The theme continues at the neighbouring Glasshouse Bar, which features a brand-new mirrored bar area. The ambient space has been seamlessly incorporated into the hotel's lobby area through the use of glass walls. This brings warmth to the newly-refreshed lobby and provides an immediate welcome for guests as they check in.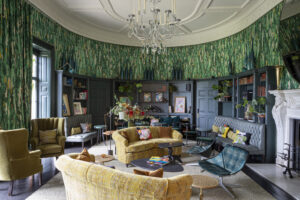 The Grove's Lounges, a series of characterful drawing rooms at the heart of 18th Century Mansion, have been overhauled to provide three unique but cohesive spaces in which guests can relax with a cocktail or enjoy stunning views of the gardens over a traditional afternoon tea.
Set in 300 acres just 18 miles from central London, The Grove can cater for a range of events with 23 meeting rooms accommodating two to 450 delegates and acres of outdoor space for team building pursuits including a four-acre Victorian Walled Garden complete with outdoor pool, tennis courts and The Grove beach.