With all UK travel corridors currently closed, overseas incentive travel looks set to remain on hold for the time being, but that doesn't stop us from sharing inspiration and planning ahead for when it does return.
The Incentive Travel Industry Index (ITII) 2020 research, shared by SITE at our incentive travel focused event in December, revealed that UK incentive planners are turning to trusted and safe destinations, with Western Europe ranked the top destination followed by the Caribbean in second spot.
So, if you're looking at the Caribbean for 2022 incentives, we explore what's hot where…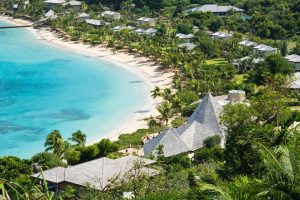 2020 kicked off the reopening of Rosewood Little Dix Bay in the British Virgin Islands (right). Completely rebuilt since the hurricane, the property is located within 500 acres of wild gardens, surrounded by piercing blue seas and secluded beaches
The rooms and suites – all of which include dedicated butler service – can be found by following the footpaths through the gardens while along the beachfront and hillside above the bay lie the luxurious villas. Gastronomes will be delighted with the onsite restaurants, which offer everything from handcrafted tapas through to wholesome slow food and contemporary farm-to-table dishes, made with the finest of local produce.
Rosewood is also planning to make its debut on the dreamy island of St. Barth this year, having been appointed to manage Le Guanahani, the iconic St. Barth retreat that has been closed since it was damaged by Hurricanes Irma and Maria in 2017.
Following a property-wide rebuild and refurbishment, Rosewood Le Guanahani St. Barth is due to open this spring offering 66 rooms, suites and villas, many with new private pools, and a range of updated amenities including a distinct beachfront dining concept and new pool, a Rosewood Spa and dedicated event spaces.
Additional projects from the luxury brand underway in the region include Rosewood Half Moon Bay in Antigua, set to open in 2023.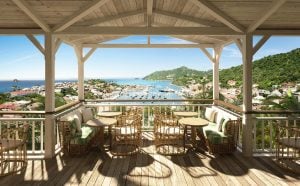 Barriere Group debuted its first Caribbean property in late 2019 with the opening of the Hotel Barriere Le Carl Gustaf in St Barth (right). Overlooking the port of Gustavia, the luxury boutique property houses 24 rooms, including 13 cottages and two junior suites, plus a private home boasting six bedrooms, a pool and multiple terraces. Dining options include a Fouquet's restaurant, the French group's famed Parisian brasserie, and Shellona, serving Mediterranean and Caribbean-inspired dishes.
Kempinski also made Caribbean debut in 2019 with a luxury property in the striking Cabrits National Park on Dominica. Featuring 151 stylishly appointed rooms, Cabrits Resort and Spa Kempinski Dominica looks out across the Caribbean sea and is ideal for both conference and incentive groups, due to its onsite meeting spaces and activities on offer. These include exploring the volcanic island's island's striking surrounds, which include 365 rivers, breath-taking waterfalls and natural boiling springs.
Other big brands set to open properties in the Caribbean include Banyan Tree Hotels & Resorts, which is set to open its first property in the Bahamas. Set on 40 acres of pristine Atlantic oceanfront, a 20-minute seaplane ride from Miami, Banyan Tree illa Bahamas will offer 50 rooms and 54 luxury residences.
Meanwhile, Ritz Carlton is coming to St Kitts – the resort will include 125 suites plus 25 branded villas and residences located on the picturesque Southeast Peninsula of the island, while the 100-room Mandarin Oriental, Grand Cayman is expected to open in the Beach Bay area of Bodden Town in 2022.
And finally, no hotel brand is more synonymous with the Caribbean than Sandals, which boasts 18 different Sandals and Beaches resorts in Barbados, Antigua, Grenada, St Lucia, Jamaica, The Bahamas and the Turks & Caicos islands.
Sandals recently announced its expansion to the beautiful Dutch-inspired island of Curaçao, marking the eighth island for the brand in the Caribbean region. World-famous for its vibrant culture, pristine beaches, and coves, Curaçao also boasts 65 spectacular dive sites and exotic marine ecosystems.
The new Sandals Resort, formerly the Santa Barbara Beach & Golf Resort, will be completely transformed and reimagined to initially include 350 luxurious rooms and suites, with a further expansion planned in the coming years. Plans for the resort include new expansive pools, a variety of Global Gourmet dining options, lavish accommodations such as Sandals all-new River Suites, and more. The resort will also feature 3,500 sqm of indoor and outdoor meeting space, the largest on the island.
For clients that don't feel ready to commit to group travel just yet, Sandals recently launched a new e-Gift Card for luxury incentive experiences, offering an alternative option for corporate businesses flexibility to reward their staff and customers, motivate teams and drive sales with a once-in-a-lifetime Caribbean experience. Available in multiple denominations from £1,000 to £5,000, the new e-Gift Cards can be redeemed against holidays to any of the properties.