With demand for hybrid events growing due to the ongoing pandemic, a number of hotels and venues around the UK have invested in creating studio spaces to offer clients the option of hosting high-quality virtual and hybrid events.
We take a look at some of the options available…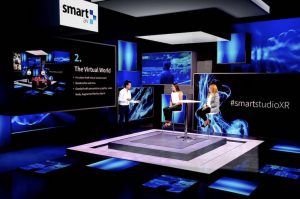 SmartStudio at Royal Lancaster Hotel, London
Created in partnership with Smart AV, the XR SmartStudio situated in the hotel's Westbourne Suite, has already hosted several high-profile industry events. Featuring a 215-square-foot "Extended Reality" (XR) stage with an LED backdrop and floor, audio, broadcast cameras and TV-ready lighting, it allows clients to have both a live audience and virtual attendees.
Hybrid events so far have included a mix of some attendees attending a conference in the Westbourne Suite listening to the presenter speaking live, as other attendees view remotely. Fully virtual events involve the speakers prerecording their messages, which is then live-streamed or saved for a later date. The team can also create an app for the delegate, so that they can choose which session of a conference they want to join, and also have networking opportunities.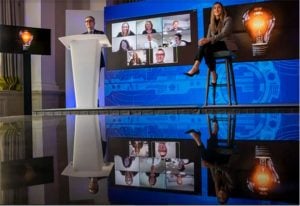 Extended Reality Virtual Event Space at The Balmoral, Edinburgh
The Rocco Forte property, located in the heart of Edinburgh, launched its space in October. The studio is situated in the hotel's spacious Holyrood suite, where the layout, be it virtual or physical, can be completely flexible to work in line with government guidelines.
The space features a 16ft x 8ft stage complete with LED backdrop, stage lighting, two repeater plasmas and a PA system with two microphones. Speakers can engage with the audience or even dial into the studio themselves, allowing for an interactive and productive meeting, no matter how far away delegates may be. A technician will be on-site throughout to support presentation and control the AV equipment.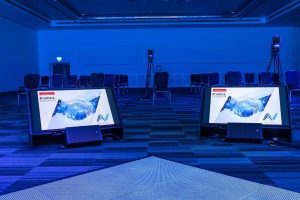 Hybrid Event Studio at ExCel London
ExCeL London has created a fully immersive, state-of-the-art hybrid event facility in partnership with production company Anna Valley. The studio can broadcast video from hybrid and virtual events, with space for up to 30 delegates in person. The set features an adaptable digital backdrop and stage floor, multiple cameras and a full sound system and lighting rig.
Remote presenters with broadcast quality feeds can be included in studio activity and content can be streamed to platforms such as Zoom, YouTube and Facebook. The studio is located in a central, self-contained area, above the venue's main event halls. Separate, but within close proximity are office spaces, green rooms, and production areas.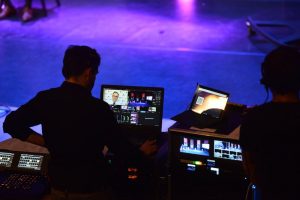 Hybrid Studio at ICC Belfast
ICC Belfast's purpose-built Hybrid Studio (right and main image) was launched in June. It offers organisers the flexibility of hosting guests both in-house and virtually, as well as the ability to communicate key messages via a branded platform. The venue's investment in enhanced technology and software means that delegates can interact with live sessions by asking questions and taking part in polls.
Speakers can deliver keynotes and contribute to panel discussions directly from the Hybrid Studio as well as from their remote bases. In the last five months, ICC Belfast has hosted virtual conferences, product launches and award ceremonies, which have been broadcast in over 92 countries worldwide.
Live Stream Studio at St Ermins Hotel
The London hotel has also partnered with a production company, Showcase AVi, to create a studio offering live and virtual event options. A dedicated studio set up in the Cloisters Suite for a live or pre-recorded environment boasts an 8m wide green screen backdrop and the option to upgrade to a digital set backdrop using 2.6mm LED technology.
Pre-recorded or live stream events can be filmed and edited from the studio and broadcast to audiences wherever they are. The collaboration with Showcase AVi means they can also offer the 'virtual online platform' that hosts the event. For hybrid events, flexible event rooms, reconfigured to meet Government regulations, including the ornate Crystal Ballroom, can host live audiences alongside the live stream.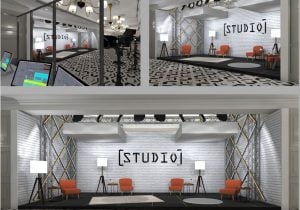 The Event Studio at Pennyhill Park
Surrey-based Pennyhill Park, part of the Exclusive Collection, has revealed plans for a state-of-the-art studio experience for streaming and pre-recorded content, available from January 2021.
The Event Studio has been designed with all the requisites of an outside broadcast unit and offers TV quality cameras, stage lighting and production facilities, alongside a team of AV professionals to ensure the high-end transmission of corporate messages.
See our Virtual Event Guide for articles and videos. Advance search for virtual suppliers on micebook.com