We are thrilled to announce that micebook has launched the first ever Virtual Event Awards for the UK industry and rolled out a new listing service for virtual events platform on the micebook digital hub.
The announcements kick off our month-long focus on education around hybrid and virtual events this November, which begins with our micebook talks session on the topic today (4 November).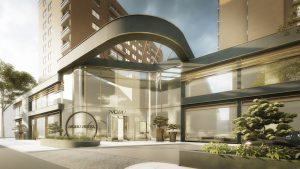 The V Awards
Chetan Shah, micebook founder & CEO said: "Some of agencies in our space have done an incredible job of pivoting to hybrid and virtual events this year. They have adapted to deliver amazing virtual events to help their clients with the communications challenges they are facing through very testing times.
"Those teams have probably worked harder than they have ever worked. Not only have they had to learn a whole new way of engagement but also get to grips with all the new technology and different systems. All of that should be celebrated, hence we are launching the virtual awards. If we can celebrate one thing out of COVID, let's celebrate those achievements."
The awards will recognise the best in class across virtual and hybrid events delivered in 2020, with categories including Virtual Event Agency of the Year, Virtual Incentive of the Year, Best Virtual Celebration and Best Virtual Studio and more.
The awards ceremony will be at the newest, hotspot in town: Nobu Portman Square, London on 20 May 2021 – Hybrid and LIVE (as the government guidelines will allow us at the time).
Cheerful Twentyfirst CEO Steve Quah, who will be on our panel of judges for the first V Awards, said: "The new Micebook V Awards will be an exciting opportunity to showcase the best-in-class digital events and campaigns, and recognise the value of virtual in the wider communications landscape."
Find out more about the V Awards
Virtual events platforms on micebook.com
As of this week, we have also launched two new categories for virtual sectors on micebook – Virtual Event Platforms and Virtual Event Agencies – which will be followed shortly by Virtual Studios and Virtual Experiences.
Agency and corporate buyers can now use the advance search function to search for and compare virtual event platforms by capability – there are 92 loaded so far – while corporate clients can search for virtual event agencies by criteria such as service offering, platform experience and more.
"There is currently no central hub for all of this. The beauty of our platform is that it is not only independent, but planners can write notes against every profile and share that with their colleagues within a closed private network. With virtual being such a minefield and such a new area, sharing knowledge and expertise is more crucial than ever," said Shah.
"Agencies and virtual event platform suppliers can create a free profile on micebook or pay for an All Access premium profile. We're now on a campaign to get these profiles populated and the depth of content built so will be going out to agencies and suppliers to add more detail."
Cheerful Twentyfirst's Quah described the new sectors as "a fantastic initiative to connect experienced agencies, such as Cheerful Twentyfirst, with global buyers through the industry-trusted Micebook network."

Virtual and hybrid education
As part of our November focus we are concentrating on education around virtual and hybrid. Throughout November we are looking to cover jargon busting, what is hybrid, creative engagement options, virtual team-build, agency support and platform evaluations.
Our first session at 3pm today features Glisser's Vanessa Lovatt, Eventmindpro's Ashanti Bentil-Dhue and freelancer Katharine Ayling on the panel. Tune in as we go back to basics and cover all things virtual and hybrid.