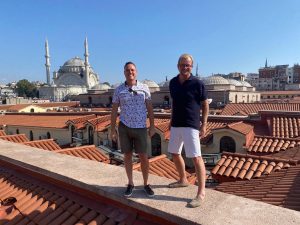 In the current challenging climate of travel restrictions and quarantines, it's great to be able to share positive stories from #eventprofs who are getting out there and pushing ahead with international site visits.
In October, Mundus Representation took to the skies to experience first-hand the opportunities for meeting and incentive clients in Istanbul and Cappadocia with DMC partner MEP. Here joint Managing Partners Wayne Redman and Andre Van Der Bijl share their experience…
Getting there
So, the first big question? Flying! We needn't have worried. Our experience at Heathrow was seamless – with all the necessary safety checks and Turkish Airlines pre-flight communication and overall operation made us feel more than safe. Three and a half hours later we touched down at Istanbul's new airport. It's a world class hub, offering spacious and modern facilities for travellers both before and after travel. Serving 249 cities in 110 countries Istanbul Airport caters well for global MICE events. Within 45 minutes we were checked in at the Four Seasons Bosphorus Hotel, located on edge of the Bosphorus river, with spectacular views of its iconic bridge. We spend 5 days across Istanbul and Cappadocia and below are bulleted highlights of our site visit tailored for MICE.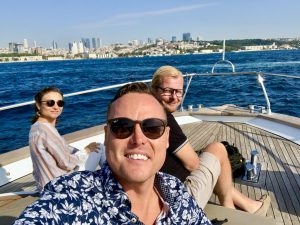 Istanbul
Istanbul's cultural and historic heritage provides the perfect backdrop for MICE events at spectacular venues; the gardens of Ottoman Palaces, Byzantine Churches and Roman Water Cisterns are just a few. MICE programmes can incorporate a plethora of cultural experiences ranging from Chefs Tables with Turkey's culinary heroes, luncheons at the private homes of famous historians, and off-the-tourist-track city tours with local experts. It's bustling nightlife, gastronomic delights, stunning architecture and world class hotels top it off as the perfect MICE get away.
The Activities & Venues
We took a walk on the rooftop of the Grand Bazaar, allowing us to view the surrounding Mosques and museum. It is the perfect place to add a twist to the traditional visit to the Grand Bazaar, before lunching at the Havuzlu Restaurant, where we tuck into traditional Turkish delicacies.
We visited the cavernous Roman water cisterns located beneath the city. With history seeping from their walls, the location sticks out as a perfect backdrop for product launches, dinners and events.
At the Topkapi Museum, home to Ottoman Sultans, we explored the magnificent terrace and gardens giving breath-taking views of the Bosphorus, and surrounded by Mosques and churches. Again, this gets a big thumbs up for a spectacular location for those wanting to host gala dinners and special events.
A boat trip along the Bosporus provides a unique way for MICE groups to explore the old town, and transfer to gala dinner venues by boat. We departed from the Four Seasons pier after breakfast and feel like Royalty!
While Istanbul boasts a mouth-watering array of unique dinner venues to tempt events and gala dinners, the standout locations for us are the spectacular Esma Sultan Mansion, Feriye, Cubuklu 29 and Sait Halim Pasa.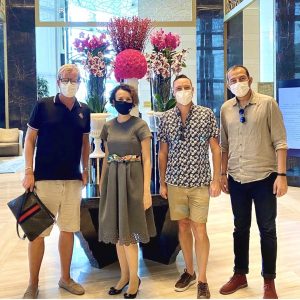 The Hotels 
For groups insisting on luxury, the Cıragan Palace Kempinski, an Ottoman Imperial Palace located on the edge of the Bosporus, has it all. From large outdoor spaces, to small intimate meetings rooms the hotel is perfect for product launches, gala dinners or a conference from 10 to 1000 people.
We visited Raffles Istanbul. This hotel offers a sophisticated, modern feel, with state-of-the-art MICE facilities and rooms with jaw-dropping views of the city and Bosphorus river. Raffles provides direct access to the Zorlu Center with its various restaurants, cafés and luxury boutiques.
At the Hilton Bomonti Istanbul, we found an outstanding modern conference hotel with an incredible selection of meeting space and panoramic rooftop entertaining space for events and dinner, where we stopped for a drink and take in the views of the city.
We visited the new Novo and JW Marriott Hotels, located in eclectic Karaköy district offering its quirky boutiques, cafés, cocktail bars and artisanal markets. It's a great mix of modern hotels mixed with culture and hospitality.
A real favourite for nostalgia… the historic Pera Palace, where renowned crime author Agatha Christie was a regular guest staying in Room 411 – it's rumoured she wrote her popular novel, Murder on the Orient Express there. Now, Room 411 is recognised as the Agatha Christie Room. The hotel offers spectacular views of the Golden Horn, an indoor pool, and luxurious rooms with city views in the historical Pera district of Istanbul.
Six Senses Kocatas Mansions, built in the Ottoman era, was another hotel on our site visit list. It's a 40-minute trip from the airport, or a 60-minute boat ride from the city centre. With 45 well-appointed rooms, Six Senses offers smaller Mice groups the peace and serenity next to the Bosphorus river, while retaining easily access to metropolitan Istanbul. The hotel has a Spa, grows its own cooking produce, and offers three diverse dining experiences. We think it's the perfect property for MICE buyouts and full private events.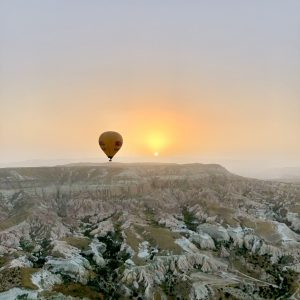 Cappadocia
Cappadocia defies description, offering MICE programmes a once in a lifetime experience. Easily accessible from multiple cities in Turkey and less than one hour from Istanbul, the city offers the perfect extension for any MICE programme, or a stand-alone three to four-night programme. We spent a day there; site visits included the only Relais & Chateaux property in Turkey, hot air ballooning, and investigating the locations cultural offerings for MICE groups. Extremely picturesque, Cappadocia is akin to an intriguing open-air museum; at every corner we were mesmerised by another astonishing view.
 The Activities & Venues
We took to the air on an exhilarating hot air balloon trip. It's a must for any group, but particularly those looking for an incentive programme catering for small groups. The anticipated excitement the night before, and then to rise gently into the sunrise over the most spectacular landscape is unforgettable.
The fascinating underground cities of Kaymaklı & Derinkuyu – Sinasos, lets groups explore 7,000 years of history, an absolute must see!
The open valleys of Cappadocia provide MICE groups the perfect location to engage in regional creative events, and where guests can embrace the area's historic culture and architecture, including the Goreme Open Air Museum, and numerous monasteries and churches.
We explored the Guray Ceramic Museum. This 1,600m² venue consists of several beautiful exhibition halls carved out from the local lithology 20 meters underground, making it a unique location for seminars, symposiums, dinners and concerts.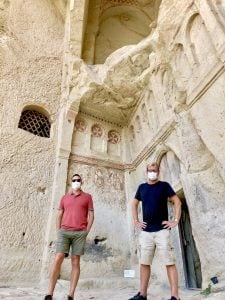 The Hotels 
Staying in a cave hotel is unique to Cappadocia. We visited one of the most exquisite in the region, the Agros Hotel, situated within the geological 'fairy chimneys' of Cappadocia's prehistoric landscape. Once a monastery, with rooms spread over several natural stone buildings, the property affords MICE groups the opportunity to host meetings, product launches, and conferences in a memorable group of authentic meeting spaces. The Agros has its own gardens and vineyards offering a wonderful farm to fork dining experience, as well as culinary cooking classes and viniculture activities.
The Museum and Carus Cappadocia Hotel also offer groups outstanding accommodation in the region.
So there you have it! An extremely productive site visit convincing us this wonderful part of the world has much to offer MICE groups. Regarding COVID-19, throughout our site visit in Turkey we felt very safe. Social distancing, personal hygiene awareness, and COVID protocols were all observed at each of the hotels and venues we visited. We have complete confidence in MEP and their partners to host events in the current climate.