Last week, micebook partnered with All About Flights and Rocco Forte Hotels to host the first industry fam trip since lockdown for a group of UK agencies, during which we streamed a live talks session from Hotel de la Ville, a Rocco Forte Hotel. The trip was far more than simply showcasing the destination and hotel. It was about confidence and 'know how', and we were thrilled to be joined by industry leaders from OrangeDoor, Absolute Corporate Events, Green & Pleasant, YES, Meet Events and Image Events for the journey.
Here, Absolute Corporate Events Owner & Client Strategies Director Chris Parnham and OrangeDoor Founder & CEO Elizabeth Heron share their experience…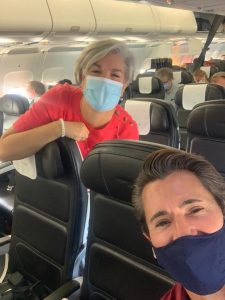 Chris Parnham:
"Last week I had the divine pleasure to travel BA Business Class as a guest of Rocco Forte Hotels, micebook and All About Flights, accompanied by a clutch of industry colleagues, with the common objective of experiencing business travel during the pandemic and broadcasting our insights on a 'micebook talk', live from Rome. For a small group of hardened but demanding event professionals, the experience was, thankfully, uneventful.
The Gold Wing at Heathrow was my first butterfly moment, with a red-carpet arrival and the reassuring black horse, there to remind me of more frequent visits in days gone by. The buffet had been replaced with table service, and the bar manned, rather than being self-serve.
The airport was like 1am on Boxing day morning. Half the stores where closed, with what looked like 10% of the normal crowds. Everyone was in masks, but I think smiling behind them, (you can tell by the position of the eyebrows). After a couple glasses of champagne with my new companions, we headed off to the gate. Boarding was from back to front, so we were the last on, with little delay, and we settled into our seats with plenty of spacing and surrounded by smiling mask wearers.
I truly share the pain of the airline industry as they have been hit just as hard as our beloved events industry, and we stand together hoping for regular travel to return soon, but not all injured parties are playing fair. The on-board service from BA is poor, with a sandwich that would have felt more at home on EasyJet, rather than BA Club. No special meals and no frills. When a colleague asked why, she was offered an explanation that would be used many times over the next few days; "COVID"…  It seems this is becoming an answer that excuses anything, without logic or reason.
The arrival experience was smooth, although the on-board champagne may have been a factor, but we were quickly whisked away to our home for the next three days, the gorgeous Hotel de Ville from Rocca Forte. The welcome from the RF team was wonderful, and we were all treated to gorgeous rooms with personal welcome messages and gifts. All hotel staff wore masks as did all roaming guests. Hand wash stations were aplenty and new signs reminded us to pay attention to our hands, face and space.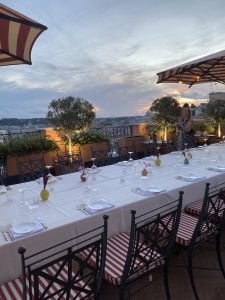 During our stay some of us took a walking tour, others drove fast cars, but we all did it with care and attention to the new rules of personal distancing and hygiene, and very quickly it became second nature and not at all foreign. Rome was quiet, but still as beautiful. We were treated to some wonderful dinners, on the Hotel De Ville Rooftop and at the pleasure of its trendy sister the Hotel de Russie, which has the most beautiful City gardens and balcony views.
We set up to broadcast to the world as part of a very special micebook talk, expertly hosted by Chetan Shah, and we shared our experiences so far. Sanitised and shrink-wrapped mics, seats with extra space and masked AV crew reassured us all, without taking anything from the experience of the production. For an hour we shared stories from Rome, all of which can be viewed here on the micebook voice forum.
Fiumicino airport was a quiet as Heathrow, and after finding the BA lounge closed; why? "COVID", we enjoyed the Plaza Lounge instead, who's staff seemed to have figured out how to manage a Club lounge safely. Our visit was over all-to-quickly,  and I feel confident to say that although it is clearly not possible to hold an in-person event at the moment, or any time soon, there is absolutely no reason why you can't plan one, site visit your venues, and look forward to your first big in-person event in 2021 or 2022."
Elizabeth Heron: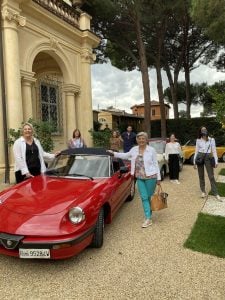 "In one massive swoop – all those memories of 'Life before COVID-19' came flooding back as I walked through the airport towards my flight to Rome. What used to feel so familiar the prospect was feeling a tad alien, but the reflex memories of business travel fell straight back into place.
LHR was brilliant – I felt safe, secure and at ease. BA's service was a strong mix of COVID secure and trying to give us back an experience. Measured and planned.
And as for the Rocco Forte Hotel de la Ville – it's breathtaking. The kindness,  human interaction and again, the measures in place to protect us all were exceptional. I walked into the lobby and was greeted by Doorman with such pride, by the Reception Team who were overjoyed to see us, and the welcome of their marvellous GM evoked all those memories that made me realise even more why we need to fight so hard to save this industry. Hospitality is in our DNA, and to survive this often-challenging world we all need this back.
On the Tuesday night after our safe arrival and orientation, we took the one-minute walk to the Spanish Steps. I know the micebook team are fabulous, but it felt like they had privatised Rome! We stood at the top and took tourist photos and indulged in the moment.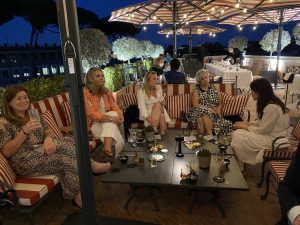 The opportunity to have a live face-to-face event, breath in the atmosphere, the laughter, the sheer pleasure of experiences. The serendipity of conversation that takes you on tangents that add interest and opportunity and then, the human connection – something you just can't achieve on Zoom. We all agreed that these feelings can, no matter how hard we try, never been achieved virtually.
Virtual  is the new normal and we are delivering exceptional experiences for our clients, pushing boundaries and injecting creativity and skill and it's starting to feel like our 'new normal' –  but I left Rome  with a renewed confidence and optimise  that the world of live events and these 'money can't buy' moments will return."
PARTNERS