Absolute Corporate Events (ACE) Owner & Client Strategies Director Chris Parnham asks whether your personal R value has increased or during the pandemic…
We hear so much about the R-value at the moment, or the Reproductive-value of the Covid-19 virus and how we need to keep it below one in order to deter a further pandemic surge. But what's your own personal R value, and how has that been affected by Covid-19?
Your personal R value is the number of people you reach through any method of communication. You will reach these people to influence them, share a message, make them feel better, show them you care, inspire them, or just to say hello. Has your personal R increased or decreased since lockdown?
Business leaders use their personal R to reach their employees, clients and suppliers. They need to communicate a strategy, a message, a set of values and a sense of success and security. This in turn ensures employees work hard, clients remain loyal, and suppliers deliver.
All of us use our personal R to make and nurture relationships with our loved ones and colleagues. This gives us company and security and also makes them feel valued and loved.
Prior to lockdown, a business leader could have enjoyed a personal R value in the hundreds or thousands, depending on the size of his or her company. A manager or team leader would have also enjoyed a high R value, and the rest of us would count our R value based on our family, friends, colleagues and contacts, which could still take some of us into the hundreds.
Since lockdown was imposed, our personal R values have been affected, initially in a very negative way, as face to face meetings and gatherings were immediately suspended, along with any travel. Business leaders saw their R value plummet from over 1,000 to just 4. Many of us saw our R value fall from more than 50 to 3 or less. But face to face is not the only way to reach people. So, has your R value recovered yet?
In today's multi-channel world, it is possible to retain a high personal R value with no or limited face to face contact. Many of us have dived in to Zoom meetings, to stay in touch with family and friends. Talking on the phone is making a comeback. Instagram, Facebook and TikTok are the new places to share stories, experiences, creativity and love.
With more time on our hands, there is no excuse to wallow in a low value of R, there is every opportunity to enjoy the highest R value ever.
A higher personal R value means you are reaching more people, leading to more conversations, more laughs, more love and more support, for you and for everyone you reach. The best way to increase your personal R value is to develop a personal communication strategy.
There are many online platforms for sharing, so choose one, and make it your stage. It's ok to be on more than one, but best for your loved ones to know where to find you, and your news. Think about your most loved family and friends and reserve a channel that works for them. Older parents love a regular phone call, friends enjoy a personal text, and everyone loves a mention so engage with your loved ones on social media. Comment on their news and include them in yours. In just one focused day you can explode your R value in a way that you never had time to in the past. The result of an elevated R value is your loved ones feel more loved and so do you.
In business, we face the same challenge, and the solution is similar. All that is required is a new communication strategy. Conferences, meetings, even working side by side in the office has been at best difficult, or in most cases impossible. Business leaders, managers and team leaders can improve their personal R value without the need for face to face. Conferences can be produced virtually, as can meetings. (These vary greatly in quality though, so if you want to know how to do this well, my amazing team are standing by to help.)
Social media platforms can be utilised to communicate with entire audiences, so secure one platform for each audience. Which is best for your clients, suppliers, colleagues and friends? This will vary depending on the industry but try to have a channel strategy, so each audience knows where to find you and where to consume your news. Online communication isn't as clear as face to face and it is surrounded by lots of noise and distractions, so make your online voice distinctive and consistent, developing an online personality for each audience. Be engaging, informing and entertaining.
Creativity and invested time constitute the best strategy to elevate your personal R value in business. Awards events motivate winners, so how can you do these virtually? Incentives drive performance, but how do you have an incentive without travel? Clients are won through networks and promotions, but how do you do this without meetings? Businesses that thrive after lockdown will have worked out the answers to these challenges, and they will benefit from the highest R values, perhaps even higher than before…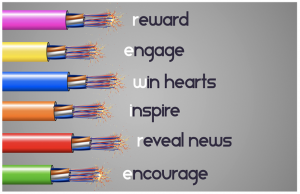 ACE has developed a brand-new programme called ReWire, a bespoke communication strategy for businesses planning to thrive as lockdown is eased. It will not only answer the questions posed above but also improve communication to each of your discrete audiences, driving loyalty, retaining and winning clients and championing star performance. Contact Chris for a free consultation.