Its official, the Scottish Tourism Industry is on track to reopen on 15 July and Edinburgh, its capital, is busy preparing to welcome tourists and events back to the city. K&N Travel Associates, a Destination Management Company based in Edinburgh, shares its guide on where to stay and what to do as soon as the lockdown ends…
Top Hotels
Planners are predicting a shift towards luxury aparthotels for initial post-pandemic stays. The Edinburgh Grand is a relatively new addition to the city's accommodation offering, opening in 2018. Set in a former bank in Edinburgh's prestigious Georgian New Town, this five-star hotel offers 50 luxury apartments, complete with kitchenette, sofa and coffee come dining table. The interiors are traditional but stylish (think velveteen sofas and marble surfaces).  More importantly, breakfast can be enjoyed in the comfort of your own room, and the hotel is happy to accept deliveries from your favourite supermarkets.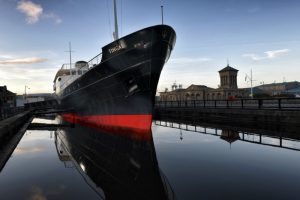 Another likely trend for incentive groups will be to book more exclusive use stays, to protect their group bubble. On the outskirts of the city, in the hip port district of Leith, is a floating hotel which fits the bill perfectly. Fingal is part of the Royal Yacht Britannia group, and opened in 2019. With 23 cabins, a beautiful deck for pre-dinner cocktails and a glittering ballroom, it's the perfect space for private groups from which to explore the city.
But that's not to say your typical high-end conference hotels are to be outshone. The Hilton Edinburgh Carlton, popular for its large rooms and conference spaces has issued a detailed statement on how they are adapting. Changes include increased cleaning, contactless check-in/ check-out, and CleanStay Room Seal to prove guest rooms haven't been accessed since they were cleaned.
Experience Edinburgh
Luckily, much of the draw of Edinburgh is its outdoor spaces, with stunning vistas, intriguing 'Closes' (alleys) and a variety of historic architecture.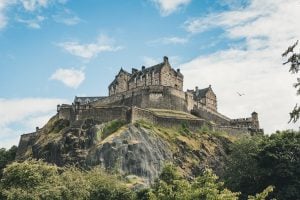 Edinburgh Castle is a must see for any first-time visitor. Such a popular attraction, it already has timed entry slots for pre-booked tickets, so as it prepares to re-open we expect to see more of this and probably a one-way system. Much of the Castle is open-air, with stunning views over the city and a must see for anyone one their first visit.
Arthur's Seat is another popular activity for more active visitors and groups. Towering above Holyrood Palace at 251metres, it's an easy enough climb, or follow the quiet road (on foot or by bike) that runs around it. A guided tour is a great way to learn about the history and myths that surround this volcanic rock, and to give you a good overview of all the monuments you can spot from on high.
Afterwards make a visit to Holyrood Distillery for a well-deserved dram. The first single malt whisky distillery in the centre of Edinburgh for almost 100 years, it opened in 2019. A great place to learn about the history of Whisky, and of course, to sample one or two as well!