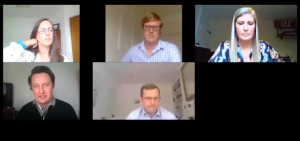 Hirespace.com led an engaging and informative session at the micebook 'talks' last Wednesday, discussing the 'Safer Events – A Framework For Action' white paper and the accreditation process for venues and events organisers.
As a set of measures which go above and beyond government guidelines for safely organising events, the Safer Events framework is informed by corporate event planners and is designed to give organisers the tools to organise events with confidence and drive delegate attendance.
Joining the panel were:
Martin Fullard, Editor of Conference News and Editorial Director of Mash Media
Edward Poland, Co-Founder of Hire Space
Rachel MacAuley, Head of Conference Sales, Vue Cinemas
Natalie Shattock, Senior Events Manager EMEA, Morningstar
Paul Black, Head of Business Events, London & Partners
The session began with Edward Poland introducing the story behind the Safer Events accreditation, which began in response to Hire Space Professional clients' requests for a framework for thinking about their 2020 events programs.
Notably, corporate event planners had expressed a desire, early in lockdown, to support venues and the wider events supply chain if they possibly could.
The Safer Events white paper was launched in late May, and within a fortnight had been downloaded over 700 times by agencies, corporates, associations and venues.
Next, Natalie Shattock from Morningstar spoke about the challenges faced by corporate planners in the early days of lockdown, admitting that there was an element of "luck rather than judgement" when making decisions early on, and explaining that, despite the challenges, the company had a strong desire to host events with a live element in 2020, as well as a comprehensive virtual program.
Rachel MacAuley talked through the measures that Vue Cinemas had taken to make their venues safe and ready for events post lockdown. These measures included looking at delegate flow, catering, PPE, sanitisation and hybrid event provision, with Rachel's team investing significantly in technology to improve the attendee experience.
Finally, Paul Black gave an overview of the situation on the ground from London's perspective, and called for the need for unity and consistency around a set of measures the industry could rally around. Key things are being practical, and focused on the things that will most quickly get the industry back on track. Paul outlined London & Partners role in helping London and the events industry manage the disruption of recent months.
Overall, the session painted a picture of an industry starting to emerge from the crisis, and finding pragmatic ways to get business moving again.
The importance of flexibility and communication between clients and suppliers was presented as fundamental, as well as the importance of making it very clear where responsibilities lie when planning an event. Transparency was presented as essential to the success of all events projects.
The audience had plenty of questions, all of which were answered by the panel. As a next step, the audience were encouraged to download the Safer Events – A Framework for Action white paper and to begin the process of accreditation.
All in all, it was a positive and enlightening session which laid out a clear way forward for businesses in the events sector, as soon as government guidance allows.