Mister Micebook fancies an artistic fix this spring in one of Euro 2020's host cities…
From the quirky street art that can be spotted around this Basque city through to the striking works at Frank Gehry's Guggenheim Museum, Bilbao is the perfect getaway for a cultural weekend in Europe plus its impressive venue offering has made it an obvious choice for some of the forthcoming Euro 2020 matches.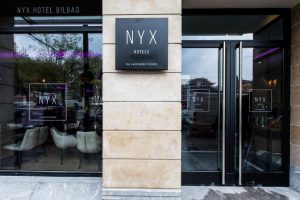 Mister Micebook will be checking in the trendy lifestyle brand NYX Hotel's recent opening to see its signature blend of contemporary aesthetics and artistic style. NYX Hotel Bilbao opened last April, transforming the former Hotel Inglaterra into a super sleek retreat with 109 rooms within walking distance of the Guggenheim, the Gothic cathedral of Santiago and the bustling streets of Casco Viejo.
Up on the 8th floor, the terrace overlooking the city provides an ideal spot for people watching while the function room for 45 is ideal for meetings and more informal events. The Clash Lobby-Bar can also be hired for parties, with cocktails and tapas on offer.
While in the Basque region, Mister Micebook will be taking a road trip towards San Sebastian to check out the 69-room Arima Hotel, nestling in the heart of the Miramón Forest. This Small Luxury Hotels member is perfect for corporates in search of a retreat that is striving to grow its eco creds as it offers clean energy systems, sulphate-free toiletries and a menu of veggie-based fine dining at the Misura restaurant.
Back in the city, Mister Micebook will be sure to visit the site of the new Radisson Collection Hotel, Gran Via Bilbao, on the prestigious Gran Vía Diego López de Aro, which will bring 137 luxurious rooms to Bilbao next year.
Click on the links within this article to contact or view the micebook profiles on any of the venues, hotels or suppliers mentioned. Alternatively, search all our
Destinations
 or
Euro2020's
guide for ideas on where to take your next event and create your own inspiration board…
Here are some more micebook profiles worth checking out for this destination: