As travel trade fair ITB Berlin and IMEX Frankfurt are amongst the latest casualties of the coronavirus (Covid-19) outbreak, we take stock of how the situation is affecting the events industry, report on our emergency leaders event and share some useful resources….
Regarding ITB Berlin, Dr. Christian Göke, CEO of Messe Berlin GmbH, said in a statement: "With more than 10,000 exhibitors from over 180 countries ITB Berlin is extremely important for the world's tourism industry. We take our responsibility for the health and safety of our visitors, exhibitors and employees very seriously. It is with a heavy heart that we must now come to terms with the cancellation of ITB Berlin 2020."
This follows the cancellation of other industry events including IBTM APAC 2020, and major trade shows such as Mobile World Congress last month, The Game Developers Conference in San Francisco due to take place 16-20 March in San Francisco and Facebook's F8 developer conference due to take place on 5-6 May in San Jose, alongside a string of shows in Asia and major sporting events around the world.
At the M&IT Awards in London on Friday 28 February, coronavirus dominated the conversation, with agencies and venues alike sharing stories of event postponements, cancellations, travel bans, and concerns of how the outbreak will affect business in the immediate and long term. This comes as the UK government is expected to set out plans to contain coronavirus if it spreads, involving possible school closures, cancelling events and bringing NHS staff out of retirement, while supermarkets are planning how to cope with demand should panic buying hit the UK as a result of a coronavirus outbreak.
The Meetings Industry Association's (mia) revealed that nearly three-quarters of member venues have had events cancelled as a result of fears of Coronavirus COVID-19. One third highlighted the average estimated value of the cancelled business to be below £5,000, with 14 respondents valuing the average cancelled business at over £30,000 – four of which were expected to break the £100,000 mark.
Reasons for the cancellations included travel challenges for event delegates, speakers and organisers, in addition to general precautions attributed to the outbreak. The response to the situation has been varied, with 31% of mia members continuing to enforce cancellation policies as normal, while just over half have either waived cancellation fees or offered preferential rates.
Meanwhile, the IMEX team announced, " It is with deep sadness and heavy hearts that we announce the cancellation of this year's IMEX in Frankfurt (due to take place 12-14 May). We know that this will come as an enormous disappointment, not only to the exhibitors, buyers and industry professionals who were due to attend the show, but also to the global business events community. This is not a decision we have taken lightly and there are two overriding concerns that have caused us to make this decision at this time. First is the uncertainty caused by the fact that the German health minister has recently called for the ban on events with over 1,000 people which some German states have already endorsed, including the state of Hesse where Frankfurt is located. This announcement makes the probability of factors outside our control forcing us to cancel the show at the last minute much higher. Second, our primary concern is always the responsibility we feel towards our exhibitors and partners, who fund the show – not only by purchasing stand space but also in the considerable additional investment they make in everything from the build of stunning stands to the hosting of buyer events. Whilst only a short time ago we felt optimistic that May was far enough away to confidently proceed with our plans, as it stands today [11 March] we cannot guarantee the one thing that our exhibitors trust us above all else to deliver – namely a large-scale, high quality hosted buyer programme. In an ideal world we would wait and see. But we are in the real world and we cannot, in all good conscience, ask our exhibitors to continue to invest money against which they may not get a return. Both of these factors – uncertainty around whether IMEX will be allowed to proceed, as well as doubts as to the number of buyers who will be able to attend – have led us to the conclusion that we now have no option but to cancel IMEX in Frankfurt."
CORONAVIRUS – EMERGENCY LEADERS EVENT
micebook. hosted an emergency meeting for event industry leaders at The Biltmore Mayfair to discuss the impact of the Covid-19 crisis on our sector and share best practices.
More than 30 senior industry leaders discussed best practice for the coming months. With a full article to follow, here are some snippets:
Clients are currently favouring postponing events rather than outright cancellations
Businesses can trial work from home days to make sure their systems are up to handling remote working
Ensure IT security is strong for business contingency planning and managing cyber crime.
VIEWPOINTS
Gloria Guevara, President & CEO of World Travel & Tourism Council (WTTC) has warned that closing borders, blanket travel bans, and more extreme government policies will not stop the spread of coronavirus.
The former Tourism Minister of Mexico, who has first-hand experience of containing a major, viral incident after dealing with the H1N1 influenza virus in Mexico, said: "Governments and those in authority must not seek to choke travel and trade at this time. Closing borders, imposing blanket travel bans and implementing extreme policies are not the answer to stopping the spread of coronavirus. Past experience shows that taking such extreme action has been ineffective at best. We urge governments to explore fact-based measures which don't affect the vast majority of people and businesses for whom travel is essential.
"We understand there is huge concern about Covid-19. However, it's important to remember that fatality rates remain very low and the chances of contracting the virus, for the vast majority of people, are very remote if they travel responsibly and observe simple hygiene measures."
Global VP, Commercial, CWT Meetings & Events, Ian Cummings, said: "At CWT Meetings & Events, the safety and security of delegates, staff and customers comes above all other event requirements.  We understand that, for a complicated global issue such as the Corona virus, there is no such thing as a one size fits all MICE policy.  Our leadership team continues to work hard to assess the ongoing situation in a calm and measured manner – considering all factors, destinations and risks and taking regular advice from our long-term partners such as International SOS about how we can best minimise risk of potential spread.
"We have obviously seen cancellations of attendance at major events such as MWC, and we have seen postponements of pre-booked industry events in numerous parts of Asia. At CWT M&E, we have helped clients to deliver events where it still makes sense to do so and postpone or defer other events where necessary. In each situation, we have worked with our clients to do the right thing for their business, their employees and their partners.
"We believe that organisations need to seek professional advice from experts such as International SOS, take all precautions they can to prevent putting travellers in harm's way, but ultimately take their decisions on what's right for their business and teams. We, along with the whole travel and events industry, are looking for positive news that this new outbreak is beginning to slow and will eventually disappear as soon as possible."
Richard Bridge, CEO of Top Banana, is advising clients to keep calm and carry on communicating, stressing that the situation is a 'blip' and the industry at large is robust enough to weather this storm.
"There is no doubt that Coronavirus is having a huge impact on the events industry for clients, agencies and of course the supply chain. We are keeping abreast of the situation and advising our clients accordingly, any of our events that have been affected have only been postponed not cancelled. We must remain calm, yet cautious. Embracing technology is one of the key things that can help the industry to continue to communicate and engage with its audiences.' says Richard. He believes that 'we should now embrace the digital platforms that can keep large groups of people informed and involved without ever needing to leave their office.' An example of this would be webcasting, a platform which isn't new but enables engaging content to be delivered to a globally dispersed audience.
If using remote, digital platforms isn't possible and clients still want to engage face to face, Richard suggests that another option is to take exclusive use of a venue, which would minimise the risk to uncontrolled public exposure. He concluded: "this is a pretty rare and unusual situation, but we must remember that it's not permanent and there are alternative options that we can offer our clients."
CORONAVIRUS PROTOCOLS
We asked Colin McGregor, managing director at Tranquilico, a health and safety and crisis management specialist in the travel sector to share his advice for event companies amid the outbreak….
Covid 19 is a developing situation, clearly there is media hype over the issue (SARS and MERS were both going on in the Far & Middle East for several months before we became aware of them in Europe – social  media channels make the speed of communication on these issues far swifter)
The disease must be taken into perspective, if you are 50 or under in reasonably good health then you generally only suffer mild flu like symptoms.
Only 14% of people infected show severe symptoms
Only 5% of people infected are in the category of serious or fatal infection. (generally older people or those who are immuno-suppressed or have underlying medical conditions)
Face Masks to prevent infection are no use, where they are useful is for anyone with the infection – it stops them spreading germs from sneezing.
Good hand washing and use of tissues are effective in reducing the spread of infection – remember: CATCH IT, BIN IT, KILL IT
For any event overseas – draw up your Coronaviris protocols – what you would do if a delegate is suspected or infected – add to your crisis management plan
Prepare briefing for staff, letter and information for delegates regarding symptoms, transmission, testing, self-isolation etc.
Take hand sanitiser and paper tissues for delegates use of necessary.
Ensure your corporate client is aware that you have Coronavirus protocols in place to give them comfort you have actions in place if anything happens
Have prevention of spread of infection procedures in place that you can give to a hotel or event supplier if you have a suspected or diagnosed case – so they take appropriate action – disinfecting surfaces, bathrooms, delegates bedrooms, anywhere that someone who is infected may have touched. Hand gel at points around the venue/hotel and encourage their use etc.

Check here for the latest supplier updates on COVID-19. If you are a supplier who would like to share any news, policies or updates on COVID-19, please get in touch.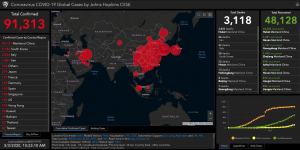 USEFUL RESOURCES
Below we list some useful resources below on Coronavirus:
Events Industry Council Webinar: https://www.eventscouncil.org/Industry-Insights/About-coronavirus
Insurance advice:
https://www.citmagazine.com/article/1675430/events-not-insured-against-coronavirus
https://www.eventmanagerblog.com/coronavirus-law
https://www.pcma.org/covid19-coronavirus-is-your-business-event-covered/
Eventmanager blog (10 Feb 2020) https://www.eventmanagerblog.com/coronavirus-meetings
FCO advice: https://www.gov.uk/guidance/travel-advice-novel-coronavirus
BBC: How is the UK planning for an outbreak? https://www.bbc.co.uk/news/explainers-51632801
World Health Organisation latest: https://www.who.int/emergencies/diseases/novel-coronavirus-2019
John Hopkins University (which is tracking the number of cases): https://gisanddata.maps.arcgis.com/apps/opsdashboard/index.html#/bda7594740fd40299423467b48e9ecf6
Centers for Disease Control and Prevention (CDC) has released a new report
'Get Your Mass Gatherings or Large Community Events Ready for Coronavirus'
Meetings Today (5 Mar 2020)
Coronavirus Context: Michael Dominguez Presents the Facts
Coronavirus and the Travel Industry (9 Mar 2020)
8 Key Steps for Travel Marketers to Take