Noemi La Torre, project manager at TFI Group, was invited to attend a recent fam trip in Lisbon with TA DMC, represented in the UK by Star Your World. Here she shares highlights from the jam-packed three-day incentive tour of the vibrant Portuguese capital…
"I had been to Lisbon before but for leisure so it was a great opportunity to see what the city can offer for events, especially as Lisbon is really trending as an events destination at the moment. A lot has been invested in the facilities and connectivity in recent years, making it a very appealing option for clients. The trip was mostly showcasing options for smaller groups, with more of an incentive focus, but overall the experience was really insightful into what the destination can offer.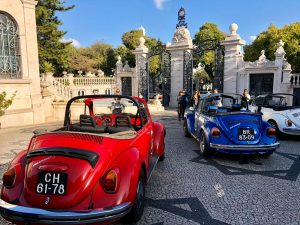 It was a three-day trip – Saturday to Monday – and while we packed quite a bit into three days, we kept the Portuguese laid back attitude throughout. We flew from London with TAP Air Portugal and arrived early afternoon. TAP gave u s a very bespoke experience, showing us what they could offer groups. One of the account managers was on hand for fast check-in and looked after us on the plane, which was one of the newer aircraft.
When we arrived, we were met by TA DMC Portugal who had organised an airport pick-up in vintage cars, which was a lovely surprise. We each had our own driver, who were all really friendly and proud of their destination and shared interesting facts about the city's history, so it was a really nice welcome.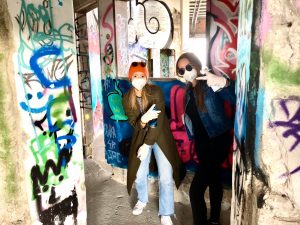 We were driven straight to Alto da Serafina Belvedere for a panoramic view of the city. We explored the Miradouro Panorâmico de Monsanto – a graffiti-covered building that was once an exclusive restaurant – and is now open to the public. There we were given the opportunity to take part in a graffiti workshop and leave our own mark on the walls, which was a unique and different experience for groups, though it might not be to all tastes.
We then headed to Pestana Palace, where we were staying for the duration of the trip. After we were checked in, we were shown around the hotel and enjoyed a welcome reception on the terrace. It's a gorgeous property, and our rooms, most of which were overlooking the garden, were wonderfully spacious. In terms of events space, there are plenty of options both in the main hotel building and gardens, as well as the old stables, which have been converted into a blank canvas space. The hotel lends itself well to any type of event, from conferences and exhibitions to dinners and receptions.
That evening, we headed to the Belem monumental district, where we enjoyed an aperitif at LX factory before a traditional Portuguese dinner at Papa Açorda – Mercado da Ribeira. Both venues were pretty cool and informal and the food was amazing. We tried the restaurant's famed chocolate mousse, which according to TA DMC is the best in Portugal, and it didn't disappoint.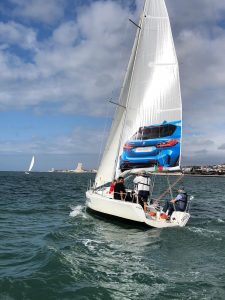 On Sunday, our surprise activity – Adrenaline in the Tagus – saw us split into two groups and taught to sail before taking part in a regatta, which my team won. It's not normally something I would do and it pushed us out of our comfort zones, but it was great fun and I'm so that I glad I did it. The company that organised the activity were used to dealing with inexperienced sailors and are very patient and helpful, so we felt safe.
After a wonderful seafood lunch by the riverside, we drove to Sintra for an afternoon excursion, and did a little tour of the town. It's a great place to visit and there is lots of history. Dinner was at Faroleiro restaurant by Guincho beach area overlooking the ocean, though sadly it was a cloudy day, so we didn't get the sunset views. However, the food was amazing and it's a great option for group dinners. We are always looking for unconventional and unique restaurants for dinners for our congresses and events, and this one would definitely be on the list.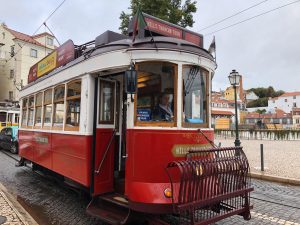 On our final morning, TA DMC privatised a tram for us for a tour of the old town and we had our own guide who told us the history of the city. It's a great option for small groups, and you can have entertainment on the tram as well as refreshments. We had a final tapas-style lunch and then headed off to the airport for home. Lisbon is a great city, with something to offer all kinds of groups and events. It's safe, compact and still quite competitive in terms of pricing. Sarah at Star Your World and the representatives from TA DMC were wonderful and looked after us really well from arrival to departure!"
Click on the links within this article to contact or view the micebook profiles on any of the venues, hotels or suppliers mentioned. Alternatively, search all our
Destinations
for ideas on where to take your next event and create your own inspiration board…