The tour of fashion week cities continues for dapper Mister Micebook…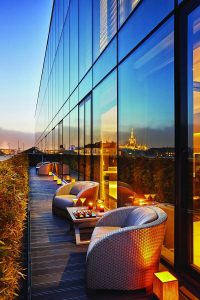 It's the third fashion week city trip for Mister Micebook and this time, he'll be matching his suit with his suite, opting to stay at the Armani Hotel Milano.
The boutique property is a favourite for the fash pack, and each of the 95 rooms and suites are gorgeously appointed with contemporary fabrics and furnishings, befitting Giorgio Armani's signature style.
He'll spend his second night in one of the hottest new openings that the city has seen. The Galleria Vik Milano (above and below), the first European outpost from South America's Vik Retreats, is set in the very the heart of the fashion district.
There's nothing minimalist about this property – the entrance features a huge bronze cast of Rodin's The Thinker alongside a rather epic fresco by Italian artist Alex Folla enveloping the ceilings and walls and featuring eight mythological figures holding up the world.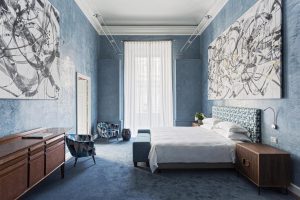 This bold statement reception firmly underlines the importance of art throughout the property, where hand-painted murals, artworks, installations and a mix of contemporary, vintage and antique furniture can be seen.
Finally, Mister Micebook will be visiting the newly-renovated Radisson Blu Hotel, Milan, with its smart working lobby, 250 rooms and suites, authentically Italian Leonardo restaurant and 13 meeting spaces.
JOIN US on a Northern Italy FAM trip from the 2-6th April with I'm Possible. For details contact

[email protected]
Click on the links within this article to contact or view the micebook profiles on any of the venues, hotels or suppliers mentioned. Alternatively, search all our
Destinations
for ideas on where to take your next event and create your own inspiration board…
Here are some more micebook profiles worth checking out for this destination: