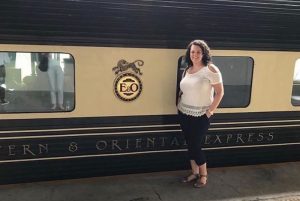 Belmond's Eastern Oriental Express is a once-in-a-lifetime experience that is well-known for being one of the most luxurious train journeys in the world. First Event senior account manager, Kirsty Northage, was invited on a fam trip to experience the journey from Singapore to Bangkok, where she became immersed in the culture that she saw along the way – from trekking through Malaysian mangroves, an authentic cooking class, and exhilarating tuk-tuk rides through the streets of Bangkok. Here she shares her highlights from an adventure of a lifetime…
"After spending a night in Singapore prior to departure, the group had already been able to explore one of Asia's most magical cities – which included a tour of the famous Gardens by the Bay, and drinks atop the architecturally breath-taking Marina Bay Sands. The following morning, it was time to board the train, and begin the adventure of a lifetime.
It was a surreal feeling boarding the train and being shown to a private carriage (and my accommodation for the next two nights). And it was amazing to know that as I slept, I was being taken across Southeast Asia, and that each stop would bring a new destination with more to discover.
Despite being a trip between two Asian cities, the train carriages were quintessentially British – afternoon tea was even served to our individual carriages! The train also had an observation deck and bar providing rear views from the train.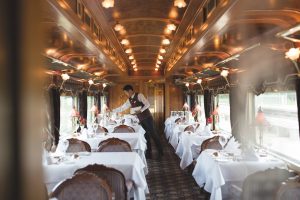 It felt a bit like a hotel, with different carriages including dining carts, common areas, and sleeper carriages. Personally, my favourite part of the experience was the incredible dining cart, which was furnished and decorated with grandeur and luxury and felt extremely exclusive – something that would work incredibly on an incentive trip.
During the journey, it's hard not to become totally immersed in 'how the other half live,' as this is an experience only usually possible for those who have a lot of money. Being gifted or rewarded this experience is something that I believe could be extremely valuable to anyone who may not have the chance to do it otherwise and creates unforgettable memories to last a lifetime.
Along with being able to embrace the luxury of the train itself, the destinations along the way provided a versatile range of cultures and activities, allowing attendees to discover new places that they may not have initially visited away from this trip. The design of the itinerary can be extremely versatile. For example, the chosen stops during the journey can change according to the interests of attendees, which can allow personalisation of an attendee's experience.
It was definitely the experience of a lifetime, and honestly, just like stepping into a scene from Poirot! The train is truly luxurious and being able to choose the route of the journey makes it feel like the world really is your oyster. The impeccable service makes you feel as though you're a movie star, and the immersion of the experience allows you to get to know the characters among you on the journey – making it equally as good for networking and getting to know colleagues away from the working environment."
Click on the links within this article to contact or view the micebook profiles on any of the venues, hotels or suppliers mentioned. Alternatively, search all our
Destinations
for ideas on where to take your next event and create your own inspiration board…
Here are some more micebook profiles worth checking out for this destination: