Madame Micebook loves a city break, and Slovenia's capital has won her heart…
When British Airways re-established its flights from Heathrow to Ljubljana, the capital of Slovenia, it highlighted the city's rapid growth in both the leisure and business markets.
The country itself has been rising in popularity following its certification as a 'green destination', with its main city named European Green Capital in 2016.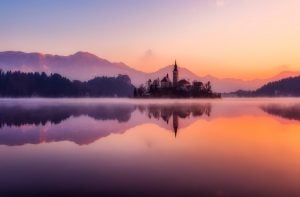 This year sees the launch of the Juliana Trail, a 267km hiking loop through the Triglav National Park and through the Julian Alps, walking past some of the country's most scenic spots including Lake Bled (right and above) and Lake Bohinj.
Travellers hoping to take on the new trail can also check out the recently renovated Sunrose 7 hotel. The 18 roomed retreat boasts a private garden of 1600 square metres and can host up to 36 guests for dinner.
And a swathe of new properties are set to open this year and beyond, with Neuhaus Kolodvorska in Ljubljana adding 49 opulent rooms at the end of the year and the five-star Hotel Atower bringing 350 rooms plus conference space for up to 350 delegates to the capital.
Click on the links within this article to contact or view the micebook profiles on any of the venues, hotels or suppliers mentioned. Alternatively, search all our
Destinations
for ideas on where to take your next event and create your own inspiration board…
Here are some more micebook profiles worth checking out for this destination: