Following a recent fam trip to sunny Malta, InSynq account manager Kiera Gilbey shares why she thinks the Mediterranean island archipelago is hugely underestimated as a MICE destination…
"Just under 3 hours after taking off from Heathrow's Terminal 4 on our Air Malta flight sponsored by All About Flights we landed in Malta and were met by Steve from Alpine Sterling DMC, represented in the UK by The DMC Advantage. Within 25 minutes, we arrived at the Hilton Malta in St Julian's and were greeted by the lovely Ingrid. Due to our flight delay, I had to refrain from enjoying the big bath, pool view balcony and delicious treats waiting for me in my room as it was a quick turn-around before dinner, but I did manage to find a moment to 'flop and starfish' on the huge bed – I think that's the technical terminology?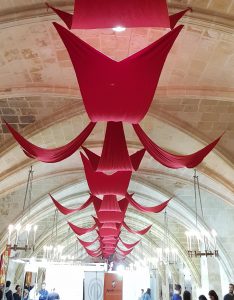 After a welcome Prosecco, we were taken by traditional Maltese bus to take us to our first venue visit. The Mediterranean Conference Centre, located in Malta's capital city Valletta is an impressive historic building, formerly the hospital of the knights but now a modern venue boasting an enormous roof terrace which, as of next year can be used for a sit down dinner. In addition to the roof, the building also offers La Valette Hall and Sacra Infermia, both of which showcase the uniquely historic aesthetic that so much of Malta boasts and have capacity for sit down dinners for large groups.
After a quick show round of the luxury boutique hotel Rosselli (when I say luxury…I mean a spa and sauna IN a bedroom level of luxury), we sat down for dinner in their small but fabulously decorated restaurant Under Grain. Despite the entire meal being to die for, the general consensus around our table was that the starters were the show-stoppers. I opted for the seabass but I did manage sneak a spoonful of the risotto so I can confirm both dishes were amazing.
Saturday morning started with a speedboat to Gozo via the incredible Blue Lagoon at Comino. We started in Tuk-Tuks, zooming around the island in teams completing challenges which was a great way to incorporate seeing the island alongside team building. I cannot lie and pretend I enjoyed the challenge which involved a goats cheese flavoured chocolate, but overall it was a lot of fun.  Lunch was at Ta'Frenc and certainly did not disappoint: Bread followed by pasta followed by cake…what a good job I had such a small breakfast! Our stunning private room was nestled in one side of the equally stunning old farmhouse and was the perfect place for an intimate dining experience.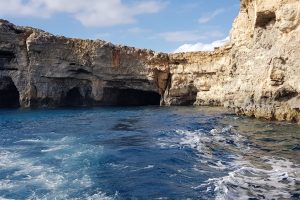 After lunch and a ferry ride back to Malta, we visited my absolute favourite part of the Island: Mdina. Mdina is the old capital of Malta whose earliest inhabitants date back to 4000 BC. I could write pages on Mdina simply from a 'Wow it is so pretty, everyone should visit here on a holiday' perspective, but it also has so much to offer for the MICE industry, most notably dinner venues. Walking the quiet, winding streets of Mdina is quite a magical experience; it feels theatrical. How many other places around the world can you say that about?
I was particularly impressed with three of the venues we visited on this trip: Bacchus (Mdina), Xara Lodge (in a countryside setting just beneath Mdina) and Palazzo Parisio (Valletta). All completely unique and wonderful in their own ways and places that I would be extremely excited to hold a Gala Dinner for any client.
Our dinner experience that evening was hosted by Ingrid at the Hilton's in-house Thai restaurant, Blue Elephant. Once again, despite the whole meal being outstanding, it is the starters of Thai Fish Cakes and Chicken Satay that I am now sat at my desk thinking about. Before we sat down to dinner, we built our appetites on a tour of the Hilton's huge and impressive conference facilities. As well as being tastefully decorated, these facilities are entirely fit for purpose, and while this may not be the most exciting adjective ever, for conference facilities it has to be up there with the greatest compliments you can give. The rest of the evening was spent at Hugo's Terrace where we got to see the livelier side of the island… luckily it was just a short walk back to the hotel!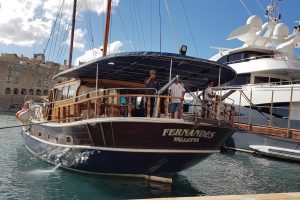 On Sunday morning, we had the pleasure of a harbour cruise on a Gullet with unrivalled views of Valletta and the Three Cities followed by our final treat of a 3-course lunch at the Maritime Museum, housed within the Old Naval Bakery. On a private balcony with views of the harbour and the incredible yachts docked there, we enjoyed more excellent food, including the best tuna I have ever had in my life"
Somehow the weekend was now over and we were heading for the airport feeling content after such an amazing weekend. For some reason, I feel Malta suffers from being underestimated as a MICE destination and clients feel it does not have the 'wow factor' that other European destinations do. While the value for money you're able to get, especially for accommodation in Malta may reflect this, very little else supports this hugely unjust statement. Malta is home to great weather, fantastic venues for both conferences and incentive travel and a first-class DMC. I thoroughly look forward to re-visiting Malta with clients in the very near future."
Click on the links within this article to contact or view the micebook profiles on any of the venues, hotels or suppliers mentioned. Alternatively, search all our
Destinations
for ideas on where to take your next event and create your own inspiration board…
Need more inspiration? Check out our Emerging Destinations eXperience guide for ideas, DMC's, hotel suppliers and more…