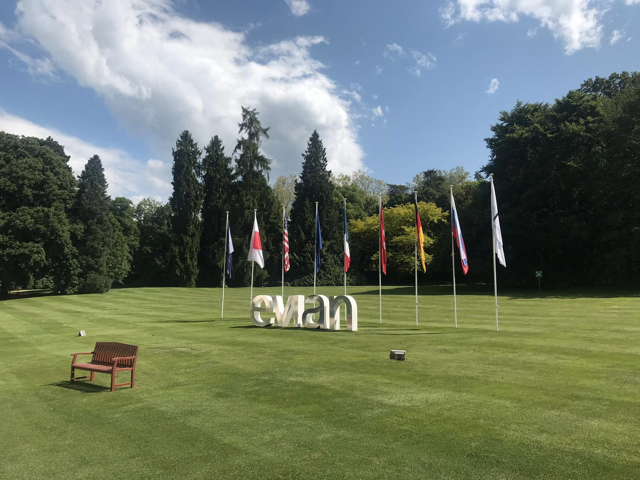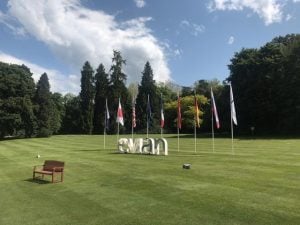 There's far more to Evian than water, as Black Tomato's proposal manager Oliver Launn found out on a recent fam trip to the Evian Resort, France. Here he shares why the resort is one of Europe's most delightful hidden getaways…
"There's one immediate visual image you get when someone says the word Evian – water. You might also immediately say "Evian, live young" (guilty as charged) but the first thought is that bottle of water you'll pick up as part of a meal deal.
So when I was invited to travel to the Evian Resort in France as part of a FAM trip hosted by the wonderful team at Mason Rose, the only guarantee I was expecting was water. It's what the town of Évian-les-Bains is famous for after all, and the resort sits on Lake Geneva. Over the course of 72 hours, I probably had at least ten differently designed bottles of the local thirst quencher; in particular, the bottle I received at check-in was the first time I've ever described a water bottle as "oh my god so cute".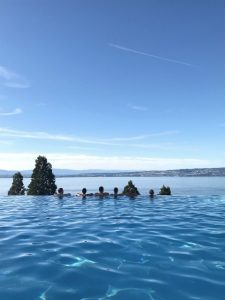 Of course, we in the MICE industry need a bit more than a bottle of water to sell a trip, and I'm delighted to report that the Evian Resort is more than just its famous export. Indeed it's one of Europe's most delightful hidden getaways, and one that was a real struggle to leave.
Let's get the logistics out of the way: Évian-les-Bains sits on the French side of Lake Geneva, so the easiest way of getting there is to fly into Geneva Airport and either take a scenic 1-hour mostly lakeside drive into France, or hop on board a boat to arrive from the water in style. The real VIP way to arrive is to take the resort's very own hydrofoil Evian One, sitting up to ten people and an absolute thrill to zoom across the lake in. End the journey in the town of Évian-les-Bains itself and catch the funicular up to the resort so you can tick off every possible method of getting to a hotel.
Evian Resort is made up of two hotels, the 5* Hôtel Royal and the 4* Hôtel Ermitage, a purpose built auditorium La Grange au Lac made entirely of cedar and pine woods, a championship 18-hole golf course, casino in the town itself, and the Evian thermal spa. It's got a lot to boast about, and not once do any of these components fall short. I stayed in the Hôtel Royal, a property both opulent and welcoming with a modern twist on a classic French palace. From both its panoramic top floor suites and its outside infinity pool, the golden hour over Lake Geneva from here is almost too good to be true.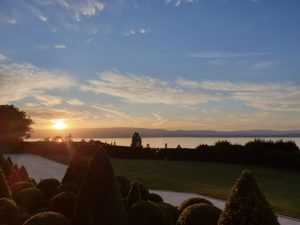 Head uphill from Hôtel Royal through its lush gardens and over a wooden bridge and you'll arrive at Hôtel Ermitage, uniform with the rest of the resort yet refreshingly different at the same time. For those not into the flashiness of the Hôtel Royal, the Hôtel Ermitage is more on the side of comfortable, rustic chic; like being in a ski lodge, sans the skiing. It's also a cheaper alternative for groups who don't have the slightly more inflated budget necessary for Royal. Take both properties out exclusively and you'll have 230 bedrooms to play with.
Across the resort there are eight restaurants and a further four bars, so it's fair to say I was spoilt for choice when it came to food. From the Michelin starred Les Freques to the plentiful buffet stations of La Table, there is something for everyone. I always like to order anything local in a destination, and here was no exception (you could speculate a big factor in choosing to go to Evian was knowing I'd be knee deep in cheese –I will neither confirm nor deny). The fish I was pointed to order was the perch fresh from Lake Geneva and its subtle light flavour did not disappoint, while the veal on offer was other-worldly.
A handy resource for planning an event at the Evian Resort is its very own Sport and Culture team, able to organise a wide range of activities both on-site and in the local area. They've got you covered on anything from beginner golf lessons and paddle boarding classes to epic mountain bike rides, day trips to Gruyeres and Montreux for all your cheese fondue and jazz festival needs, and even blind water tasting where you guess what water is Evian and what isn't (the answer is not Volvic).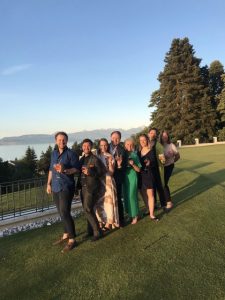 The Evian Resort was a real pleasant surprise for me, as I went in not knowing what to expect in terms of programme and in quality. If you've got that group that have seemingly been everywhere in Europe and need a three-night option that's both luxurious and whimsical, it's a choice that'll give you everything you need – easy access, high quality wining and dining, fun crowd-pleasing activities, and you'll never need to worry about water. Have I been singing the praises of the Evian Resort ever since I returned? Eau yes."
For more destination inspiration, check out our Online Destination Guides…
Our global supplier members are busy building their content and creating stunning profile pages.. Your feedback is important to us as we roll out new features, so please share, get on board and help us make this the definitive inspiration hub for #eventprofs
If you're not already registered, and you're an event planner/buyer, be sure to register your details and join the micebook community. We'll keep you updated with latest news and insights with our micebook Departure Lounge bulletin plus keep you informed on exclusive micebook events.