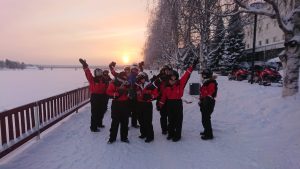 DMC Advantage and Arctic Incentives recently hosted the ultimate winter incentive trip to Finnish Lapland for a group of UK planners. Sam Ward, lead project & event manager at brandfuel and Charlotte Yates, senior project manager at Principal. Global Events, were among the lucky few, and here they share their thoughts and highlights from their adventures in Lapland…
Sam: "I was lucky enough to be invited to spend four days in stunning Lapland. Not wanting to let go of the Christmas dream, I snapped at the opportunity. DMC Advantage hosted the weekend along with Artic Incentives and I have nothing but high praise for their organisation, hosting and selected activities.
We flew out on a 5:30am flight from Gatwick to Rovaniemi airport in Lapland, Finland. After being greeted by Mikail and Ismo – our two Lappish guides for the week – we immediately got changed into our snowsuits and begun our Arctic Safari on snowmobiles through snowy pine forests and across frozen lakes. We reached speeds of 80kph, which paired with -25*c, meant we had a "feels like" temperature of -40*c.
We headed to Lapland hotel Ounasvaara Chalets, our accommodation for the weekend, where we were treated to a beautiful chalet each with our own private sauna in our bathrooms. For dinner, we went to an ice restaurant and ate a traditional Lappish meal of reindeer and salmon on frozen furniture.
Saturday was probably one of the most fun-packed days of my life. We headed out on snowmobiles first thing for another hour or so to the Husky village, where I was able to steer a Husky sledge – what an experience! After playing with the dogs and learning about their training, we met a reindeer farmer who taught us about the history of the Reindeer and let us drive a reindeer sledge.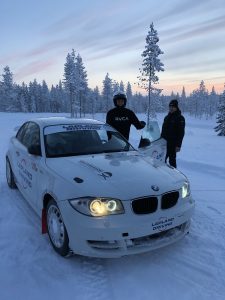 The afternoon saw us arrive at Lapland Driving School, where we drove a BMW rally car around a track, which was exhilarating. We also sat as a passenger to a professional rally driver which was honestly one of the best experiences I have ever had. We were sliding sideways on the snow around a tight, tree-lined track at over 120mph. We were also invited to drive snow buggies and a "Funny Car" which was rigged to veer left when you steered right and vice versa – I won this race, which probably speaks a lot about my driving skills! In the evening, we went to Rovaniemi's (Lapland capital) best restaurant and we treated to five beautiful courses.
Sunday, we drove to the beautiful resort of Levi which was two hours away. We toured a few lovely hotels and visited the Snow Village which was stylised by HBO and Game of Thrones. The Snow Village is the world's biggest igloo and has over 40 bedrooms all uniquely designed with ice/snow sculptures based around Game of Thrones.
Our final evening was awesome, we went to a traditional Finnish Spa that has hosted some of the Cold War's key heads of state in the 1960s. The sauna was powered by a wood burner and we took relief by lowering ourselves into the frozen lake – my skin has never felt better. Quite a surreal experience being in -28*c in just swimming shorts. We had another traditional meal which was delicious along with copious amounts of wine.
Before heading to the airport on Monday, we visited the REAL SANTA's Village. We met the REAL SANTA and as you can tell by my liberal use of caps, my excitement was through the roof. After many 'Elf' quotes later we headed to the airport and went our separate ways. Overall, I will never forget this trip and would recommend using the location both professionally and as a tourist."
Charlotte: "This was the first time I had been to Lapland, and it didn't disappoint. The whole experience was utterly magical – it's a real winter wonderland.
It was absolutely freezing, but from the moment we arrived we were kitted out with everything we needed to keep us warm, including snowsuits, gloves and hats. Our transfer to where we were staying was by snowmobile, which was amazing and certainly beats the standard coach transfer. After a short induction, we had about an hour and a half out on the snowmobiles, before we headed to the Lapland hotel Ounasvaara Chalets where we were staying.
We each had our own six-person chalet each, and the best thing about them was that every chalet had its own private sauna. The one I stayed in had two twin bedrooms, so I definitely think you could make it could work for groups. A lot of the groups I deal with are company weekends away, so basically an incentive with a few meetings. Lapland is a perfect incentive destination for clients looking for something a bit different to the usual sun and sea location as there is so much to see and lots of fun activities.
On the first evening, we travelled by coach to Snowland – a restaurant in a giant igloo that has four sections, so you can hire one of the sections, or for larger groups, the whole thing. The igloo is made entirely of snow and ice, including the chairs and tables – it's pretty amazing and we had a lovely dinner there.
On Saturday, we headed out on snowmobiles again, speeding across frozen lakes as the sun was rising, which was magical. Then we took turns driving husky sleds and learned more about the beautiful animals before heading out on a reindeer safari. Next up, we went ice driving in BMWs, which was brilliant. I have to admit that I was a bit apprehensive about it beforehand, but I'm so glad I took part as it was an amazing experience and I'd definitely recommend it for incentive groups of all types and ages.
Going around the track with the professional drive was definitely scary but thrilling as well. We took turns driving, being driven by a professional, and driving buggies and funny cars, and they made it a bit of a competition with prizes for the three activities where we were driving ourselves.
In the evening, we had dinner at Lapland Hotel Sky, which is right up in the mountains with floor to ceiling windows. It takes a little while to get up there, but the views are worth it!
The following morning, we went to the Game of Thrones Ice Hotel (Lapland Hotel Snow Village), which is incredible, especially if you're a fan of the show. We had lunch there, then headed to Levi to check out some of the properties there, before spending our final evening at Bear's Den mountain lodge for a sauna and dinner programme.
Going from the 100-degree sauna outside to plunge into the icy lake was invigorating to say the least. I wasn't too keen on the idea but everyone else was doing it and I'm so glad I did. I am not an overly adventurous person in my day to day life and a lot of the activities we did in Lapland pushed me outside my comfort zone, which made it a really memorable experience.
On the final morning, we briefly visited the Arctic Light Hotel – which has glass ceilings in the rooms watching the Northern Lights that we sadly didn't get to see while we were in Lapland – and Santa's Village for a bit of light-hearted fun.
I was super-impressed with the programme put together by Arctic Incentives, and the team really looked after us from start to finish. I am keen to get a client programme out there and if I do, I will definitely be working with them. I have been doing this job for ten years and have been quite a lot of fam trips in that time, and this was by far my favourite – I couldn't fault it all!"
For more inspiration, check out our Online Destination Spotlights…
Our global supplier members are busy building their content and creating stunning profile pages.. Your feedback is important to us as we roll out new features, so please share, get on board and help us make this the definitive inspiration hub for #eventprofs
If you're not already registered, and you're an event planner/buyer, be sure to register your details and join the micebook community. We'll keep you updated with latest news and insights with our micebook Departure Lounge bulletin plus keep you informed on exclusive micebook events.