A recent fam trip to India's Golden Triangle with Air Partner, Virgin Atlantic, Designer Incentives and Taj hotels, has given A&I Group director of events Zara Gregory the confidence to pitch the incredible destination to clients. She gives us the lowdown on her first taste of India…
"Despite proposing the Golden Triangle a few times in my career, I had never been to India before. The Taj Mahal is iconic India so when I saw it was on the itinerary, it encouraged me to down tools and make time to go on this trip. I had also heard a lot of positive things about the host DMC Designer Incentives, which was another reason I was keen to go.
I definitely had a preconceived idea of what I imagined India to be, with the poverty and rubbish you see in images. But I was massively and pleasantly surprised by what we saw and experienced. Previously these concerns might have put us off proposing India for certain groups, but now I have visited I have a lot more confidence around proposing it and discussing those potential hurdles with clients.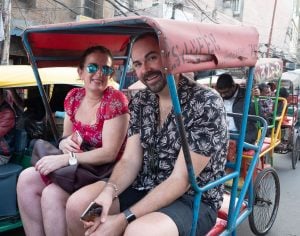 We left on Wednesday and were back by the Monday, so it was a short trip and we had a very busy schedule. The time difference meant we didn't arrive in Delhi till Thursday, and we had a quick whistle-stop tour that afternoon. We stayed at the Taj Palace hotel in the government and ministry area, which is very green and not what you imagine India to be like. But then we headed to the old town, which is exactly what we expected, with all the craziness and people everywhere. We hopped on the back of rickshaws and were taken round all the tiny, busy streets – it was a real feast for the senses in terms of sights and sounds and everyone was so lovely and friendly.
That night, we had dinner at The Oberoi, New Delhi, which is a lovely property that has just had a refurbishment recently, so it was great to see that and compare it with the Taj Palace. The Taj Palace is beautiful – it's well located and felt very safe and comfortable, with lots of dining and conference options. The Taj hotels tend to be bigger and more traditional, so great for larger conference and incentive groups, but if I was taking a smaller, younger incentive group, I would probably look at the Oberoi.
The service everywhere was incredible, from the DMC and in all of the hotels which is something that surprised me. We were presented with lots of lovely flower garlands and fantastic welcomes everywhere we went, with lots of lovely personalised touches.
On the Friday, we carried out some site inspections and had some free time, as Saturday was the big day. We got up super early and took the express train from Deli to Agra to see the Taj Mahal. The train station was everything you imagine an Indian train stations to be – totally crazy but absolutely amazing. The journey was just over two hours and the DMC had kindly arranged breakfast bags for us, but the time flew by. We felt like we really got to see life in India out of the train windows, with all the ramshackle houses piled on top of each other and people washing clothes in the streams.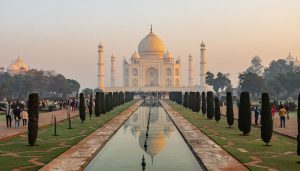 The Taj Mahal was an incredible experience – it's busy but we had an amazing local guide, who was so knowledgeable and engaging and knew the exact spots to get the best shots – he even moved the crowds out of the way so we could take photos. He visits around 150 times a year and he never gets bored by it, which you could tell through his story telling.
We didn't stay in Agra but if you were to stay, the only place you would probably choose is the Oberoi, which is where we had lunch. It's expensive to stay there, but it's a really stylish and beautiful property with views straight over the Taj Mahal.
From Agra, we headed straight onto Jaipur by coach, which took three and a half hours with a coffee stop on the way. It didn't feel too long as we were all pretty tired after the Taj Mahal, so people were happy to sit and relax and watch life go by out of the window or have a snooze, so I would feel confident doing that transfer with a group.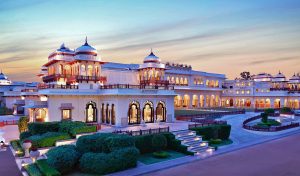 We stayed at theRambagh Palace Jaipur (right), which is another Taj hotel, and were given the most incredible welcome. We were greeted by elephants and vintage cars, the entrance walkway was all lit up by lanterns and the hotel management came out to meet us, which made us feel like royalty. It was really special. We had a private dinner at the hotel, which was amazing, and were also fitted for saris and traditional Indian dress for the following evening.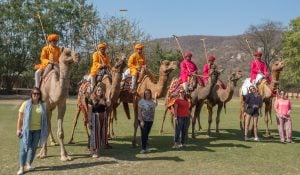 On the Sunday in Jaipur, we went out for breakfast to a farm which is a camel polo club and after breakfast "in the bush" we played camel polo, which was great fun. In the afternoon, we enjoyed a jeep safari around Jaipur and visited one of the forts, accompanied by a brilliant guide again.
On our final night, we were treated to a private dinner at the Royal Palace in our traditional outfits – we had drinks in the lounge where Charles and Diana sat, and the most amazing and memorable dinner and evening. The final day, we flew back to Delhi and after a quick visit to Aerocity just outside the airport, where there are lots of hotels suitable for big events and exhibitions, we flew home.
The flight time is probably the hardest sell for India as a current conflict that meant we couldn't go into Pakistan airspace, extended the flying time to around 10.5-11 hours as opposed to nine hours. There is also a lot of internal travel once you get there. India is definitely a destination you need to see first-hand to give you confidence to sell it. If clients are looking for a once-in-a-lifetime trip they will remember forever, the Golden Triangle in India delivers that. The DMC was brilliant and the programme they put together was perfect – everything had been well thought through. It was one of the most special trips I have been on and I would definitely deliver a very similar programme to the one we did."
For more inspiration, check out our Online Destination Spotlights…
Our global supplier members are busy building their content and creating stunning profile pages.. Your feedback is important to us as we roll out new features, so please share, get on board and help us make this the definitive inspiration hub for #eventprofs
If you're not already registered, and you're an event planner/buyer, be sure to register your details and join the micebook community. We'll keep you updated with latest news and insights with our micebook Departure Lounge bulletin plus keep you informed on exclusive micebook events.