A recent incentive fam trip to Mallorca allowed cievents' key account manager Basia Dudziak to uncover a real sense of authenticity in this famous Mediterranean destination and steer away from any preconceptions that may come to mind when thinking about the island…
"This was my first visit to Mallorca, and I was genuinely and positively surprised by the experience. People tend to think of Mallorca as a leisure destination full of bustling holiday resorts, but the fam trip showcased a completely different and authentic side including unique venues, stunning vineyards and rustic, beautiful landscapes.
The programme was very well designed with a sleek delivery, exceptional attention to detail and quality that only a top-shelf incentive partner can deliver. It was the result of great collaboration between our hosts, Park Hyatt Mallorca and TERRAEVENTS SPAIN DMC (part of the Pearl Representation portfolio), not to forget the upgraded flights, courtesy of British Airways who just launched their direct flights from London Gatwick to Palma. A bit of relaxation in the lounge after a long, hectic week, put us all in the mood for the short but comfortable journey to Mallorca.
On arrival, we transferred straight to the Park Hyatt Mallorca, a truly idyllic retreat, sophisticated and elegant, but in symbiosis with the island's rustic core and tranquil ambience of a honey coloured mountain village. After a private check-in and a warm 'bubbly' welcome, we got treated to an amazing cooking class on property, where the ample space including a professional kitchen and large elegant dining room lends itself perfectly to an interactive and engaging culinary experience. What better introduction to the Mallorcan culture than by preparing mouth-watering local dishes with a knowledgeable and fun chef!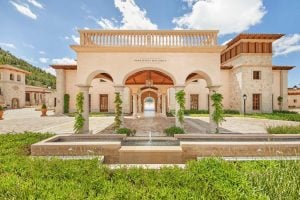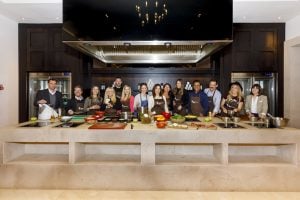 After a delicious breakfast and taking in the full extent of the Park Hyatt Resort in the glorious sunshine on Saturday morning, our senses were awoken in the unique and unforgettable sporting experience at the Rafa Nadal Academy. Rafa Nadal truly is a Mallorca's hero and probably the greatest sportsman the island has produced. Much loved by the local people, he created the first space completely unique in its offering of audio-visual technology, state-of-the-art sports simulators and interactive screens. Our visit to the centre was inspiring and unexpectedly exhilarating, and it's also a great space for private events for sports aficionados!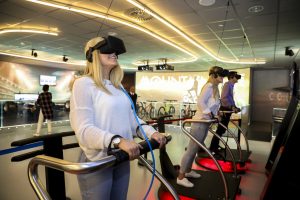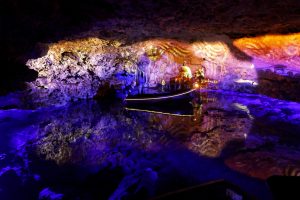 Our next stop was the Caves of Hams, located in Porto Cristo. This natural wonder dating back 10 million years, offers a truly unforgettable spectacle of natural organic gems and a spectacle of sound and light that human technology has successfully combined within the space – another fantastic and very unique private event venue option!
We enjoyed a wonderfully relaxing al fresco lunch in a rustic setting of the Es Fangar wine estate – one of the largest producers of ecological wines in Mallorca and a true feast for all senses! In the afternoon, we headed to Palma and enjoyed a walk around the vibrant and colourful capital city of the island, where we got a chance to get hands on again with preparing our own herbal liqueurs – an important ingredient in the island's dishes. There is something incredibly satisfying in making your own product, that you can personalise and take away with you and wait for it to mature on your shelf at home, ready to sample the flavour and bring back some of that glorious Mallorcan sunshine when it's most needed in London! An eventful day culminated in a delicious meal in a traditional farmstead.
On Sunday morning, after another sumptuous breakfast and check out from the hotel, we made our way to the scenic Castell Miquel winery, in the unique mountainous location of a nature reserve. It's a very appealing option for private events, where a picture paints a thousand words!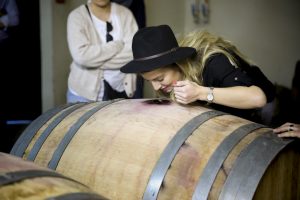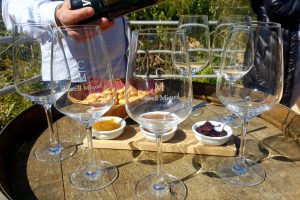 This was followed by a trip to the Tramuntana Mountains of West Mallorca to the charming little village of Valldemossa, filled with quaint traditional houses decorated with flowers and cobblestone streets, and surrounded by forests of olive, oak and almond trees. There, we visited the Royal Carthusian Monastery, built as a royal residence and converted into a monastery of Carthusian order in the 19th century. I'm Polish and my personal highlight was finding an unexpected link between Poland and Mallorca – the famous Polish composer Frederic Chopin and his scandalous French novelist lover George Sand, lived on the island during a winter of 1938, which bore fruit in Chopin's composition of the Raindrop Prelude (a piece I used to play on the piano as a child and many classical music aficionados are bound to recognise!).
Whilst in Valldemossa, we sampled another local treat, a savoury potato roll served with delicious thick hot chocolate or sweet almond milk. It was then time to pump up our adrenaline levels again with a four-wheel off-roading experience through some of the wild tracks of Mallorca. The exciting route made us feel like explorers, even having to 'chain-saw' our way ahead through wooden logs on a couple of occasions whilst making our way through what felt like undiscovered routes.
On a final note, Mallorca seduced us all with its lyrical, idyllic landscapes, and the laid-back joie de vivre! We came away with a pleasant sense of surprise of what Mallorca has to offer incentive groups – both those who had been before and those who were discovering the destination for the first time like myself. I am definitely sold on Mallorca after this programme and have every confidence in recommending it to our clients as well."
For more inspiration, check out our Online Destination Spotlights…
Our global supplier members are busy building their content and creating stunning profile pages.. Your feedback is important to us as we roll out new features, so please share, get on board and help us make this the definitive inspiration hub for #eventprofs
If you're not already registered, and you're an event planner/buyer, be sure to register your details and join the micebook community. We'll keep you updated with latest news and insights with our micebook Departure Lounge bulletin plus keep you informed on exclusive micebook events.