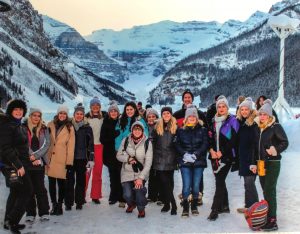 Francesca Venturi, incentives manager at Quintessentially Travel Group, discovered a magical winter wonderland on a recent incentive travel fam trip to Banff and Lake Louise with Travel Alberta, Rare Indigo, Air Canada and Fairmont Hotels. She shares her highlights of the experience and destination…
"Canada has always been really high on my list of places to visit and I had recently put together several proposals for the Rockies and Alberta region. Banff National Park boasts some of the most stunning scenery in Canada, so I was really intrigued to see first-hand what the destination had to offer – and it did not disappoint! It's perfect for the small, high-end experience-focused incentives that we specialise in providing for our clients.
With incentive programmes, you really want to maximise the time on the ground, and the Air Canada flight times allow you to do that. We left around 1pm UK time and arrived at 3pm, which is great as you don't feel like you lose a whole day travelling. It was my first time flying with Air Canada and I was impressed with the service. We flew on one of the newer Dreamliner planes and were upgraded to Business Class, which was a pretty phenomenal experience.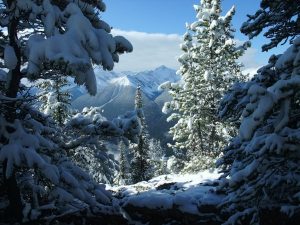 The ground transfer took around 1.5 hours to Banff, but it is one of the most scenic drives you can possibly imagine. I was surprised to hear that winter is actually the low season as we tend to think of it as a ski or winter sports destination, but their peak season is actually the summer months. This means that availability in winter is better, and you can get really good rates at the hotels (almost 50% lower than summer).
It's also absolutely stunning – you get that complete winter wonderland feel, and there are plenty of activities on offer. We stayed at the Fairmont Banff Springs and although its officially a four-star, it has the feel of a five-star property.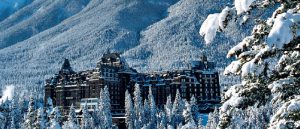 It's huge and a really charming property, with almost a medieval castle feel to it. I would recommend it to our clients but it's a five- to ten-minute drive outside Banff centre so you would need to keep that in mind for groups that might have free time as they would need a transfer or taxi to get into town.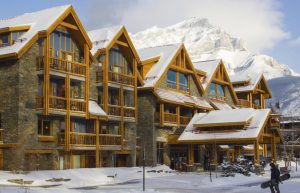 We saw a few properties in Banff and of all of them I liked the Fairmont best, but if we had a group that wanted a more central location in Banff, I would probably choose The Moose Hotel, which feels contemporary but cosy.
Banff as a town is a typical mountain resort – it's chocolate-box pretty and very quaint but also has a young and buzzy feel to it, with lots of bars, restaurants and breweries open year-round. We had a really fantastic itinerary and packed a lot into our three days.
On the first morning, we skied at Sunshine Village – the slopes were phenomenal, and the scenery was stunning. None of the resorts are ski in, ski out, so you always have a short transfer, but it is really seamless and easy. We had lunch at the Park Distillery in Banff, then went to visit artist Jason Carter in his gallery. His artwork is all over the Moose Hotel and in the airport terminal at Calgary, so it was great to meet him in person. If you can guarantee he is going to be in town, it's a really nice local experience for incentive groups. He talks you through his story and how he became an artist, and we were each gifted a stone carving or piece of artwork to take away, which was really special.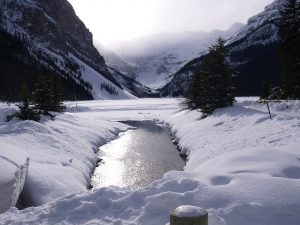 We did a Johnstone Canyon ice walk the next morning, which was a fantastic way to explore the wilderness – you  hike along the canyon's steel walkways, where you'll visit the beautiful lower and upper waterfalls, and learn how this majestic canyon was formed. What was really eye opening is that the walk it suitable for people of all ages and abilities.
Following this we visited Fairmont, Lake Louise for lunch and enjoyed a magical sleigh ride around the lake. Fairmont Lake Louise is a stunning property and has some amazing event spaces. We spent the afternoon with photographer, Paul Zizka, who gave us a short presentation and his top ten tips on photography – that was really interesting and made a huge difference to the photos we were taking, even for novices like us using nothing but iPhones! We were also given a book that he signed, which was a great personal touch that we'll never forget, on top of the tips and tricks we learnt. If you have more time, Paul will spend the day with the group and take you out into nature for a photography workshop.
The final evening saw us enjoy a pins (bowling), pints and pizza night, which was super fun and relaxed – it could work really well as an ice-breaker evening for groups.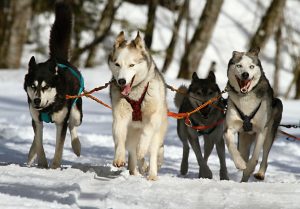 On our final day we went dog sledding, which is a real must. We were taught how to manage the dogs and how to handle them both when they are attached and detached from the sled. Although friendly and welcoming a good stroke, they would rather be running. In fact, you soon learn, unless you tether the sled to a fixed object or you or someone else is on board with your foot on the brake, there is always a real risk that they will just take off! It was a brilliantly fun morning hurtling through the peaceful forests before we headed home on an overnight flight.
Another thing to note is that as well as being a stunning destination, the Canadian dollar has a much better exchange rate than the US dollar and you get a lot more bang for your buck, which is crucial at the moment."
For more inspiration, check out our online destination spotlights...
Our global supplier members are busy building their content and creating stunning profile pages.. Your feedback is important to us as we roll out new features, so please share, get on board and help us make this the definitive inspiration hub for #eventprofs
If you're not already registered, and you're an event planner/buyer, be sure to register your details and join the micebook community. We'll keep you updated with latest news and insights with our micebook Departure Lounge bulletin plus keep you informed on exclusive micebook events.