If you haven't heard about this destination yet, it is time to book your flight…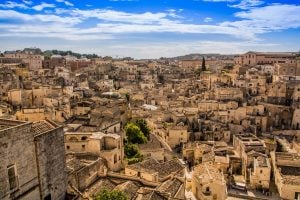 Madame micebook likes to be in the know. So when someone muttered something about Italy's best-kept secret, the tickets were booked for Matera, the city set in the region of Basilicata, in southern Italy – best accessed via nearby Bari.
Known both as the underground city and the city of stones – la città sotterranea – this is a rocky mountain region full of monasteries, castles and churches.
At its heart lies the historic centre of Sassi, where a range of fascinating cave dwellings carved in to the mountainside can  be explored alongside museums including the Casa Grotta di Vico Solitario, and churches like the St. Lucia alle Malve, renowned for its 13th-century fresco.
Little wonder then that Matera has been named the European Capital of Culture for 2019 (along with Plovdiv in Bulgaria). "Matera 2019 Open Future" is the slogan of the city, which was awarded World Heritage Site status by UNESCO in 1993, and is expecting to see unprecedented levels of tourism this year.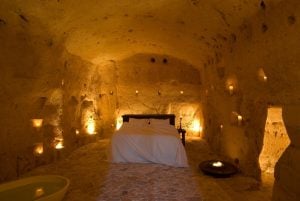 Best get in early and bag your accommodation – one of the most desirable options is the exquisite Sextantio le Grotte della Civita where the gorgeous caves have been turned in to a boutique retreat with romantic candlelit and furnishings.
Five-star standards are also in evidence at the stylish Palazzo Gattini, which offers 20 opulent rooms looking out across the ancient city.
For more inspiration, check out our online destination spotlights…or contact these micebook partners:
Our global supplier members are busy building their content and creating stunning profile pages, so please bear with us while in our soft launch (beta) phase. Your feedback is important to us as we roll out new features, so please share, get on board and help us make this the definitive inspiration hub for #eventprofs
If you're not already registered, and you're an event planner/buyer, be sure to register your details and join the micebook community. We'll keep you updated with latest news and insights with our micebook Departure Lounge bulletin plus keep you informed on exclusive micebook events.