Frisco, SF, City by the Bay – whatever you call it, there's no denying San Francisco's charms. Home to pioneering cuisine, performance art, tech, and a fog so legendary it has its own social media presence, it's a truly singular destination. Here, Cappa & Graham Terramar, a DMC Network Company, explores the can't-miss eats, sights and sounds, perfect whether you're planning a first or 40th visit.
DAY 1
Morning
First Timer: Enjoy brunch at Cole Valley's Zazie, a charming neighbourhood favourite for nearly 30 years. The French Toast Tahiti (pain de mie stuffed with caramelised bananas and walnuts) and cozy garden patio are more than worth the wait, and we love the tip-free policy: staff are paid a living wage, so gratuity is never expected.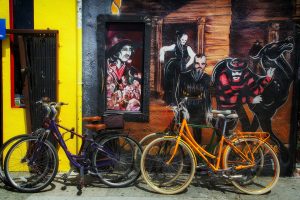 Walk off your mimosas in Haight-Ashbury, onetime epicentre of the 1960s counterculture movement. Notable stops include Amoeba Music – home to a staggering collection of vintage records and Fillmore concert posters (more on those later) – and Club Deluxe for stiff cocktails and live jazz seven days a week.
Like a Local: Venture to the Outer Sunset for the Special Breakfast Sandwich at Devil's Teeth Baking Company. Scrambled eggs, pepper jack, bacon, avocado and lemon aioli meet between homemade buttermilk biscuits for a wake-up call that's sinfully delicious. Seating is limited, so enjoy the treats with your toes in the sand at Ocean Beach. Just don't forget to bring a jacket. While you're sure to see people surfing and sunning, this isn't Southern California. Pop into nearby 3 Fish Studios for handmade prints, postcards and totes that elevate CA-themed souvenirs to an art form.
Afternoon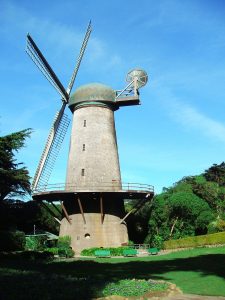 First Timer: Although often compared to New York's Central Park, Golden Gate Park is actually 20% larger than its East Coast counterpart. You could easily spend 48 hours just exploring GGP's 1,000+ acres of trails, museums, gardens and lakes, but a GoCar will help you see the sites in half the time. Will you look a little silly? Definitely. Will you also have a blast? Yes! As you cruise, keep your eyes peeled for icons like the Conservatory of Flowers, Japanese Tea Garden, Buffalo Paddock, and a pair of authentic windmills. After soaking in the sights, head to 9th & Irving for some of the city's best eats. Sushi lovers flock to Ebisu, while Nopalito serves traditional Mexican dishes bursting with organic, locally-sourced ingredients. Be sure to save room for dessert at San Francisco's Hometown Creamery where flavours like cardamom, Meyer lemon poppyseed and peanut butter chocolate fudge pair perfectly with scratch-made toppings and cones.
Like a Local: The Sunset District's Grandview Park (a.k.a Turtle Hill) more than lives up to its name, but it's the walk there that really takes your breath away. The 16th Avenue Tiled Steps are a collection of 163 unique mosaic panels joined to form a swirling sea-to-sky landscape, commissioned and installed by a team of passionate neighbourhood volunteers. After soaking in the sights, a short (downhill) walk delivers you to San Tung for dry-fried chicken wings that draw legendary crowds.
Evening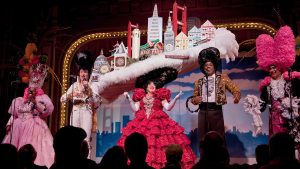 First Timer: San Francisco's Beach Blanket Babylon is the the world's longest-running musical revue. For more than four decades, audiences have watched Snow White embark on a globe-spanning journey in search of her Prince Charming. Amazing costumes and a constantly changing parade of clever pop culture references keep the the age-old story fresh and bursting with laughs. Complete the night with dinner at Tony's Pizza Napoletana. Owner Tony Gemignani's claim to fame is being the first non-Neopolitan to win "Best Pizza Margherita" at the World Pizza Cup in Naples. He produces just 73 of these gold medal pies per day at his North Beach flagship. Like so many SF restaurants worth their salt, Tony doesn't take reservations, but there are plenty of nearby watering holes to pass the time. Try The Saloon (the city's oldest bar) or Mario's Bohemian Cigar Store Cafe.
Like a Local: San Francisco's rich musical history is on full display at The Fillmore, which first opened in 1912 as dance hall. Throughout the 60s, audiences gathered for groundbreaking performances by the Grateful Dead, Santana, Janis Joplin, Jimi Hendrix, and The Who. So far 2019 includes a healthy mix of the greats (Patti Smith, Robin Trower), modern classics (The Dandy Warhols), and up-and-comers (King Princess). Sold out shows are commemorated with custom-designed posters handed out at the end the night. For a more intimate experience, try The Independent, a smaller-scale venue that pulls high-profile acts.
DAY 2
Morning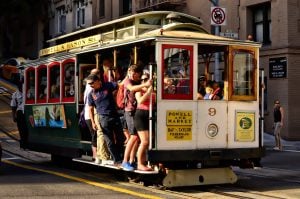 First Timer: The most important meal of the day is served in high style at Union Square's Starlight Room. The Sunday's A Drag brunch stars Donna Sachet alongside some of the city's premier drag queens performing show-stopping routines for a truly unforgettable experience. Proceed to the Powell/Market cable car turnaround and catch a ride to Ghirardelli Square. Look for the Buena Vista Cafe, birthplace of the Irish coffee (piping hot coffee, two sugar cubes, Irish whiskey, heavy cream). Get it to go and you're free to explore nearby Muni Pier, originally built in 1929 to create a protected cove for locals to enjoy recreational activities. Now it's the perfect spot for a stroll while taking in the city skyline.
Like a Local: Time is of the essence, so keep the day's most important meal brief. Try The Mill for a seasonal selection of artisanal toasts made with Josey Baker Bread and served alongside Four Barrel Coffee. Nearby Alamo Square's picturesque Painted Ladies are always worth a visit, if for no other reason than to observe the tourists posing in front of what they believe to be the Full House house.
Afternoon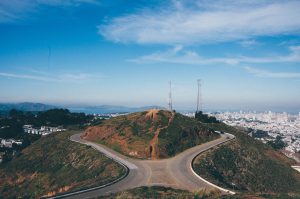 First Timer: Hike, bike or Lyft to Twin Peaks. No matter how you get there, this stunning 360-degree view (on a clear day) is not to be missed. It's also the site of Sutro Tower, one of the skyline's most prominent features. North Beach's Coit Tower offers similarly spectacular views and puts you within walking distance of Lombard Street's world-famous hairpin turns. Although widely regarded as the city's crookedest street, that honour actually belongs to the slightly less glamorous Vermont, home of the annual Bring Your Own Big Wheel race. Every Easter Sunday, hundreds of costumed daredevils hurtle themselves down this windy residential on Big Wheel trikes.
Like a Local: All that walking and people watching is sure to work up an appetite. Head to Bi-Rite Market on Divisadero for a scoop of salted caramel ice cream and a highly curated selection of local/organic/sustainable foodie finds. The retail therapy continues at nearby Rare Device (stationary, jewellery, home decor), The Perish Trust (unique kitchen and apothecary supplies), and Tanner Goods (handmade leather wares). When it's time to wet your whistle, try Emporium, an arcade bar boasting the city's largest collection of games, not to mention a highly curated selection of craft beers and cocktails.
Evening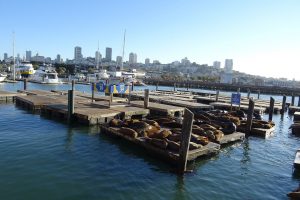 First Timer: Your visit wouldn't be complete without clam chowder in a bread bowl and there's no better place to find it than Bistro Boudin at Fisherman's Wharf. Their sourdough is as San Francisco as the Giants and comes in an array of eye-catching shapes. Then follow the masses to Pier 39. Yes, it's a major tourist destination, but tradition calls for at least one visit in every lifetime. Grab a bucket of Trish's Mini Donuts for dessert and let the sweet sounds of the pier's most famous residents sing you home.
Like a Local: In 1977 the Castro Theater was crowned San Francisco's 100th registered landmark. This 1920s gem is one of the nation's few remaining movie houses from that era and its ornate interior pays homage to Spanish, Italian and Asian architectural techniques. Every show begins with a performance by the house organist whose instrument rises from beneath the stage with dramatic flair. Screenings include SFFILM premieres, Academy Awards viewing parties, and sing alongs (our personal favourite). Cap off the night with classic diner fare at Orphan Andy's (one of the city's few 24-hour eateries) and sweets from Hot Cookie.
For more inspiration, check out micebook's online Destination Spotlight Guides
Our global supplier members are busy building their content and creating stunning profile pages, so please bear with us while in our soft launch (beta) phase. Your feedback is important to us as we roll out new features, so please share, get on board and help us make this the definitive inspiration hub for #eventprofs
If you're not already registered, and you're an event planner/buyer, be sure to register your details and join the micebook community. We'll keep you updated with latest news and insights with our micebook Departure Lounge bulletin plus keep you informed on exclusive micebook events.