Madame micebook needs to take to the slopes in the original home of the bon vivants…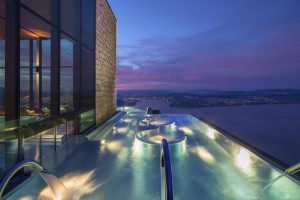 Ski gear at the ready – it's time to head off to the slopes and this year, Madame micebook has chosen the Burgenstock Resort high above Lake Lucerne as her destination of choice. An investment of more than $500 million has been invested in to the resort that was once graced by Sophia Loren, Audrey Hepburn and the 50s glitterati.
Madame will be checking in to the Burgenstock Hotel & Alpine Spa to enjoy 180-degree views of the lake from every corner of the 102 rooms – including the sanctuary of the bathtub. Brass fireplaces and Italian marble rain showers are included in the luxury surrounds while the sound of cowbells outside is a blissful reminder of this peaceful location.
Evening fun can be had with a screening at the 66-seater cinema, or a poke around the wine cellar and cigar lounge but for cleaner living, just sit back in the massive alpine spa or take a dip in the vast infinity pool which stretches out across two sides of the spa and offers incredible views of the mountains.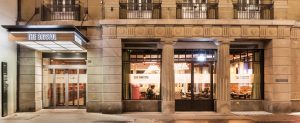 Meanwhile in Bern, The Bristol – a quirky British-inspired hotel in the old town – is reopening its doors this month (January) after being closed for more than 12 months for a complete makeover.
The four-star property is now managed by Swiss Design Collection Ltd and boasts 98 rooms, a bar and lounge featuring British specialties, and wellness packages with humour – especially the British take on it – at their heart to help delegates wind down and recharge after meetings.
With 180,000sqm of space, the The Circle is going to be a major European venue for conferences and conventions when it opens this autumn. It is within walking distance of Zurich Airport's terminals and will contain two Hyatt hotels as well as the convention centre.
Together, the Hyatt Regency and Hyatt Place will offer 550 rooms and convention facilities for 1,500 people.
To experience all manners of Swiss Flavours, get in touch with experts on the ground –  DMC Felix Event Management can organise all manner of classic experiences from panoramic train rides and boat trips through to a feast in a medieval castle or a trip to a chocolate or cheese factory. But if like Madame micebook, you want to push your fitness to the max, they can also arrange crossbow shooting, rafting, mountain biking or a challenging high-altitude hike.
For more inspiration, check out our Switzerland Destination Spotlight
Our global supplier members are busy building their content and creating stunning profile pages, so please bear with us while in our soft launch (beta) phase. Your feedback is important to us as we roll out new features, so please share, get on board and help us make this the definitive inspiration hub for #eventprofs
If you're not already registered, and you're an event planner/buyer, be sure to register your details and join the micebook community. We'll keep you updated with latest news and insights with our micebook Departure Lounge bulletin plus keep you informed on exclusive micebook events.