XO Africa, destination management company and travel specialist in Southern Africa, recommends combining three countries – Zambia, Zimbabwe and Botswana – in four days for an unforgettable incentive itinerary…
A favourite incentive trip of ours includes an exciting journey to Zambia, Zimbabwe and Botswana. Unbelievably, groups really can enjoy these three Southern Africa destinations in just four days!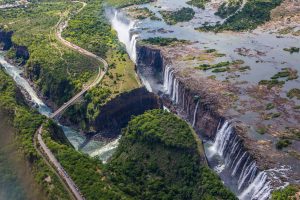 Best of all – these three destinations offer some of the richest areas of wildlife plus river, delta and waterfall experiences. Botswana boasts one of the world's richest eco-systems in the Okavango Delta and largest elephant populations in Chobe National Park, while Zambia and Zimbabwe both hold the majestic Victoria Falls and opportunities for wildlife viewing in their parks.
We usually start in Zimbabwe with lunch whilst overlooking the famous Victoria Falls bridge at the Lookout cafe. This is no ordinary view, and is just a short walk away from the National Park where you can spot one of the world's most spectacular wonders in the form of a 1708 meter wide waterfall, making it the largest curtain of water in the world. Once you lay eyes on its majestic drop into the Zambezi gorge below, it won't be a surprise to see why it's been dubbed the "Mosi-oa-Tunya", the smoke that thunders.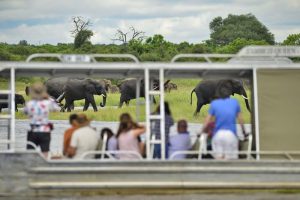 Next, we would simply drive across the only bridge to country number two; Zambia, and stay at the unique Royal Livingstone hotel. Guests don't even need to leave this hotel to see wildlife and can take a dip in the pool or sip a cocktail with zebra strolling by. Cruising the Zambezi onboard a colonial boat or even riding rafts to reach the Elephant Café is a must.
The third and final country would see guests visiting Botswana where the Caprivi strip of Namibia meets Botswana. Escape into the bush where more magical game viewing awaits where you're sure to see wildlife and landscapes you won't find anywhere else across the globe. The safari experience is even more thrilling by boat where guests cruise along the Chobe River to see huge populations of hippos and elephants from the region including wildlife that can be found in and near large bodies of water.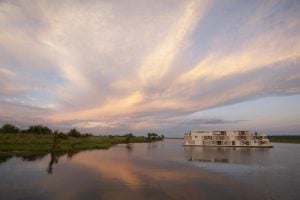 A truly out of the box experience can be enjoyed at the floating restaurant called 'The Raft' which provides the best combination of dining on the Chobe River and game viewing.
XO Africa General Manager, Samuel Regnier sums it up: "Four days, three countries, 1,000 animals, unlimited smiles and memories for sure! This incentive itinerary is a perfect mix of African vibes. Push a bit further and finish in Cape Town and you'll get to reach perfection…almost."
Check out micebook's online Destination Spotlight Guides
Our global supplier members are busy building their content and creating stunning profile pages, so please bear with us while in our soft launch (beta) phase. Your feedback is important to us as we roll out new features, so please share, get on board and help us make this the definitive inspiration hub for #eventprofs
If you're not already registered, and you're an event planner/buyer, be sure to register your details and join the micebook community. We'll keep you updated with latest news and insights with our micebook Departure Lounge bulletin plus keep you informed on exclusive micebook events.