QC Events' director Michael Stephens gives the lowdown on Perth's potential for events and incentives following a recent visit to the Western Australian capital…
Qantas, Tourism Australia, Crown Towers Perth and Pan Pacific Perth were among the hosts for the UK buyer FAM trip, which took place in November travelling out on Qantas' new direct flight launched earlier this year on the Boeing 787 Dreamliner.
"I was intrigued to visit Perth and try out the new direct route as it's always great to explore emerging destinations that aren't yet on our radar. The flight itself was fine, it's about 16.5 hours out and 17 back and we were lucky enough to travel out in Premium Economy and got to experience  Economy on the way home.
Both journeys on the Dreamliner were really comfortable, the staff were great as was the entertainment system – once you've watched a few movies and eaten the time passes pretty quickly. The great thing is that Qantas is offering 100% deviation on group flights on the route, which means that everyone who travels can extend their trip, either flying onto other destinations internally in Australia or stopping off somewhere on the way home.
I would definitely pitch Perth for the right client, but as part of a twin-centre trip or single centre with personal travel extensions. It would work really well for a small high-end Dealer Principal group that might want to extend the trip and take a holiday afterwards. We as an agency could help arrange a dream holiday for each of them – they could all fly on somewhere like New Zealand or Fiji, or go back via Bali or Singapore, or the other way via the States perhaps. It could be a good opportunity to provide a really great hosted experience that acts as a stepping stone to a bigger personal life time trip.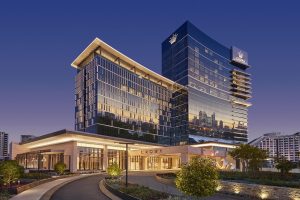 The transfer into Perth from the airport was really simple and importantly only 15 minutes, and the city itself is an exciting prospect as a destination moving forward. We stayed at the Crown Towers Perth (right) for the first two nights just outside the city, and the Pan Pacific Hotel in the city centre for the last two nights.
The Pan Pacific has a brilliant location in the city centre and we were excited to hear that it's planning a refurbishment in 2019. The Crown Towers is fantastic, modern and contemporary and has everything you could possibly need – I loved it and would have no hesitation putting a group there.
In Perth itself, we took part in a brilliant Segway tour around Kings Park, we visited a couple of wine estates in the Swan Valley, the wine is a big pull for this region and we also visited Fremantle, a great historical port city, on-route to Rottnest Island. It's about 35 minutes to get to Rottnest Island by ferry from Fremantle and we took a speedboat ride around the island, which was amazing and very fast!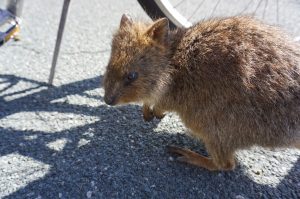 We were lucky enough to see humpback whales close up, as we were there during the migration which is September to December, the whales pass by on their way to Antarctica once their young are able to withstand the cold ocean down there. You can also see seals and dolphins if you are lucky and we experienced the Quokkas of course, the islands resident and very friendly marsupials looking for the perfect shot.
We didn't get too far into the outback, but it's right there on your doorstep, and you could easily organise a day trip out into the Perth Hills to go trekking.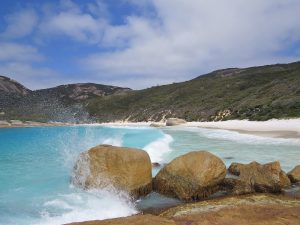 Further afield to Perth there's the Margaret River, which is a big wine region, and also far more local are a plethora of local beaches to enjoy including Cottesloe Beach where we had a great lunch. There's plenty of native wildlife in and around Perth including kangaroos, koalas and black swans, and there's easily enough to do to organise a three or four day itinerary.
There's a lot of investment going into Perth at the moment and I think it will change a lot over the next ten to 15 years, so now is a really good time to go and experience the city."
Check out micebook's online Destination Spotlight Guides
Our global supplier members are busy building their content and creating stunning profile pages, so please bear with us while in our soft launch (beta) phase. Your feedback is important to us as we roll out new features, so please share, get on board and help us make this the definitive inspiration hub for #eventprofs
If you're not already registered, and you're an event planner/buyer, be sure to register your details and join the micebook community. We'll keep you updated with latest news and insights with our micebook Departure Lounge bulletin plus keep you informed on exclusive micebook events.