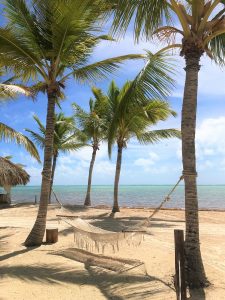 Elite Event Connections' Andy Hammond gives the lowdown on a recent FAM trip to Dominican Republic with amResorts…
When you arrive at an airport to meet your fellow FAM-trippers you never know quite what or who to expect… fortunately, as I turned up at the airport the friendly faces that greeted me were very FAMiliar (see what I did there?) and I knew we'd all get along just fine. Our host Donna Sweeney-Simmons had cherry-picked some gregarious, charismatic and genuinely funny industry professionals for this trip… So what the hell was I doing there then I hear you ask?
Anyway, the British Airways flight to the Dominican Republic was a dream and the nine-hour flight literally flew by. We stayed two nights at the Dreams Dominicus – the welcome at the hotel was warm and friendly and our rooms were luxurious suites with enough room in them to accommodate a football team. Not wishing to share mine with anyone let alone a football team I made myself comfortable and tried not to fall asleep before our welcome dinner. The dinner itself was rather Fawlty Towers-esque with the chef and service staff not quite getting to grips with things. An impromptu appearance from a very endearing Mariachi band added to the randomness of the evening.
The next day we set off by catamaran to the idyllic island of Saona. With the music pumped up to get us in the mood and the rum free-flowing everyone was soon in the spirit of the day ahead. I'd never seen waters as clear blue as the ones I saw on that boat journey. They were quite breathtaking. We stopped off at a lagoon where many other boats had dropped anchor. With the water waste deep it was a tranquil spot to wade in the soft sand below – well it would've been tranquil if there wasn't 50 or so other travellers all doing the same thing.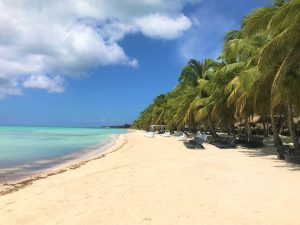 From our stop-off we travelled another fifteen minutes to Saona Island. This is the sort of place that literally takes your breath away with its beauty. There's not much to do on the island itself but it's a must-visit when you're in the Dominican Republic. Clear blue water, white sand and leaning palm trees make it a picture-postcard location. We had lunch here and a couple of hours to soak up the sun and the Caribbean vibe. A day like this reminds you of just how fortunate you are to be in this industry; to experience, what could only be described as a perfect day in a near perfect location left us all very contented.
A dinner, this time well prepared and well delivered, more than redeemed the hotel for their previous night's welcome meal and after the lively day we'd all had a relatively early night beckoned. It was a nice send-off from a hotel that would work well for incentive groups and had the luxury of backing straight onto the beach.
When we woke in the morning it was to the sound of tropical rain. We checked out of the hotel and were transferred to Breathless Punta Cana where we did a site visit along with its neighbouring property, NOW Onyx. Both hotels seemed very young, hip and jazzy and definitely geared up for leisure and incentive groups. Again, these were all-inclusive, contemporarily decorated and backed onto the beach.
After a sumptuous buffet lunch, we were shuttled to our next hotel stop, Zoetry Agua Punta Cana. Straight away this felt like a little slice of heaven. It's a very green, lush and earthy Spa property and from the moment we stepped foot of our coach we all felt extremely relaxed and welcome. We were all assigned our very own butler who showed us to our rooms that all came with large balconies and spacious bedrooms designed very much in keeping with the surroundings. We spent a lovely afternoon, evening and night at this property and experienced fantastic service, wonderful food and drinks and had the additional luxury of a full-body massage. It's not party place, more a retreat but a mighty fine retreat at that.
Saying goodbye to Zoetry Agua Punta Cana we stopped by Scape Park; "a natural theme park that we were to zip-line our way around. This was another fabulous activity and one that I'd do again in a heartbeat. Before we left the theme park completely we stopped by the Blue Hole, which was exactly what it says it is; a cave with surprisingly warm clear blue water to jump or dive into. Again, this is another must whilst you're in Dominican Republic.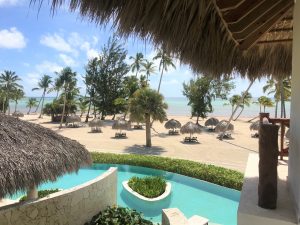 And then onto our final port of call, the lovely Secrets Cap Cana all-inclusive resort. This really was the icing on the cake of what had been a fantastic trip. This resort really stood out to me as the jewel in the crown of the amResorts properties we had the good fortune of experiencing. The resort backs onto the white sandy beach, has numerous swimming pools to relax in and by and fabulous conference facilities. Out of all the hotels we'd seen, this was the one that you'd have no hesitation in using for a conference group too.
On our final evening, we were treated to a night at Coco Bongo, another must-visit spectacle whilst here. It really was a feast for the senses and thanks to our lovely hosts we had a ringside viewpoint to take it all in.
In summary of the entire trip, I'd have to say it was one of my favourite FAMs I've been on. At a time when some scrutiny is on the role of a FAM trip in our industry, I can't advocate them enough; not just because I'd had a terrific time but because they allow us to sample, not just the hotels ad locations themselves, but more importantly the service, the F&B and the feel of these. It enables us to sell them so much easier to our clients when the right brief comes in.