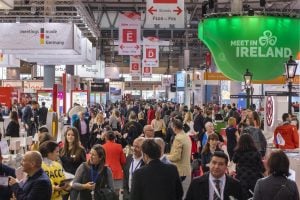 If you haven't yet signed up for IBTM World (27-29 November) – the must-attend annual show for #eventprofs – don't fret as there is still time plenty of time to register. Here's just three reasons to get you booking your flight to Barcelona next month…
1) Creative keynotes
Duncan Wardle, one of the primary creative forces behind The Walt Disney Company, has been announced as one of three exciting keynote speakers lined up for IBTM World 2018. Titled 'Think Different', Duncan will draw on his 25-year career with The Walt Disney Company, and his experience leading a team of creative ideation consultants, to show how leveraging creative thinking can generate far reaching and unexpected business results.
Dex Torricke-Barton, former Head of Communications at SpaceX, Executive Communications Manager at Facebook, and Executive at Google, and multi-award-winning millennial tech entrepreneur Charlotte Pearce, complete the keynote line-up.
Titled 'How technology will transform the meetings and events industry', Dex will take audiences into Facebook's boardroom, Elon Musk's open-concept cubicle, the famed Googleplex, and finally to the UN itself to share his insights. Charlotte, who has been tipped as 'one to watch' by Richard Branson, will draw on her background as CEO and founder of innovative technology platform, Inkpact, to present her session. Titled 'Humans of Business; why connection matters', Charlotte will explore methods in which businesses can connect to their customers in more thoughtful and personal ways.
The three keynote speakers will head up the full programme of 55 sessions forming this year's Knowledge Programme. The programme, in the ACS Knowledge Village, covers eight topical content themes all aimed at inspiring and educating on the latest industry issues and hot topics so that delegates leave motivated to apply learnings to their own events
2) Top tech
If you're keen to get up to speed on the hot tech trends for #eventprofs, then the new Exploratory Zone and Tech Bar will be right up your street. The Exploratory Zone will give visitors the opportunity to engage and interact with the latest technologies and event solutions, from virtual reality and artificial intelligence to facial recognition and 3D printing. Exhibiting companies include food printing company 3DFoodlab; projection mapping wizards Skullmapping; experience platform Amondo; flight simulators from Mach 3 Management; robot experts Robots of London; on-site event tech company Fielddrive; and pioneering 360 / VR company Surround Vision.
Meanwhile, the Tech Bar, run by Dahlia+ Agency, is a genius-bar style question and answer area staffed by technology experts who will run tech-focused and expert-led sessions to enhance technology skills; recommend apps designed to help busy professionals; review delegates' social media and websites and check their LinkedIn profile to ensure they are being used to best effect.
3) Network your way around the globe
IBTM will welcome a high-profile group of event planners and buyers from across Europe, Asia & Australasia, Latin America, the Middle East, North America and Africa as part of its hosted-buyer programme. Buyers already confirmed to attend include Netflix, Bayer US, AXA Financial Inc., Diageo, Delta Air Lines – Worldwide Meetings and Events, HelmsBriscoe, InfoWatch, PricewaterhouseCoopers, Procter & Gamble, Siemens Ltd., Viacom and SONY.
On top of that, the show will welcome around 3,000 exhibiting companies from over 150 countries, enabling delegates to explore what the world has to offer in one place. New exhibitors for IBTM World's 2018 edition include Greater Boston Convention & Visitors Bureau, Poland Convention Bureau, Regal Hotels International, San Francisco Travel Association, SIXT GmbH & Co., Global Passenger Network, Barbados Tourism Marketing Inc, Beijing Municipal Commission of Tourism, Development Hong Kong Tourism, Alternative Athens, Tourism New Zealand, Standard Hotels and creative technology company Codemodeon.
micebook will be at IBTM World on stand J02, so be sure to stop by to find out about our latest developments including the new boards feature for buyers.