Let me take you down, 'cause I'm going to….Victoria, Australia. Okay, that's not quite how the refrain goes, but stay with us. Victoria this November will host the 10th anniversary of the sensory-overload that is Strawberry Fields.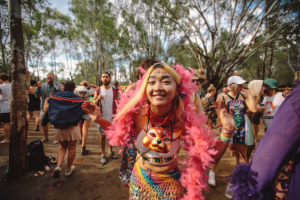 This epic festival set out in The Wildlands, true Australian bush, just a few hours from Melbourne takes place from 16th November and offers one hedonistic weekend curated by some of the world's leading visual artists.
Festival-goers can witness jaw-dropping immersive visuals, which complement the DJ sets and electronic vibes. Named by Resident Advisor as one of the top ten festivals worldwide, the wild weekend takes place against the Murray River where swimming is positively encouraged, as is simply chilling with friends, old and new.
This stunning escape offers surprises at each turn, from a hidden oriental tea lounge to a jazz quintet improvising on the beach or a disco legend get his funk on in a treehouse.
Check out micebook's online Destination Spotlight Guides
Our global supplier members are busy building their content and creating stunning profile pages, so please bear with us while in our soft launch (beta) phase. Your feedback is important to us as we roll out new features, so please share, get on board and help us make this the definitive inspiration hub for #eventprofs
If you're not already registered, and you're an event planner/buyer, be sure to register your details and join the micebook community. We'll keep you updated with latest news and insights with our micebook Departure Lounge bulletin plus keep you informed on exclusive micebook events.